Esprit Commercial - Consumer Healthcare
Our Esprit Commercial Consumer Healthcare programme is for exceptional MBA postgraduates with previous commercial experience and a passion for working in a fast-moving Consumer Healthcare  business.
GSK Consumer Healthcare has achieved a leading position in five categories: Oral Health, Skin Health, Pain Relief, Respiratory and Nutrition/Gastro Intestinal (GI) Health. Some our world-leading consumer brands include Sensodyne, Panadol, Voltaren and Horlicks.
We aim to be the first and best global consumer healthcare organisation, delivering innovative, science-led products that make a real difference to consumers' lives.
To find out more about the Consumer Healthcare business click here
Find answers to questions you may have in the Esprit Commercial FAQ (PDF).
What will the programme be like?
The Consumer Healthcare Commercial Esprit Programme is the 4 year rotational programme that offers opportunities for individuals to develop through real work and work with household-name products that reach people in more than 100 countries around the world.
This programme aims to develop pipeline of multi-skilled, diverse commercial leaders who will take an accountability to drive GSK Consumer Healthcare business to help people to do more, feel better and live longer.
To fulfil this mission, the programme will provide you the chance to accelerate your development through broad-ranging rotations across the consumer healthcare commercial business, global experience, intensive personal development, on-the-job coaching and access to senior business leaders. You'll take on a series of stretching commercial roles, both within your home country and internationally, sales, marketing and other commercial areas.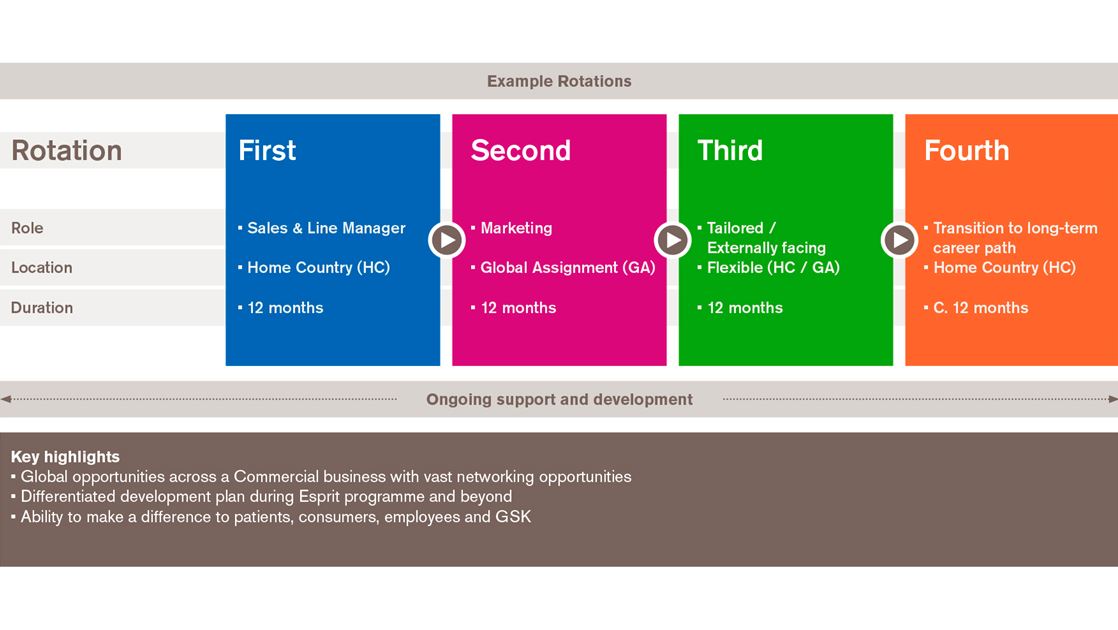 In return for strong performance, dedication and commitment, the Esprit programme enables high-potential people to develop their knowledge and broaden their global business perspective. 
Where can I go?
Complete the programme and you'll be equipped with the expertise and experience needed to take on a senior leadership position in your home country.
This programme is designed to help the business in developing future Country Managers and Commercial Leaders in marketing, sales and category departments. Your development plan and roles on completion of the programme will be tailored to help you in achieving this career goal.
There's no limit to success here, so it's up to you to prove yourself.
What will I learn?
Challenging rotations will help you understand the commercial business and give you personal responsibility. You'll have all the guidance you need through your line manager and dedicated mentor.  We'll also provide lots of networking opportunities and regular exposure to senior management. In addition there's more formal training including a "Development Week", where everyone on the programme comes together each year for an intensive week of learning.
The programme is a career differentiator. Associates who are successful on the programme are well positioned to accelerate their careers in our commercial business. Career paths vary widely by your interest, career ambitions and business need.
What do I need?
An MBA
Experience in commercial area, passionate about sales and marketing
Track record of taking accountability in both team and individual situations.
Strong interest to develop career in consumer healthcare industry
Digital capabilities (knowledge, experience, and user)
Ability to work in multinational environment, across cultures and in matrix environment.
Proven ability to function in high pace and changing environment.
Evidence of bringing innovative thinking and an ability to act as a change agent.
Proven accelerated development in career to date
Eligibility to live and work in the country for which you are applying. This will be checked during the recruitment process.
Fluency in your native language and English, both written and spoken
Flexibility, adaptability and highly mobile; you must be willing to move and work in any of the countries where GSK operates.
Is this the right place for me?
You should become a part of our fast-moving GSK Consumer Healthcare business if you have four passions for success:
You want to love what you do and work in a competitive high performing environment and improve people's lives. 
You are ambitious to achieve results, excited by change, passionate about sales and marketing, and motivated to take accountability in both team and individual situations.
You are ready to fast track your progression and take personal accountability for delivering our commitments.
You are ready to live our values and perform with integrity, transparency, treat people with respect and always have our consumers first on your mind.
Timings
We are still open for applications in Russia for 2017 entry.
How can I apply?
Russia: 142427 Apply here
Applications for 2018 entry will open in late August 2017.