Collaboration: unlocking a new approach to clinical trials
Collaboration and working in teams isn't just for people – companies too can push the boundaries of their work and gather key insights, just by reaching out to others. In the healthcare industry, partnerships between academic institutions and healthcare providers play an important role in helping to further science, including exploring new ways of approaching clinical trials.
One example of this kind of collaborative approach is the Salford Lung Study (SLS), a revolutionary randomised controlled clinical trial that has been carried out in everyday clinical practice that could significantly increase our understanding of the medicines doctors prescribe.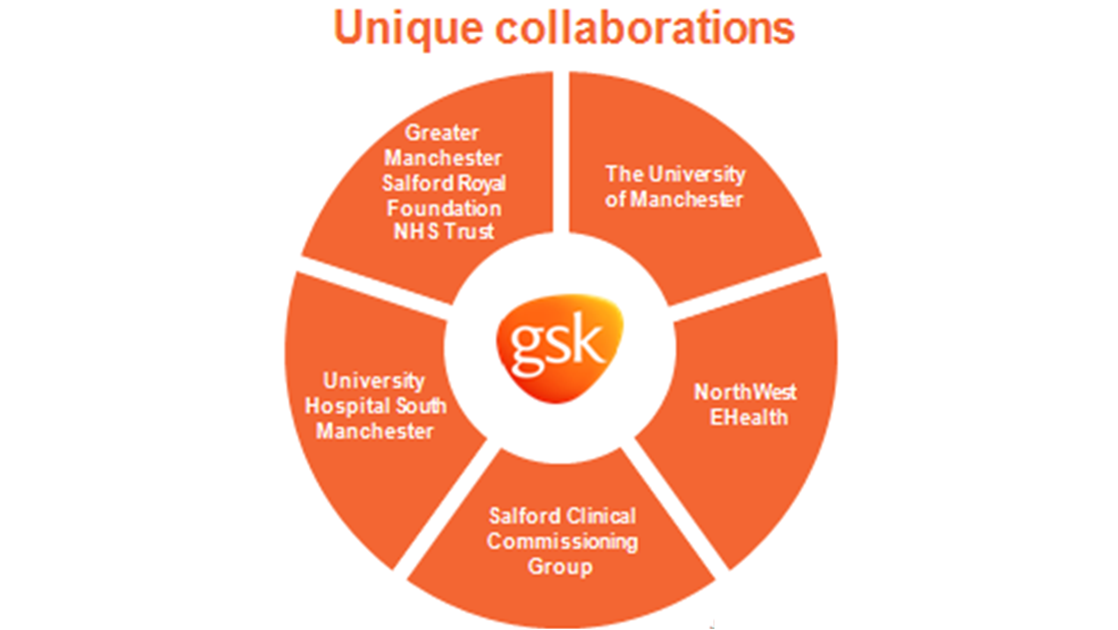 Uniquely in clinical trials, SLS set out to ensure that the patient experience remained as natural as possible. This in turn helped to make sure the data collected was a true reflection of what really happens in a patient's everyday life.
Monitoring patients in their everyday environment requires close collaboration with the organisations they come into contact with on a daily basis, be that GP surgeries, pharmacies or hospitals in the Salford and Greater Manchester area.
GSK worked closely with the Salford Royal NHS Foundation Trust, who played an important role in involving hospitals in the area and enabling safety monitoring across GPs, pharmacies and hospitals. To encourage GPs and nurses to recruit patients, many of whom had not been involved in clinical trials before, we worked closely with The Salford Clinical Commissioning Group, whilst our relationship with the Manchester Local Pharmacies Committee helped us to engage local pharmacies. To help guide the study we reached out to academia, with experts from the University of Manchester providing advice throughout.
"I think it's an excellent idea for the healthcare profession as whole, including GPs, pharmacists, nurses working together as the results will benefit the patient."
The location of the study was also chosen with the opportunity for collaboration in mind. Salford is home to an existing infrastructure of electronic medical health records which links patient records across GP surgeries and hospitals. This infrastructure does not exist in many of the cities that were suggested as trial sites.  
NorthWest EHealth, a not for profit organisation formed by a partnership between The University of Manchester, Salford Royal Foundation Trust and Salford Clinical Commissioning Group, were able to build on this existing infrastructure to include pharmacies. Working with these local pharmacies allowed us to record every time a patient interacted with a part of the health service throughout the study. This meant we were able to collect information about the effectiveness of the treatment, with minimal intrusion on patients' lives. 

"For me it's the number of patients we managed to recruit – it has been good to be able to do that on a professional level. And also to think that the patients were willing to put their trust in us and enter the trial. It's almost brought the patients and the doctors together – it's like one big community have been doing this study."
The healthcare community in Salford played a crucial role in pioneering the clinical trial. Over 80 GP practices in Salford and the surrounding area led the day to day implementation of the study, recruiting patients and managing them throughout. Over 130 pharmacies in the area were also involved, enabling patients to obtain their prescriptions as normal from their local high street pharmacist.
With over 3000 people trained in clinical research it was a real collaboration across the healthcare community in Greater Manchester. Salford is now a 'research-ready city' and GSK has opened the door for potential future clinical trials of this kind, including those from other pharmaceutical companies.
Taking part in the Salford Lung Study
A short video sharing the different perspectives of healthcare professionals and patients who have been involved in the Salford Lung Study.