Ding, Business operation, China


Our 60-minute mentor series gives colleagues the chance to interview one of their senior leaders, over the course of an hour, and discover more about their career journey. Summer, a trainee on our Future Leaders Programme, was inspired by Ding's attitude towards taking risks, leadership and finding the perfect work-life balance. She asked him about his journey to becoming VP of China Government Affairs and communication.
The two discussed why taking risks is important for your career, how comfort zones are made to be pushed and Ding's unusual childhood – training to become a professional ping pong player.
Summer: Tell us a little bit about your early life and how you came to work with GSK.
Ding: I wanted to be a baker in China when I was eight or nine years old. It was just because I ate too many sweets! I was one of the first people to be sent abroad to study for a degree; this was a life-changing experience. But, after studying Linguistics in Holland, I realised that I didn't want to pursue this as a career.
At the time, there was a small licensing company looking for someone who could speak Chinese to do market research. I did it for a couple of months and found it really interesting. Gradually I progressed and began my career in the pharmaceutical industry and then with GSK, despite having a completely unrelated degree.
Summer: Marketing Leader for Pharma and Vaccine, Head of Specialty Care Business Unit and now VP of Government Affairs and communications in China. You've had a lot of roles at GSK, have you learnt different things from each one?
Ding: I've learnt that in business you always have to be looking one step ahead. At GSK, we're always thinking about what we do and how we can be better.
My new role is teaching me the most, mainly because it's so new to me. I'm always looking to try different things – be it a position, company or just a new way of working. When my managers approached me, they said they thought I'd do well in a new role. I took it instantly. I was open to the opportunity and now it's working out better than I could have imagined.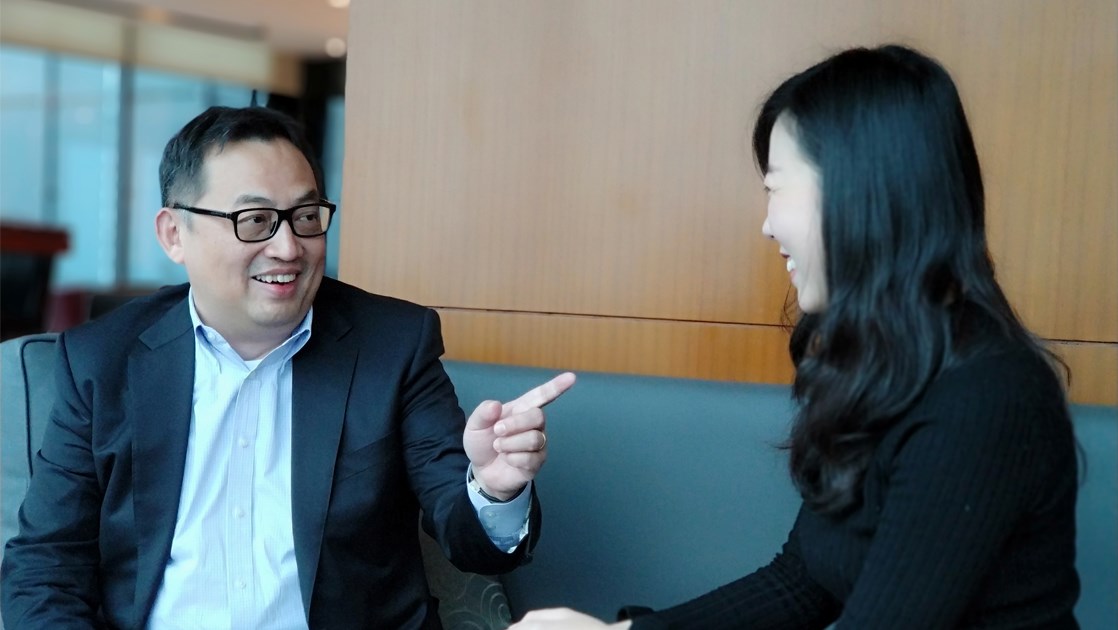 Summer: How have you managed to make the most out of your career?
Ding: Taking risks is massively important. If you want to try something and you believe that you have the strength to succeed – or at least learn some good lessons – then you should follow your heart and do it. I've always pushed myself out of my comfort zone, this is where I've learnt the biggest lessons about myself.
Summer: You have a very busy schedule; how do you find the right work-life balance?
Ding: I try not to manage it too much, for me it's about setting priorities for myself – what can I achieve in a day, or will it take week, maybe even a month. The other thing is giving myself time to reflect. I give myself two or three hours every week to really think about what's going on professionally and personally, normally when I take an early morning swim. It helps to digest everything.
Summer: How important is good leadership?
Ding: When I was interviewed for my first role here, the leaders of GSK China at the time really inspired me with their forward looking vision for the company. Their ambitious vision inspired me and I've been on board ever since. That's how important leadership can be; good leaders have a positive impact on others and help people to find a clear career path.
Summer: What has been the biggest test for you so far in your career?
Ding: That was with my last company, when it acquired another smaller company. I was Head of Sales at the time, but after the merger my boss sent me to a business development role. It was a big change and suddenly required a different set of skills. I kept an open mind and applied myself. I ended up making a massive impact for the better.
Seek feedback from your mentors – they can help you to learn about opportunities and how important it is to grab the right one."
Summer: What one piece of advice would you give to someone who wanted to pursue a career at GSK?
Ding: Always reflect on your actions, be ready to evaluate yourself and keep an open mind to new opportunities. When possible, identify and build a relationship with a mentor and seek feedback from them. They will help you to learn about opportunities and how important it is to grab the right one.
Summer: Tell us one thing about yourself that would surprise us?
Ding: When I was younger, I trained to be a professional ping pong player. I trained for three years at a primary school which has produced some of the greatest ping pong players in the world. Unfortunately, I had to stop because I moved away, which was a shame as who knows what could have happened if I continued.