Martyn, Marketing and communications, UK
Meet the former future leader who's helping to shape the future of eCommerce for GSK Consumer Healthcare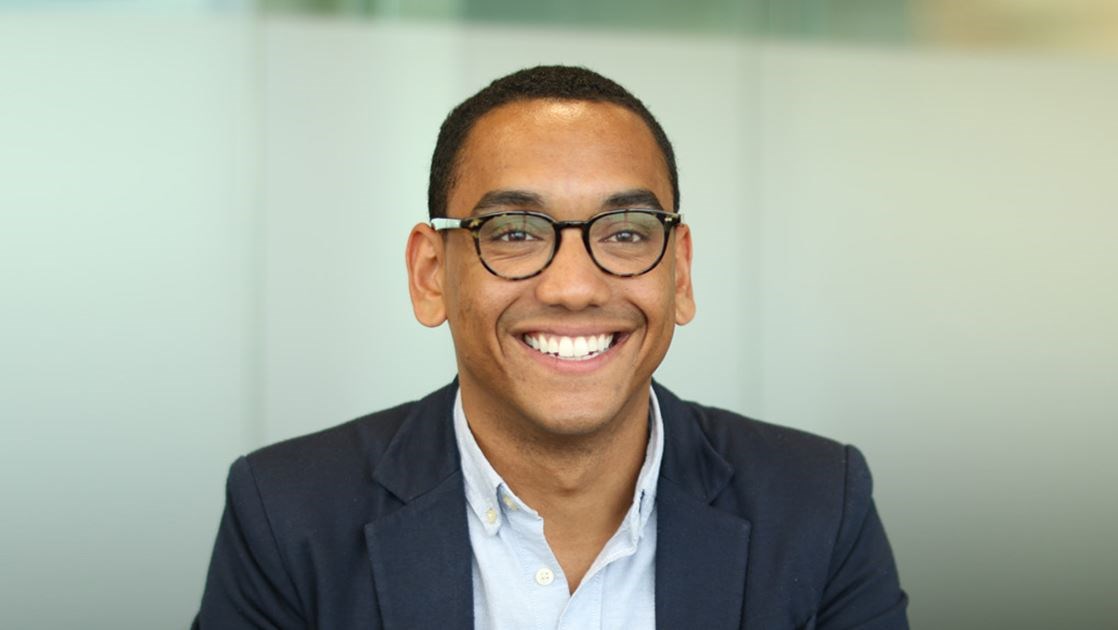 As Global Digital Commerce Marketing Director for GSK Consumer Healthcare, Martyn ensures our digital shoppers have a good experience when finding, selecting and buying our brands online. It's a job that requires creativity, commercial know-how and strategic thinking – traits which Martyn's been honing since he embarked on our Future Leaders graduate programme five years ago.
The pace of innovation within the ecommerce industry is phenomenal. Global players are innovating at a rate that traditional retailers are struggling to keep up with. That challenge is fascinating but also presents many opportunities for us to connect with our consumers better.
Finding my path
When I was growing up I didn't see many people who looked like me. There weren't many black role models that I really identified with.
But when I arrived on day one of university, I thought 'Oh right, everybody's here. This is the place where anything is possible.' I got a lot of energy and learnt a lot from the diversity of a university campus and I think that lit a fire in me. From then on, I knew what I wanted to do.
After I finished university, I wanted to gain as much experience of the world as I could and make my way into a truly global company that could take you to exciting places if you could prove your ability.
Gaining a breadth of experience
When I joined GSK, I started on the IT graduate scheme. From there I began to learn about power of data, analytics and logistics; and as I moved around GSK on rotation, I learned how to navigate and deliver in a global matrixed company.  
My personal highlights included working in the team responsible for our ground-breaking work in bioelectronics. This field fascinated me because the idea of treating health problems with technological pulses rather than pills was, and still is, completely new. It felt like we were going into space. We were doing things no-one had ever done before and I loved being a part of a team that was pushing the boundaries of what's possible.
The role sparked my imagination and I wondered whether I could bring creativity into the mix for my next role. It was at that point that I started thinking seriously about a marketing career. I applied for a global assignment, an opportunity created by HR for high performers, designed to take a chance on new talent by giving them a year-long placement within a different market. For me, that meant becoming a brand manager for Sensodyne in Brazil.
Brazil was an amazing, diverse, personal adventure that gave me my professional direction. Marketing lived up to all my expectations. It's that perfect intersection where art meets eCommerce which to me is such a compelling mix.
Diving into eCommerce
When I was in Brazil, I was paired with a mentor, Kevin, who is now my manager. I learned that he was planning to build a new eCommerce team which would define a new path for how consumers could buy consumer healthcare products online. Before any formal role had been created, I went to work with Kevin, starting from a blank sheet of paper. Together, we built the foundations of a new global team.
My job now is a mix of making sure we're meeting the demands of our online shoppers today while preparing to realise the opportunities of tomorrow.
We're looking at pioneering and leveraging the vast amounts of data we have to understand how they connect with our brands and their devices, to really ensure that we are wherever our shoppers and consumers expect us to be.
Defining the digital future of healthcare
The internet has changed our lives so much over the last ten years, but the change we've experienced is nothing compared to what is to come. We have to work as innovators and be ready to present people with things they didn't even know they wanted. I continue to be excited by striving to be an architect of that change.
In the future everything will be connected, so your phone, your Fit Bit, even your toothbrush and mirror will talk to each other. What that equates to is a lot of data we can use to help people manage their health more holistically in their own home. Our goal is to interact with consumers throughout the day to help you manage your own health, including how to brush better; remember your allergy relief; keep active and so much more, whether that's through your phone or through conversation. This is now possible through devices like Alexa.
Alexa, the personal assistant tool which has been developed by Amazon, is capable of voice interaction, playing music, making to-do lists and providing weather, traffic, and other real time information.