Rodrigo, Sales, Mexico
We spoke to him about his day-to-day role, the challenges he faces and how GSK welcomes people from all kinds of backgrounds.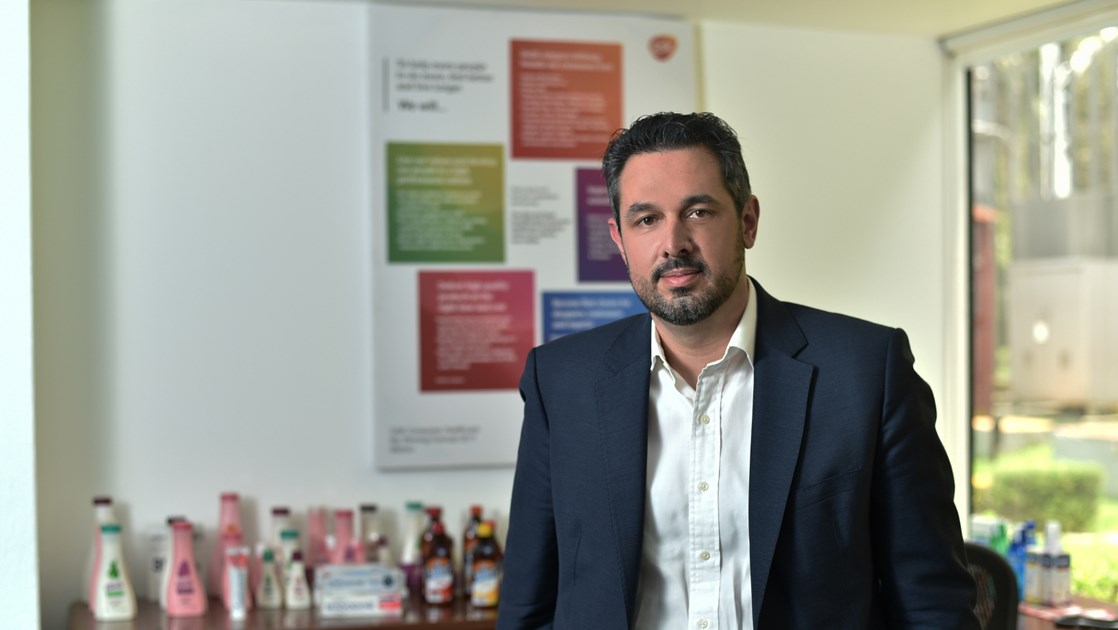 Hi Rodrigo. Tell us about your role and what you do.
I'm the General Manager for GSK consumer healthcare in Mexico. I believe that any leadership role is about delivering business results, developing future talent, leading the change and shaping the business. I deliver the top and bottom line for the business: market share, profit share, etc. I joined GSK in 2014 and have had quite a unique role for three years, leading sales for pharmacy and consumer healthcare in Brazil.
And what attracted you to GSK?
Well, I worked at P&G for 17 years in several sales, market and strategy planning roles across Latin America, but two things drew me to GSK: the opportunity to learn about a new kind of business specifically in pharmaceuticals, and the company's reputation. I spoke with several people from the market in Brazil, Mexico and other Latin countries and in general I got very positive feedback about GSK's values and career opportunities.
What's a regular day like for you now?
A General Manager's day consists of decision-making and priority setting. At the start of the day, I align priorities for the business with upper management and the local leadership team. We're all expected to make decisions and take smart risks every day, to prioritise things and give people clarity and focus. In my eyes, it's okay to make some mistakes as long as you move the organisation towards its priorities and don't delay decisions.
What excites you about working in the industry?
For many years, the pharmaceutical and consumer healthcare industry relied only on innovation to grow. I believe that we are in a major transformation change and it excites me. Innovation is core and will continue to be. But driving execution and performance is as powerful as driving innovation. And I believe that we have a lot of space to grow: GSK is improving our performance and execution, reducing costs and eliminating inefficiencies. I love change and it is great to be at GSK at this moment.
Can you tell us about the changes you've been implementing?
It was quite a journey, these initial nine months in Mexico. There were two major changes. The first was organisational: a huge redesign and change to the talent profile. We increased the responsibilities of original GSK people and brought external talent from companies such as Bayer, L'Oréal, Unilever, P&G and similar companies. The second major change was to focus all investment and people on our power brands. We have strong results – our power brands have grown almost 20% – but I can say that we're just scratching the surface and Mexico has a great future! It's a long journey as we're competing with the best companies in the world, but it's exciting.
What are you working on at the moment?
One thing that fuels my passion is growing distribution and providing access to consumers and patients to GSK brands. Access is key with GSK, but this isn't just about needing to have the proper prices for medicine and consumer goods. Access is also about being present everywhere in the market.
Until December, everyone from the commercial team in Mexico will work at the pharmacy for two days, working as pharmacist clerks to understand how people enter through their store, how they talk, what they ask and what they're looking for. It will be an amazing experience to change the way we look at the touch points inside the store for each of the brands, so we know what we need to be successful in the marketplace.
What do you like the most about your job?
I like to learn from people. It's great to talk to a more senior GM and it's amazing watching people develop – to see someone shine after several years of working together. And I believe the most exciting thing is to shape the future, to make decisions now that will transform GSK in the next decade. There's so much diversity and it's great to lead the change. You control part of your agenda but every day comes with new tasks that you wouldn't have expected to deal with. The diversity of challenges opens up your mind and keeps you thinking of alternatives for the business – it's never boring!
The diversity of challenges opens your mind and keeps you thinking of alternatives for the business – it's never boring!


What's it like working for a global healthcare company?
GSK is modest about the amazing things it's done so far. I think we should talk more about things that have changed people's lives. I've had a life-long friend who suffered with polio at school. This disease almost doesn't exist anymore because of GSK vaccines. If you look back at HIV, you'll remember that in the early 1990s the diagnosis of the virus meant that the person infected would most likely die. I lost an uncle to AIDS in 1992, before the creation of effective medicines that have changed the way the disease is treated.
It's important for people to feel proud to work at GSK. There are some amazing contributions we've made, and keep making, for humanity.
And how has your sales background helped in becoming a general manager?
Understanding the importance of the supply chain, understanding how customers make decisions and how this affects the business has been crucial. Sometimes we have an idea we'd like to launch, but it can be complex to bring this from design to execution. Bringing the idea to life really helps moving the business forward.  
What are the qualities that you would look for from applicants applying to be a part of your team?
People with a great attitude. We have an amazing training programme, and we can train skills, but a great attitude is more unique. Also, finding people with different backgrounds. I come from a law background, which is completely different to my reality today, but I'd say that every time I put a diverse group of people in a room I get better solutions. We're seeking problem solvers, people looking for solutions and who have an interesting way of thinking.
We're seeking problem solvers, people looking for solutions and who have an interesting way of thinking.