Our health for all commitments
We have 23 forward-looking commitments across the four areas of our responsible business approach.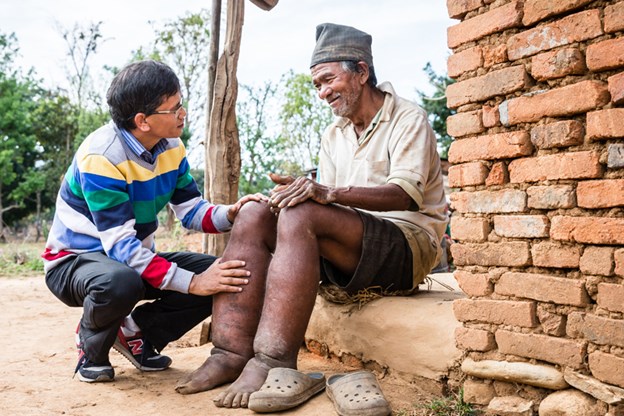 We aim to tackle some of the biggest global health challenges through addressing unmet medical needs, making our medicines and vaccines more accessible, and strengthening healthcare systems. 
Each year we report on our progress against these commitments and here we provide a summary for those that relate to Health for all.  
Innovation for unmet medical needs
Adapt the open innovation R&D model, currently used for Diseases of the Developing World, to apply to other areas of great unmet medical need and scientific challenge, including infectious disease and Alzheimer's disease, by 2015.
Progress: Completed and ongoing
Began the first project to come out of our Africa NCD Open Lab in April 2016, looking at severe asthma across East Africa.
Accelerating the development of new antibiotics, with our most advanced asset, developed in partnership, moving into the final phase of clinical testing,
Taking a collaborative approach to dementia research, supporting scientific partnerships and novel funding mechanisms to accelerate research projects; proposed a permanent 'biopreparedness organisation' (BPO) to develop vaccines for major global health threats of the future and also pledging our support for the Coalition for Epidemic Preparedness and Innovation.
Back to top
Building products to better meet needs
Continue to build a core range of products and formats to better meet the needs of people across the globe, including those less able to access and afford our products.
Progress: Progressing well 
A committee of the European Medicines Agency granted a positive scientific opinion for our antiseptic gel that can help to prevent umbilical cord infections in newborns.
Partnering with the Bill & Melinda Gates Foundation to develop thermostable vaccines to prevent disease endemic in hot areas.
Registered our single unit inhaler products, Ventolin Rotacaps and Rotahaler, in three further countries to support access.  
Back to top
Better access to medicines and vaccines
Further embed our flexible pricing strategy and innovative business models for our prescription medicines and vaccines, to increase usage among those less able to access and afford our products.
Progress: Progressing well
Committed to supply our essential vaccines at the lowest price to internationally recognised civil society organisations supporting refugees where governments are unable to assist
We no longer file patents for medicines in least developed and low-income countries.
Viiv Healthcare also extended the existing license agreement with the Medicines Patent Pool for the adult formulation of HIV drug dolutegravir meaning 94% of adults living with HIV in the developing world are now covered by license agreements.  
Back to top
Reducing child mortality
Continue to invest in innovative cross-sector partnerships to reduce child mortality.
Progress: Progressing well
Through our partnership with Save the Children we have reached over 2.6 million children in the world's poorest countries.
Rewarded sustainable and scalable healthcare innovations to improve under-five child survival rates through our annual $1 million Healthcare Innovation Award.
In Burkina Faso, years of campaigning from Save the Children with support from GSK culminated in 2016 with ground-breaking new legislation that will offer free healthcare for children under five and pregnant women.
Back to top
Strengthening healthcare infrastructure
Continue to work with partners to support the development and strengthening of healthcare infrastructure. We anticipate this could improve access to healthcare for 20 million under-served people by 2020 (vs 2012).
Progress: Progressing well
Continued to re-invest 20% of LDC profits in 39 countries, training 43,000 front line health workers since 2009 and reaching 17.5m people since 2009.
Expanded health worker training beyond LDCs to other countries in sub-Saharan Africa.
Back to top
Access to antiretroviral treatment for HIV
Through ViiV Healthcare, we will continue to research new treatments, increase access to our medicines and care for people living with HIV around the world. We will support UNAIDS to deliver their 90-90-90 ambition by 2020. We will also work with communities to combat stigma and discrimination associated with HIV.
Progress: Progressing well
Viiv Healthcare extended its existing license agreement with the Medicines Patent Pool to cover all lower-middle-income countries for the adult formualtion of HIV drug dolutegravir.
The FDA approved the first generic version of dolutegravir, manufactured by Aurobindo Pharma, which can now be made available to countries covered by our license.
In December 2016 Viiv Healthcare announced positive results from first phase III studies of two-drug HIV treatment regimen, the first to evaluate this innovative treatment option.
Back to top
Fighting malaria
Build on our 30 year commitment to contribute to the fight against malaria through continued R&D investment and partnerships on the ground.
Progress: Progressing well
Received a positive scientific opinion from the European Medicines Agency for our malaria candidate vaccine RTS,S, in children aged six weeks to 17 months.
In 2016, the WHO confirmed funding has been committed to enable the pilot implementation of RTS,S in three settings in sub-Saharan Africa, due to begin in early 2018.
Launched a new £22 million partnership with Comic Relief to fight malaria in five endemic countries.
Back to top
Eliminating and controlling tropical diseases
Help to eliminate and control ten neglected tropical diseases that affect 1.4 billion people, by 2020 – including the elimination of lymphatic filariasis, through our continued investment in R&D, ongoing product donations and our contribution to the London Declaration on Neglected Tropical Diseases.
Progress: Progressing well
Donated over one billion tablets of albendazole to eliminate lymphatic filariasis and control intestinal worms.
Acquired Rabipur, a rabies vaccine, as part of our Novartis transaction – in 2016 we were the main supplier to UNICEF of WHO prequalified rabies vaccines.
Back to top
Eradicating polio
Continue to support the WHO objective of eradicating polio by 2018 by providing vaccines to UNICEF until this is achieved.
Progress: Progressing well
Delivered 470 million doses of oral polio vaccine in 2016, and since 1988, we have contributed over 16 billion doses.
Invested in an inactivated polio vaccine facility in Belgium.
Back to top