Our history in New Zealand traces back over a century. The 'Glaxo' in the company name originates from Wellington, where entrepreneur Joseph Nathan established a trading company in 1873. This company laid the foundation for the Glaxo company formed later in Manawatu. New Zealand's role in building the foundations of our company is just one of the many reasons why New Zealand is known for its culture of innovation.
Our medicines

Our medicine portfolio focuses on four key therapy areas: HIV, oncology, infectious diseases, and immunology, including respiratory diseases.
For further information about our medicines, speak to your doctor or visit the
New Zealand Medsafe website
Back to top
Our vaccines

Our vaccine portfolio in New Zealand helps protect kiwis against illnesses such as shingles, measles, mumps, rubella, whooping cough (pertussis), influenza, and bacterial meningococcal disease.
For further information about our vaccines, speak to your doctor or visit the 
New Zealand Medsafe website
You are leaving GSK's website
By clicking on this link you will be taken to a website that is independent from GSK. GSK does not control or endorse the content on this website. The information you are referred to may also not comply with NZ legislation or regulatory requirements.
Continue
Cancel
Back to top
Product information and quality concerns
As product information and availability varies country to country, we are able to respond to New Zealand enquiries only.
If you are a patient or a healthcare professional looking for product information or have a quality concern regarding our products, please call 0800 808 500 or +64 9 367 2900. Please note, if you are a patient, we cannot provide medical advice. If you have questions about your specific medical condition, please consult your healthcare professional.
Our Privacy Notice  outlines how GSK handles the processing of personal information when dealing with your enquiry or complaint.
Back to top
Reporting an adverse event
Media enquiries
Careers
Search for jobs in New Zealand 
Recruitment fraud notice
Be aware of recruitment scams and sharing your personal data. We are aware of fake offers of employment from individuals and organisations claiming to represent GSK or GSK New Zealand. GSK company and colleague details have been used on documentation without permission. More information, including how to report a scam if you think you have been targeted can be found on Fraudulent internet recruitment activities | GSK
Students and graduates
We are excited to announce that applications for our 2023 industry-based learning program are open! Apply now to one of the below business streams:​
Back to top
Meet our people
We pride ourselves on our extraordinary and diverse team of people. Learn more about what it's like to work at GSK in New Zealand from some of our current employees:
Kuini Thompson

First Line Sales Manager
Joined GSK in 2004
When did you join?
I joined the Glaxo whānau in 2004 as a Dental Representative on the consumer side. In 2005, I was contracted to the Pharma side as the Vaccines representative and worked part-time for both sides of the company. In 2006 I was given a full time role as a Respiratory Sales Representative and have been with the pharma-side of GSK since.
What is your background?
Prior to joining the pharmaceutical industry I was a primary school teacher. I taught year 7 and 8 students. I was part of the working group that developed Tomorrow's School's, and helped write the curriculum for various subjects. I was heavily involved with sport and the arts, coached many teams, and co-wrote and produced four school musicals during my teaching career.
In 1997 I joined Hoechst Marion Roussel as a medical representative, and have been in the pharmaceutical industry since.
What do you like about working with GSK?
I enjoy the fact that no 2 days are the same. Every day brings new conversations and challenges. I really love the team environment, and the support we give to each other. Working out in the field could be lonely, but it isn't, as the team environment and culture we have is one of whānau and manaakitanga.
What does your role entail?
Everything! You name it, we do it! The main component of my role is to get our products into the customers hands. I sell our products to prescribers. I convince them to prescribe our medications to appropriate patients sooner rather than later. There is an educational component to my role, but the main part is to sell.
What has been your career highlight so far?
I don't have one highlight in my career as a Sales Representative, I have many. The role I have is one that continually evolves. The best part of my role is that you cannot stop as you are constantly learning. Each day the environment changes so we must too. The skill of flexing and adapting whilst continuing to learn is one that I don't believe any other role could offer and is why I enjoy my role so much.
What do you do when you are not at work?
When I'm not working, I'm either coaching netball, watching my kids play sport, learning how to weave, or just chilling out at home with my family. Whānau time is the most important part of keeping me balanced.
Back to top
Eddie Lim

Medical Operations Manager
Joined GSK in 2016
What is your background?
I graduated from the University of Auckland with a Bachelor of Pharmacy and a Master of Management. I worked as a Community and Compounding Pharmacist for a couple of years before joining GSK in 2016 as a Medical Representative. In 2017, I was presented with an exciting opportunity to join the Medical team, and I have since worked as a Medical Science Liaison, ANZ Compliance Manager, and currently as a Medical Operations Manager.
What do you like about working with GSK?
GSK is an amazing place to work in because of its commitment to excellent world class research and utilising its scientific capabilities to ensure that improving patient outcomes is always the number one focus.
What does your role entail?
My role covers a variety of areas including but not limited to medical operations, compliance, governance and medical affairs, with the aim of ensuring that the medical team has the capabilities to function smoothly and cohesively as a unit.
What has been your career highlight so far?
In my time with GSK so far, it has been an absolute pleasure to have been given the opportunity to scientifically engage and support health care professionals all across New Zealand in order to create a better understanding of our respiratory portfolio of medicines.
What do you do when you are not at work?
Outside of working hours, I can be found walking my dog, gardening, watching American Football (Go Packers!!) and occasionally deliberating whether or not to pick up baking again.
Back to top
Rachel Taylor

Commercial Quality Manager 
Joined GSK in 2000
What is your background?
I completed a Bachelor of Science at Auckland University. After graduating I worked for a Biotech manufacturing company in Quality Assurance for two years. I started at GSK in 2000, and have worked in a number of Quality roles, to find myself now as the Commercial Quality Manager for GSK NZ.
What does your role entail?
My role requires GSK NZ to implement and maintain the highest standards of Quality through our processes we have, and the products we supply. GSK works to a Quality Management System that ensures the best industry standards. We do this by having robust processes, trained staff, and monitoring of our products and processes.
How has GSK supported your career development?
GSK really supports people development. From the day I started at GSK I have been encouraged and supported in my own personal development, with mentors, coaching, internal and external training and on the job training and development.
What do you like about working with GSK?
GSK NZ has a small number of employees, so our roles are very broad and varied. There is always something on the go, and we're working with a lot of different people around the world so we can ensure we are bring the right products to patients at the right time. Personally it's really satisfying knowing what we do in our day to day roles, is helping people.
Many New Zealanders (including my own family) will be taking our products and with this feeling better and living longer. I love it when things go well, but in all things there are challenges. So even more satisfying is sorting out issues to maintain supply of Quality product to our customers (patients).
What do you do when you are not at work?
As a family we love being outdoors enjoying the wonderful country we live in. We do a lot of outdoor family activities, riding bikes, walking around some of the lovely walkways NZ has and swimming. When I have some time to myself I enjoy riding with friends, reading and playing soccer in our GSK social football team.
Back to top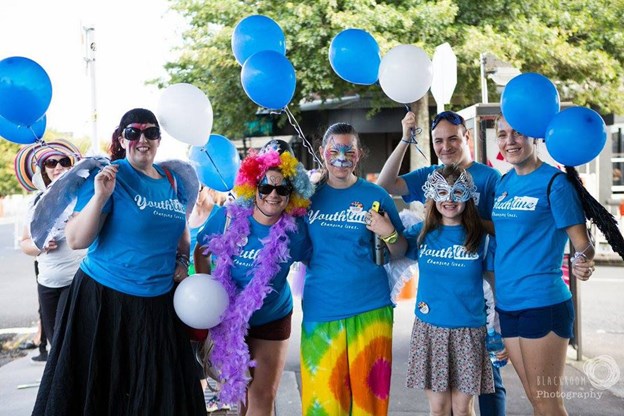 Engaging our community
GSK New Zealand is honoured to support Youthline. This youth development organisation offers 24-hour advice and support to thousands of young Kiwis and their families in times of difficulty or crisis.
Working with healthcare professionals
Health professionals in New Zealand can obtain information about GSK products and therapy areas by visiting GSKPro
Disclosure of payments to healthcare professionals
Healthcare professionals are important partners, for example in their roles as prescribers, ensuring quality use of GSK medicines and vaccines, or as experts in their respective fields of medicine applying the latest research. As part of our continued commitment to transparency, we proactively disclose all GSK payments made at an individual level to healthcare professionals on an annual basis. Our payments to HCPs include the provision of services such as speaking at meetings; attending or supporting educational meetings; providing advice as a member of an Advisory Board or as a consultant; attending academic meetings and conferences; as well as travel and accommodation expenses associated with those services. 
View our 2020 disclosure report - PDF 483.6KB 
View our 2021 disclosure report - PDF 467.0KB
View our 2022 disclosure report - PDF 113.8KB
Back to top
Useful links