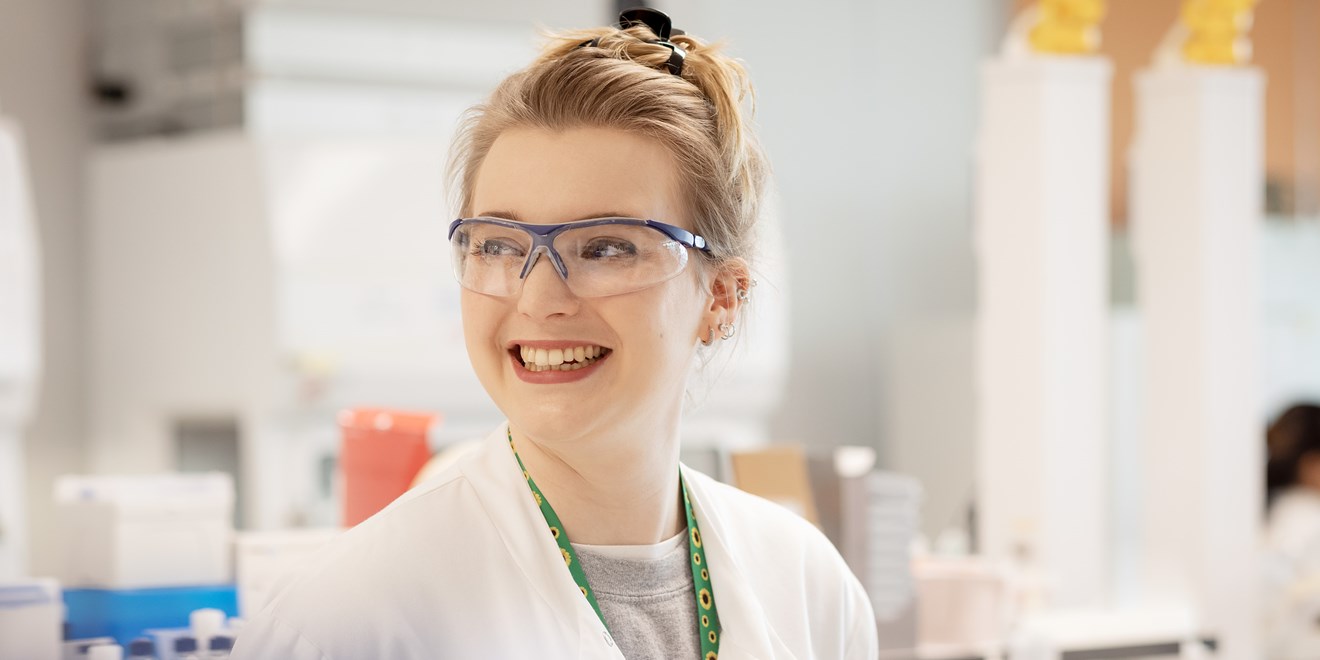 I GSK Norge er vi i underkant av60 personer, og vi holder til på Lysaker. Vi jobber med alt fra medisinske prosjekter til markedstilgang/helseøkonomi, markedsføring, salg og ulike støttefunksjoner - sammen jobber vi for at norske pasienter og samfunnet kan ta i bruk nye medisiner og vaksiner.
Forskning og innovasjon
Innovasjon er grunnleggende for oss. Det bidrar til å forbedre helse og skape merverdi. Vi reinvesterer en betydelig del av vårt overskudd i ny forskning.
Vi har tro på at samarbeid fører til innovasjon - vi samarbeider med helsesektoren, akademia, pasientorganisasjoner, myndigheter, frivillige organisasjoner og andre interessenter gjennom felles prosjekter, opplæring og ved å dele kunnskap.
GSK Norge er en del av Oslo Cancer Cluster (OCC), en forsknings – og bransjeklynge dedikert til utvikling av ny kreftdiagnostikk og behandling. Under OCC-paraplyen er vi en del av CONNECT – en offentlig-privat arena hvor forskjellige interessenter kan diskutere problemstillinger og løsninger i arbeidet med implementering av presisjonsmedisin for norske kreftpasienter.
Bærekraft og global helse
Vi bruker vår vitenskapelige ekspertise, våre partnerskap og vårt globale nettverk for å forbedre global helse. Vi bidrar til FNs bærekraftsmål og agenda 2030 med ulike konkrete tiltak. Gjennom vårt globale partnerskap med Redd Barna har vi hjulpet mer enn tre millioner barn.
Vi har satt oss ambisiøse, bransjeledende miljømål og skapt løsninger som bidrar til å redusere karbonutslipp, plastforbruk og vannpåvirkning. GSK Norge har jobbet aktivt med opplysningsarbeid om ulikt karbonavtrykk ved bruk av ulike inhalatorer i behandling av astma og kols, og har vært en pådriver for økt bruk av «grønnere» inhalatorer. GSK globalt er også en del av en koalisjon med bl.a. norske myndigheter, LEAF-koalisjonen, som er en av de største offentlig-private samarbeidene noensinne. LEAF skal jobbe for å beskytte tropiske skoger og støtte bærekraftig utvikling.
Karriere
Motiverte og fornøyde medarbeidere er nøkkelen til suksess. Å jobbe i GSK skal være givende. Vi tilbyr en likeverdig og fleksibel arbeidsplass, hvor kollegaer viser omsorg for hverandre, integritet ivaretas, og hvor alle kan utvikle seg og trives uavhengig av bakgrunn.
I tillegg til en rekke goder, har alle ansatte en ekstra fridag, en såkalt "Be You Day", som hver ansatt kan bruke som de ønsker. Dagen skal stimulere til glede og energi. Ansatte i GSK med familie tilbys også gratis forebyggende helsetjenester gjennom programmet «Partnership for Prevention».
For å finne ut hvordan du kan bli en del av GSK, søk etter jobber i Norge.
Besøksadresse (legemidler og vaksiner)
Postadresse (legemidler og vaksiner)
GlaxoSmithKline AS
Postboks 180 Vinderen
0319 Oslo
Back to top
Fakturaadresse
Kontakt oss (Consumer Healthcare)
Rapportering av bivirkning
Hvis du ønsker å rapportere en mulig bivirkning på noen av våre legemidler eller vaksiner, kan du kontakte oss:
Back to top
Mediehenvendelser
Medisinsk informasjon
Som legemiddelfirma har vi ikke anledning til å gi medisinskfaglige råd til pasienter og pårørende. Vennligst ta kontakt med din lege eller farmasøyt (apotek).
Er du helsepersonell, finner du informasjon om alle produkter og terapiområder relatert til GSK i Norge på vår nettside GSKPro.
For medisinske spørsmål om våre medisiner og vaksiner, kan helsepersonell kontakte vår medisinske informasjonstjeneste, der våre medarbeidere svarer på spørsmål på skandinavisk og engelsk.
Tel:  +47 22 70 20 00 (09.00 og 15.00)
Email: Nordic.medinfo@gsk.com (kun for helsepersonell)
Er du helsepersonell og ønsker en vitenskapelig diskusjon med en av våre medisinske/ vitenskaplige rådgivere, ta kontakt via sentralbordet. Vi har rådgivere innen områdene lunge, vaksiner, hiv og onkologi.
Vi gjør også oppmerksom på at du kan få svar på spørsmål om vaksiner og vaksinering ved henvendelse til Folkehelseinstituttet eller ved oppslag i Vaksinasjonsboka.
Back to top
Helsepersonell og pasientorganisasjoner
Samarbeid med helsepersonell og helseorganisasjoner
Det er viktig at helsesektoren utvikler seg på en bærekraftig måte, og det forutsetter samarbeid mellom ulike aktører. Derfor samarbeider vi med helseorganisasjoner og fagpersoner, myndigheter og andre selskap. Alt samarbeid er åpent, og alltid med pasientenes beste i tankene. 
Vi offentliggjør alle utbetalinger til helsepersonell og organisasjoner i henhold til retningslinjer fra Den Europeiske bransjeforeningen (EFPIA) og Legemiddelindustriforeningen i Norge (LMI). 
GSK har fra starten hatt full åpenhet om alle utbetalinger, og vi er glad for at LMI og Legeforeningen kom til enighet om dette som standard i Norge for avtaler inngått etter 1. juni 2020.
Back to top
Samarbeid med pasientorgansiasjoner
Pasientorganisasjoner er en viktig samarbeidspartner for GSK. Vårt mål er å hjelpe pasienter - da må vi forstå hvordan det er å leve med en sykdom og hvilke behov pasientene har. GSK følger til enhver tid interne retningslinjer samt gjeldende etiske regler fra Legemiddelindustrien (LMI) for støtte og samarbeid med pasientorganisasjoner. 
Åpenhet gir grunnlag for et godt samarbeid. Derfor offentliggjør vi hvert år en oversikt over pasient- og brukerorganisasjonene som GSK har samarbeidet med. Pasient- og brukerorganisasjonenes uavhengighet er viktig for oss, og vi oppfordrer derfor organisasjonene til å ha flere samarbeidspartnere.
Se oversikt over støtte til pasientorganisasjoner fra 2019-2021 (PDF-149KB)
Back to top