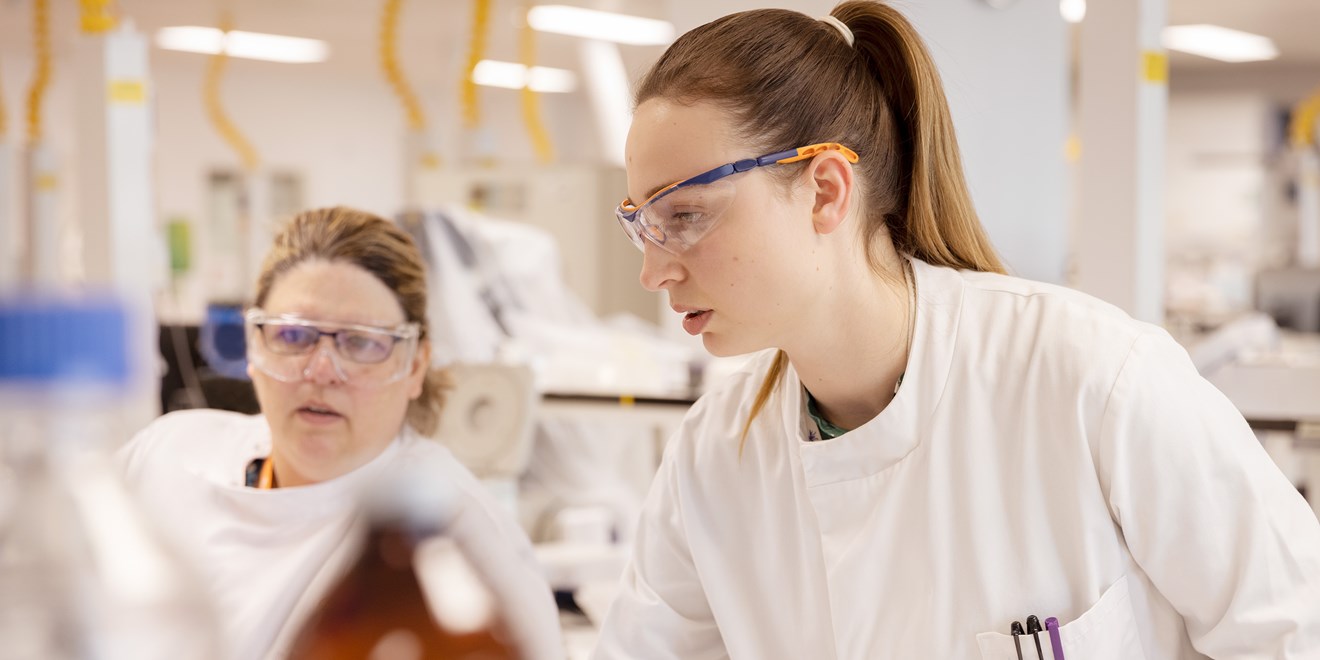 Wir sind seit 2001 in der Schweiz tätig und beschäftigen rund 120 Mitarbeitende am Standort Münchenbuchsee (BE). In unserer Zweigniederlassung in Baar (ZG) sind rund 50 Mitarbeitende in verschiedenen globalen Positionen innerhalb von GSK im therapeutischen Bereich der Onkologie engagiert.
Durch unsere globale karitative Partnerschaft mit Save the Children, haben wir uns verpflichtet, Kinderleben zu retten. Mehr dazu erfahren Sie hier.
Job finden & bewerben
Damit wir unser Leistungsversprechen einhalten können, brauchen wir talentierte und motivierte Mitarbeiter, die Verantwortung übernehmen und sich für die Patienten engagieren.
Bei uns gibt es verschiedenste interessante Tätigkeitsbereiche, in welchen Sie Ihre Talente gewinnbringend einsetzen können. Wir ermöglichen unseren Mitarbeitenden sowohl eine fachliche als auch persönliche Weiterentwicklung.
Sie interessieren sich für eine Anstellung in unserem Unternehmen? Informieren Sie sich auf unserem globalen Jobportal über die aktuellen Stellenangebote am Standort Münchenbuchsee (BE).
Unerwünschte Arzneimittelwirkungen melden
Patienten
Falls bei Ihnen eine unerwünschte Arzneimittelwirkung nach der Einnahme eines unserer Arzneimittel auftritt, haben Sie die Möglichkeit, dies Ihrem behandelnden Arzt oder der zuständigen Schweizer Behörde Swissmedic zu melden.
Medizinalpersonen
Beobachten Ärzte bei ihren Patienten eine unerwünschte Arzneimittelwirkung nach der Einnahme unserer Arzneimittel, können sie diese Swissmedic melden.
Darüber hinaus haben Ärzte die Möglichkeit, uns auch direkt via Mail an pv.swiss@gsk.com zu informieren. Wir leiten die Meldung umgehend und gemäss den gesetzlichen Vorgaben weiter.
In unseren Datenschutzbestimmungen ist unser Umgang mit personenbezogenen Daten beschrieben; die Handhabung Ihrer Anfrage, Ihrer Beschwerde oder Ihres Berichts über unerwünschte Ereignisse.
Back to top
Medienanfragen
In diesem Bereich finden Sie unsere Ansprechpartner für Presseanfragen.
Sollten Sie eine aktuelle Anfrage haben, Hintergrundmaterial benötigen oder Bildmaterial suchen, sprechen Sie uns bitte direkt an. Wir freuen uns über den persönlichen Kontakt mit Ihnen und helfen Ihnen gerne weiter.
Urs Kientsch
GlaxoSmithKline AG
Talstrasse 3
3053 Münchenbuchsee
Tel (mobil): +41 (0)79 292 56 91
Email: swiss.info@gsk.com
Manuel Mosimann
GlaxoSmithKline AG
Talstrasse 3
3053 Münchenbuchsee
Tel (mobil): +41 (0) 79 948 43 51
Email: swiss.info@gsk.com
Back to top
Lieferstatus GSK-Produkte
GSK vertreibt eine Vielzahl von Impfstoffen und verschreibungspflichtigen Arzneimitteln. Welche Produkte aktuell in der Schweiz verfügbar sind und welche nicht, erfahren Sie nachfolgend.
Back to top
Offenlegung von finanziellen Unterstützungen
In Im Einklang mit unserer Zielsetzung, eines der innovativsten, leistungsstärksten und vertrauenswürdigsten Gesundheitsunternehmen der Welt zu sein, möchten wir den sich wandelnden Erwartungen der Gesellschaft gerecht werden, mehr Transparenz in eine bereits intensiv regulierte Branche bringen und unsere Beziehungen zu medizinischen Fachpersonen, Gesundheitsorganisationen und Patientenorganisationen für die künftige Zusammenarbeit stärken. Die Links führen Sie zu unseren Offenlegungen für die Schweiz, die im Einklang mit dem Pharmakooperations-Kodex stehen. 
Unterstützung von medizinischen Fachpersonen und Gesundheitsorganisationen
Unterstützung von Patientenorganisationen (PDF-146KB)
Back to top
Medizinalprodukte
Ausführliche Informationen über unsere rezeptpflichtigen Arzneimittel und Impfstoffe können Sie im Arzneimittelkompendium nachlesen.

Als Medizinalperson haben Sie zusätzlich die Möglichkeit, sich auf GSKPro detailliert über unsere Produkte zur Therapie verschiedener Erkrankungen zu informieren.

Für Direktkunden besteht zudem die Möglichkeit, Impfstoffe bei www.gskvaccinesdirect.ch online zu bestellen.
Back to top