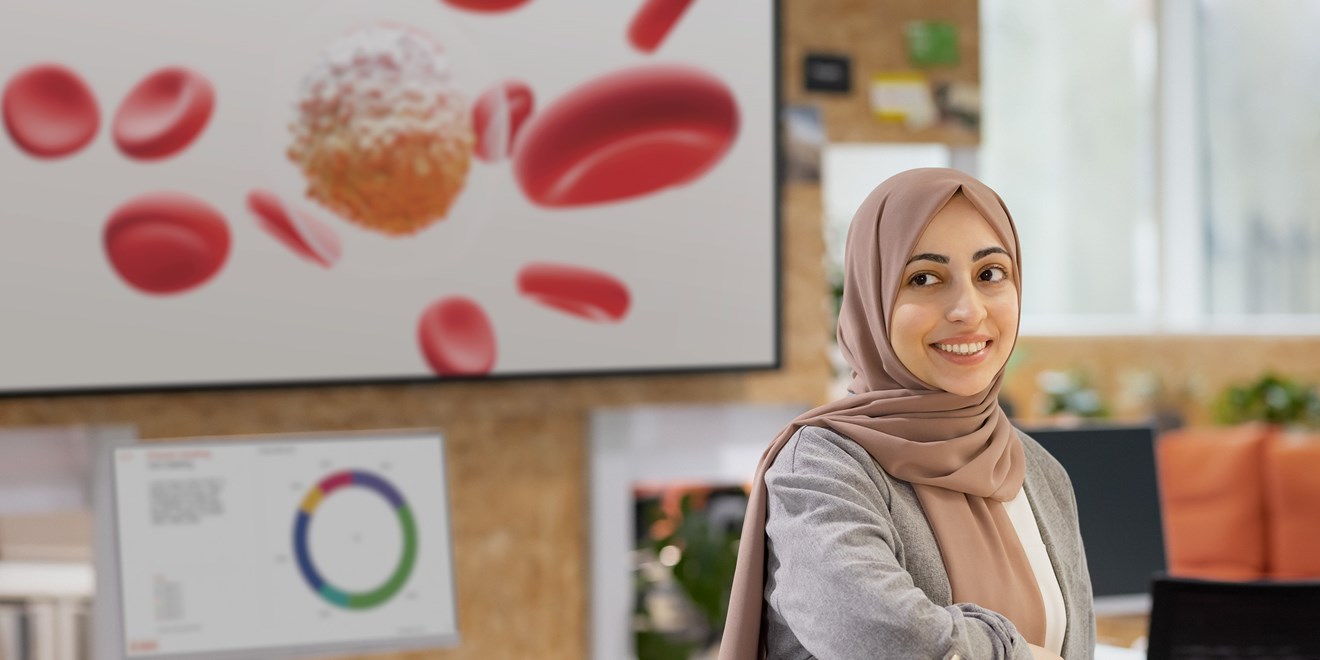 Currently, we invest around £1bn in research and development (R&D) in the UK annually with our global R&D hub at Stevenage continuing to be at the heart of the development of our pipeline of vital medicines, with a focus on the immune system, genetics, and advanced technologies.
Our culture powers our purpose, drives delivery of our strategy and helps make GSK a place where people can thrive. We are recognised in the Stonewall LGBT+ rights group as a top global employer and ranked in the Times Top 50 employers for women in the UK.
We also support our global and local communities. £1.7m has been raised by UK employees for Save the Children so far, with 100% of these funds being used to help provide UK families living on low incomes with essential household items, learning resources, and support that gives parents the skills, confidence and tools to help their children thrive.
Members of the public in the UK can obtain information about our products and areas of therapy by visiting our
GSK House
980 Great West Road
Brentford
Middlesex
TW8 9GS
United Kingdom
General enquiries
Customer support and medical information
Media enquiries
Reporting an adverse event
UK Human Resources Support
Careers
We're working hard to become a more inclusive company through our recruitment and selection processes. To support you in your recruitment journey we have prepared answers to your frequently asked questions about how we hire for direct entry UK roles at GSK.
Healthcare professionals
Healthcare professionals (HCPs) in the UK can get information about our products and therapy areas by visiting GSKPro
As a healthcare company we regularly work with HCPs. From collaborating on clinical trials to providing high quality, balanced information about our medicines and vaccines, in all of our interactions we aim to be transparent about our work, operate with integrity, and always put the interests of patients first. 
Disclosure of payments made to HCPs in the UK
UK patients, journalists and members of public
In line with ABPI Code, we disclose payments for certain contracted services made to UK patients, journalists and members of the public, on an aggregate basis.
Partnerships
Despite having some of the best people and research facilities, experience has shown us that we can achieve even more through strong partnerships.
These can be with the NHS, other companies, non-profit organisations and the academic world. In fact, it's a key element in our business strategy, which helps us develop innovative new medicines and vaccines but also helps improve access to treatments and patient care
Donation of goods and services
Joint working
We are actively involved in a wide number of joint working projects with the NHS throughout the UK. By working together we aim to improve the management of different conditions, introduce greater efficiency introduce greater efficiency and to achieve our ambition to unite science, technology and talent to get ahead of disease together.
The projects outlined below were undertaken over the last five years and, over this period, codes, regulations and laws governing the areas covered by the studies may have changed. When reading the documents please be assured that all projects followed the particular standards in force at the time even though these may have subsequently changed.
All of the featured case studies are intended to give an overview of the individual project including its background, the potential benefits for the patient, the NHS, GSK and any other stakeholders.
Grants and donations
We recognise a responsibility to support activities in our medical community, whether related to medical education where there is patient need and common scientific interest, professional societies' initiatives, or assisting healthcare organisations and projects that promote other healthcare goals. In all of our interactions we aim to be transparent about our work, operate with integrity, and always put the interests of patients first. 
Criteria for grants and donations
GSK UK's Grants and Donations Committee uses the following criteria when assessing applications from Healthcare Organisations and Patient Advocacy Groups:
The grant or donation must be used for an activity with a valid and legitimate purpose that enhances patient care, or benefits the NHS and maintains patient care. Programmes currently within scope for approval include:
Patient Advocacy Group initiated Programmes and Core Funding
Grants to organisations that support healthcare professionals and related staff to attend Scientific Congresses with decision-making independent of GSK
 Public policy and advocacy programs and initiatives, including legal reform and government relations
The activity must be in a GSK disease area of strategic priority: Respiratory, Oncology, Specialty and COVID-19, Vaccines.

Funding must be proportional to the activity and not excessive.

Applications must be from a legitimate, reputable organisation that has the capability and licences to conduct the activity.

The grant must be made in a manner that does not affect the independence of the recipient.

A grant will only extend beyond one year under exceptional circumstances.

A grant will not be given to an individual or be used for personal use.

A grant cannot provide more than 25% of total funding received by a single recipient through GSK grants, except for rare disease or start-up patient groups, which can receive up to 50% of the total funding. Any exception requires additional approval and shall not exceed 50% in any case.
Carbon reduction plan
In accordance with UK Cabinet Office standards, the attachment below is GSK's Carbon Reduction Plan completed in accordance with PPN 06/21 and associated guidance and reporting standards for Carbon Reduction Plans.
Contractor opportunities & temporary opportunities
We have many opportunities for professionals interested in flexible contingent projects with GSK.
Please click here to register in the UK talent pool and access some of the most cutting-edge and exciting project opportunities. GSK's Contractor & Agency Worker community and all associated activities are managed by our recruitment partner, TAPFIN, a ManpowerGroup Business
To learn more about our early talent programmes, visit our global Early Talent portal. For early talent programmes in the UK, please explore the pages below. 
Back to top