Leonard, father, farmer and assistant
When Leonard was 19 years old, his firstborn baby became gravely sick. Leonard took him to a local witch doctor who told him the child was bewitched. By the time anyone realised that it was actually severe malaria, it was too late. The baby had convulsions and soon died. That experience shaped Leonard's life and drove him to dedicate much of his life to helping combat malaria.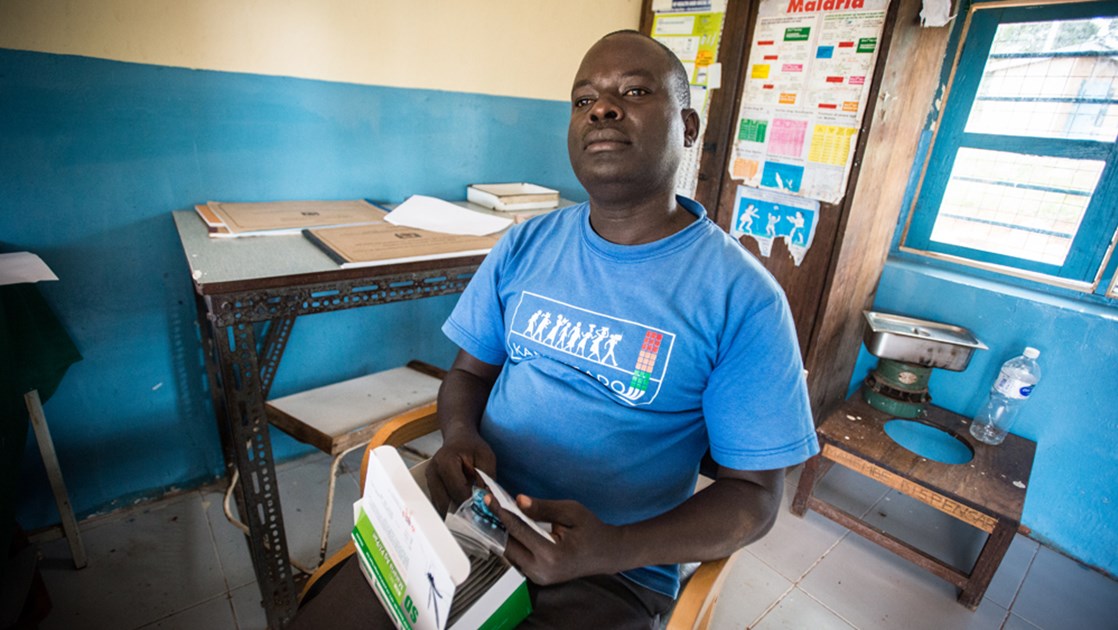 When I realised my baby had malaria, it was too late. That pushed me to start working for malaria awareness.
Leonard, now 35, is a community-minded man and comes from a family of doctors and health providers. He always wanted to work in a health-related field so since the age of 20, he has tried to educate others about malaria prevention and treatment. He volunteers at a local health dispensary in the Mahembe community in Kigoma, Tanzania, where he lives. He also meets with small business groups, such as the local tailors, as well as community or church groups to tell them how to stay safe and urges them to pass the message onto their customers, neighbours and friends. Leonard receives training about malaria prevention and treatment from the Tanzania Communication and Development Center, which receives money from a Comic Relief/GSK partnership to help combat malaria.
At the dispensary, Leonard works as an assistant health care provider for a few hours most mornings. He tests people using the rapid diagnostic test, a simple pin-prick blood test. If they are positive, he sends them to the pharmacy to receive medication. He also informs them how to take the drugs, impressing on them the importance of completing the full dose. He talks to people about the actions they can take to prevent getting sick again: use a net, wear long sleeves and trousers after dusk, cut long grasses and clear away any pools of stagnant water around the house that could become a mosquito breeding site. He does all this in addition to his work as a farmer cultivating cassava and maize. He has a wife and three children.
Leonard says it is the memory of his firstborn who died from undetected malaria that drives him. He tells people about his own experiences in the hope they will not have to suffer the same experience 
Leonard has seen a lot of progress during the past 15 years. He says people are now actively asking for nets, they are no longer assuming they have malaria and taking medication unnecessarily, instead they will request a test if they start to feel unwell. They are also completing their malaria dose and actively seeking out his advice. But he knows there is still room for improvement to stamp out the disease altogether. He wants to make sure there is a constant supply of malaria drugs and diagnostic tests and always tries to inform the district malaria representative if there is a near stock out. Malaria drugs also cost money and not everyone can afford them. He thinks there should be more mobile cinemas in communities disseminating educational messages about malaria as word of mouth and leaflets can only do so much.