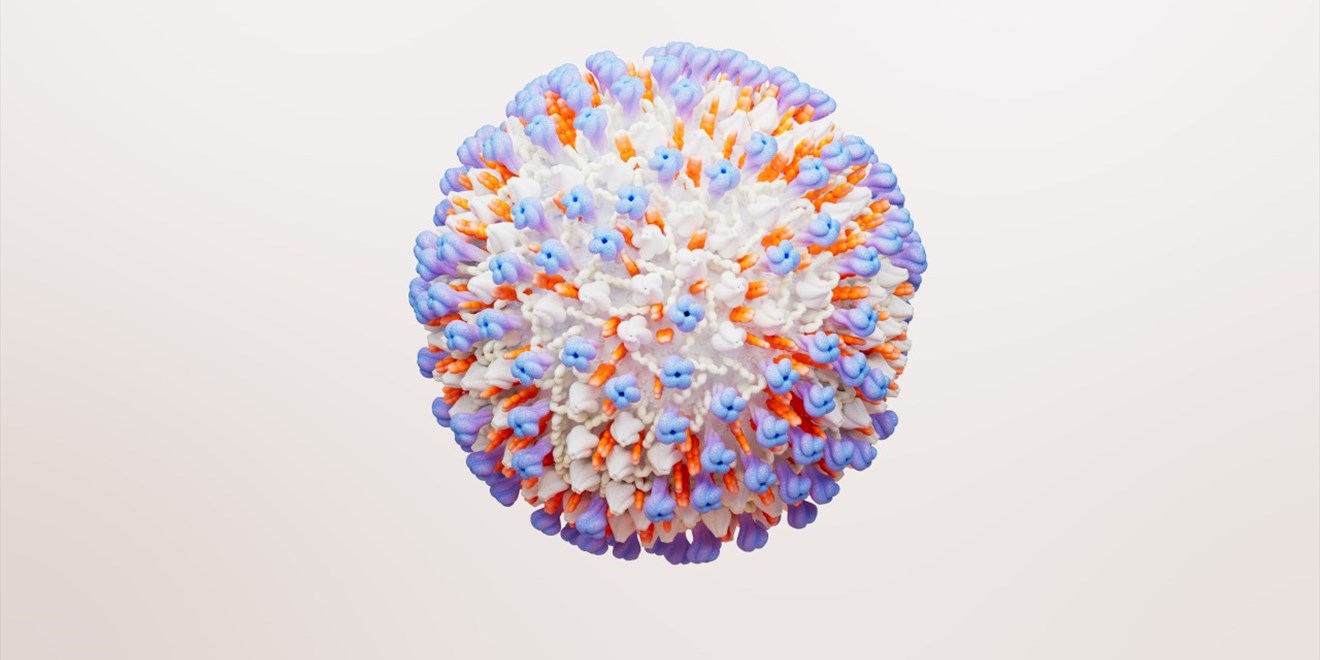 Almost half of the vaccines and medicines in our pipeline address infectious diseases.
We are committed to getting ahead of infectious diseases together by discovering and developing new vaccines and specialty medicines against this major global health burden.
Our combined expertise in vaccines and medicines means we can focus on treatment and prevention. Examples include:
Hepatitis B, through our antisense oligonucleotide and vaccine technologies in development
Influenza, for which we are developing vaccines and antibodies
COVID-19, for which we are working on both treatments and vaccines
Respiratory viruses
Building on over 50 years of leadership in the respiratory area, we are developing a portfolio of solutions for respiratory illnesses such as flu, respiratory syncytial virus (RSV) and COVID-19. Additionally, we are working on medicines for other respiratory illnesses such as viral-induced COPD exacerbation.
Our partnership with Vir Biotechnology led to the development of a monoclonal antibody treatment for COVID-19. We have also expanded our partnership with Vir to advance potentially new therapeutics for influenza and other respiratory viruses.
Antibacterial research
We are investigating potential new medicines and vaccines to help address antibiotic-resistant infections, such as urinary tract infections and urogenital gonorrhoea, Shigella, Staphylococcus aureus, Clostridium difficile, or Klebsiella. We are applying our long-standing expertise in the development of bacterial vaccines (such as meningitis) to contribute to reducing the burden of antimicrobial resistance (AMR).
We have also established public-private partnerships with funding bodies in both Europe and the USA to fight antibiotic resistance, including the IMI antibiotics accelerator involvement and US Government's Biomedical Advanced Research and Development Authority (BARDA).
Shingles
Around one in three people will develop shingles in their lifetime. Once infected with chickenpox (caused by the varicella-zoster virus) most often during childhood, the varicella-zoster virus lies dormant inside the body and can reactivate later in life due to declining immune response (in older adults or immunocompromised people for instance) and cause shingles. We continue to research and invest in our adjuvanted shingles vaccine to help ensure it can offer a broad protection globally.
Meningitis
About 1.2 million people develop invasive meningococcal disease (IMD) every year, with infants, young children and adolescents particularly vulnerable. We are a leader in IMD protection, with over ten million patients vaccinated in 2021 alone, and continue to research the development of potential new vaccines offering broader protection.
Chronic hepatitis B (CHB)
Over 300 million people have been diagnosed with CHB, and each year around 887,000 die from the decompensated cirrhosis or liver cancer it can cause. We are employing antisense oligonucleotide technology with the aim to deliver medicines against chronic hepatitis B. We are also researching a candidate vaccine combining multiple technologies to help strengthen how the immune system responds to the virus.
Neglected tropical diseases (NTDs)
We have a dedicated global health organisation with two R&D centres, in Siena, Italy and Tres Cantos, Spain, researching potential solutions for NTDs. Our scientists are looking at a range of diseases across invasive nontyphoidal salmonella, typhoid and paratyphoid fever, and Group A streptococcus, visceral leishmaniasis, Chagas disease, lymphatic filariasis, soil-transmitted parasites and dengue fever.
We're also working in close collaboration with leading research institutes and partners to seek solutions to help end the epidemics of tuberculosis, malaria and HIV, for which we have a range of vaccines and medicines.