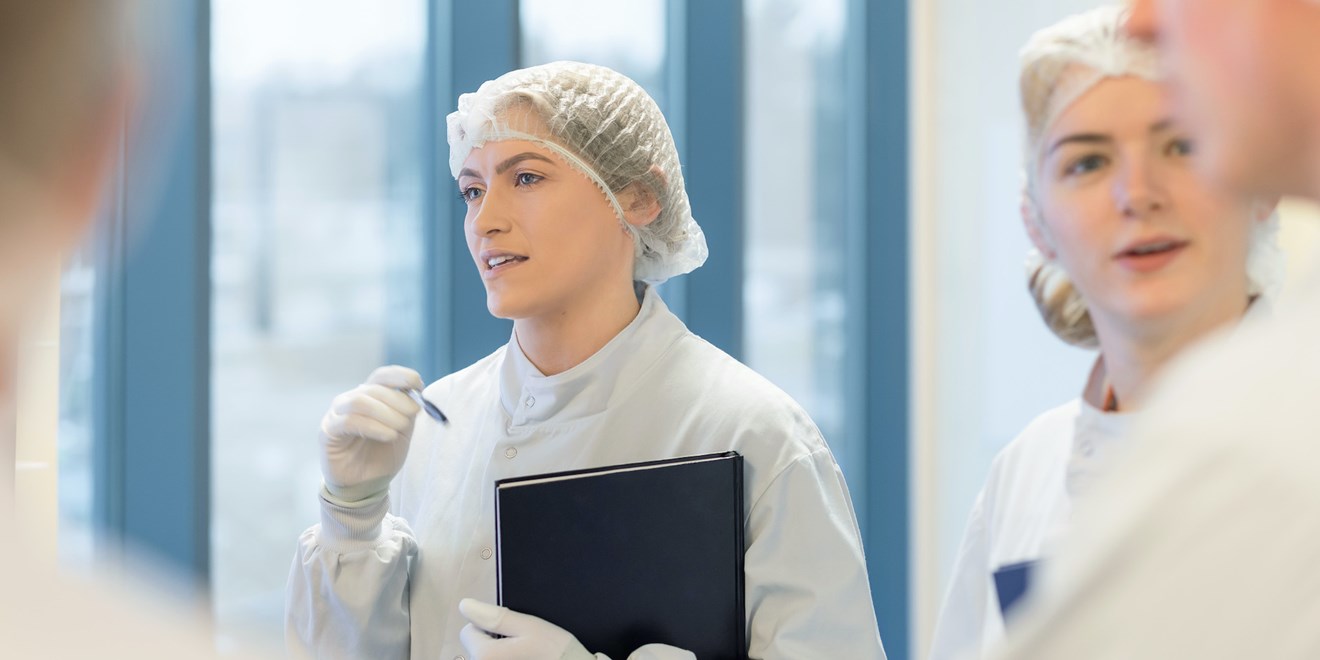 We have quality systems in place across GSK to ensure we meet the high standards we set ourselves as a company, and those that are expected of us externally.
These standards also protect our licence to operate at a high-quality level across our entire supply chain. Our constant review of these standards allows us to keep pace with the evolving nature of external regulations, and new scientific understandings of our existing products and processes. 
GSK Quality Management System
Our GSK  Quality Management System (QMS) is a detailed and specific framework which comprises our policies and procedures. Built on the principles defined by the International Council for Harmonization of Technical Requirements for Pharmaceuticals for Human Use (ICH) and those documented in the ICH Q10 Pharmaceutical Quality System guideline (PDF - 343kb), our QMS describes how we comply with external regulatory requirements and other standards across our markets. Different areas our QMS covers include:
Global and local regulations 
These include the Food and Drug Administration (FDA) in the US, European Medicines Agency (EMA) in Europe) and the MHRA in the UK and all other regulatory requirements as well as other relevant standards and guidelines (e.g., International Organisation for Standardisation (ISO) standards for medical devices) for the markets in which we operate.
Manufacturing
All GSK manufacturing operations hold the relevant manufacturing licenses and GMP/GxP certificates issued by the appropriate external health authorities. Our certificates confirm that, following inspection, all manufacturing duties that we carry out adhere to our QMS and comply with strict regulatory requirements.
Distribution
Our QMS spans the development, manufacturing and distribution activities across our global distribution network. This includes:
Periodic reviews of our processes and products
Proactive monitoring of key quality metrics
Risk assessment and risk management
Quality management reviews
Audits, inspections and self-inspections
Supply chain traceability
Product incident management
Third-party oversight
Formal responsibility for quality assurance is managed by the GSK Quality organisation. This is made up of an extensive global network of quality and compliance professionals within each of our business units, from site-level to senior management. These individuals provide oversight and assist with the delivery of quality performance and operational compliance, and the development, implementation and maintenance of the entire GSK QMS. We have an independent chief product quality officer and a global product quality office who oversee product quality risk across GSK. The chief product quality officer regularly briefs GSK's Leadership Team and the Audit, Risk and Compliance Committee of the GSK Board of Directors. 
Back to top
Audits
GSK's audit teams and programme provides independent business monitoring of business activities to assure quality. They also help to ensure the implementation of our Quality Management System across all GSK sites and functions – guided by Good Manufacturing Practice (GMP) and Good Distribution Practice (GDP) standards. We carry out internal audits of our systems and processes for Good Clinical Practice (GCP), Good Laboratory Practice (GLP) and pharmacovigilance. Across these areas we regularly conduct audits of new suppliers. We also carry out audits to monitor existing suppliers to ensure they comply with GSK standards. Where we find areas to improve, we create improvement plans and track their progress.
Back to top
Regulatory inspections
We regularly participate in regulatory inspections across the globe for the markets we supply our products to. These inspections help to ensure high standards of quality are met across our operations in development, manufacturing and distribution, including product quality and safety. We respond to all inspection findings, no matter how minor, and implement the necessary corrective and preventative action to address them.
Back to top
Product recalls
For all our products, we exercise the utmost caution when it comes to protecting patients and those people taking our medicines. In case of any product issues, we have product incident committee processes in place to investigate any product issues that may occur, including the recall of products where necessary.
Our product incident and recall assessment
This is a company-wide assessment embedded in our Quality Management System. It allows for prompt investigation and assessment of product safety issues or defects. Assessments are conducted by global committees made up of subject-matter experts, quality management, medical safety experts and regulatory responsible persons. These committees provide a thorough risk assessment for the potential impact of the product issue, with relevant documentation, including where required a safety assessment to responsible health authorities in the impacted markets. This assessment may result in a recall of product.
Back to top
Third-party suppliers
We expect all contract manufacturers that make our products to comply with GSK standards, and regularly conduct audits to provide us with assurance that they do.
We have implemented a comprehensive risk-based approach to assessing, qualifying, managing and monitoring our third-party suppliers. Those that qualify to our required standards have quality agreements put in place specific to the type of product or service provided. We conduct ongoing training of our suppliers through the routine engagement and support provided by our external facing quality groups; covering hot topics in the industry, training on new regulations and sharing of quality alerts. The extent of the training varies in relation to the complexity and risk of the associated product or service being provided.
Back to top
Product and patient safety training
All relevant GSK employees receive patient safety and quality processes training, all of which is guided by our company culture. Training courses are detailed in our Quality Management System. They include:
Induction courses
New starter and refresher courses covering personal hygiene, safety and technical skills
GMP and GDP training relevant to each employee's role
Employees who carry out specific, quality-critical or sensitive activities are subjected to additional checks as necessary to assure product quality and compliance. Training is also augmented by targeted programmes aimed at enhancing awareness of new regulatory guidance or improvements, such as:
Data integrity
Prevention of contamination
Excellence in deviation management
Quality culture
Back to top