Global Ethics and Compliance
The Global Ethics and Compliance function is responsible for supporting the development and implementation of practices that facilitate compliance with laws and Group policy.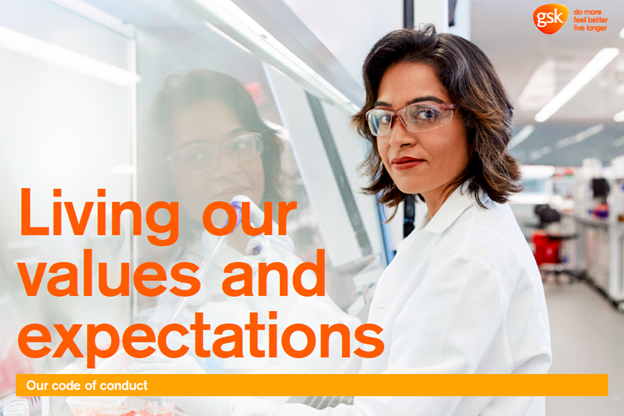 Our code of conduct is the foundation of our company policies. It sets out fundamental principles and our values and expectations that staff should apply in their daily work. Underpinning the code of conduct is a range of corporate policies providing specific guidance in areas such as competition law, marketing practices, non-discrimination, share dealing and conflicts of interest. It is the responsibility of everybody who works for or on behalf of GSK to follow the code to sustain the trust and confidence of our stakeholders.
Ask questions, raise concerns, speak up. We will listen and support you. Go to www.gsk.com/speakup
Our GSK Speak up integrity lines are available to report alleged breaches of legal or regulatory obligations, financial fraud (including accounting internal controls and auditing), or any other alleged contravention of GSK's code of conduct and company policies.
Issues and concerns can be reported using different communication channels and concerns may be reported anonymously if desired.
A secure, offsite post office box may also be used:
GSK, Inc.
"Speak up," Mailstop 5.5A
PO Box 13398
RTP
NC 27709
USA
Please do not use the Speak up integrity lines or post office box for product enquiries or to report adverse events. Visit the contact us page for instructions on where to submit questions on these matters.