Innovative entrepreneurs: 1715 – 1891
Our history began with a remarkable group of individuals in the eighteenth and nineteenth centuries, who set up a range of businesses across the UK, Europe and the USA. In pharmacies, shops and drug manufacturers, they developed innovative products including medicinal soaps and cod liver oil. Their pioneering work forms the foundation of the company we know today.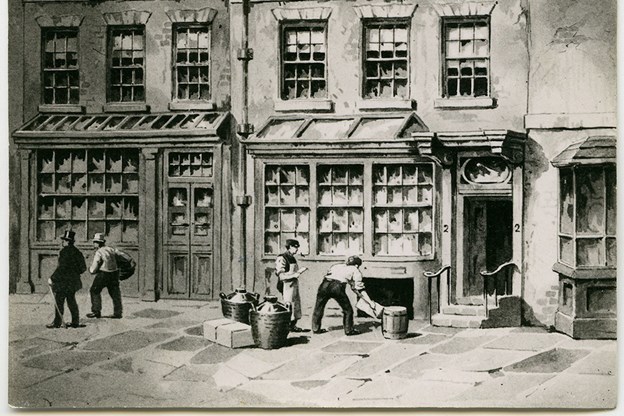 Our first pharmacy
In 1715, Silvanus Bevan opened Plough Court pharmacy, an apothecary shop, in London.
In the 1700s, apothecaries were some of the most common medical practitioners, offering medical advice and selling medicinal products.
William Allen, an office clerk, was employed by the pharmacy in 1792, and became a partner in 1795. Allen was an esteemed medical professional; he became a founding member of the Pharmaceutical Society in 1841.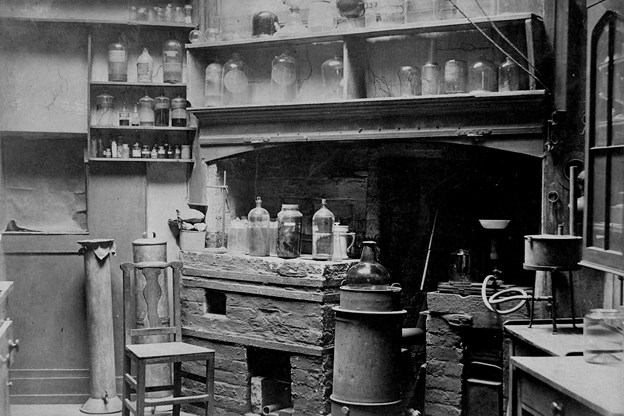 Our first lab
William Allen's nephews by marriage, the Hanbury brothers, joined the Plough Court pharmacy in the 1810s, and by 1856 the company became known as Allen & Hanburys.
The company expanded throughout the 1850s and 1860s, partly due to sales of their unique cod liver oil, which was used to prevent rickets and vitamin A deficiency.
Allen & Hanburys Ltd. would eventually be acquired by Glaxo Laboratories Ltd., a GSK legacy company. "Glaxo" is the origin of the 'G' in GSK.
1715

Plough Court pharmacy opens in London, UK

1792

William Allen joins Plough Court pharmacy

1810

Hanbury brothers join Plough Court pharmacy

1856

Plough Court pharmacy becomes known as Allen & Hanburys Ltd.

The origins of "Smith Kline"
In 1830, the Smith & Gilbert drug house opened in Philadelphia, USA. After Gilbert withdrew, John K. Smith's younger brother George joined the company, which they built into a successful drug wholesaling business.

By 1870, their nephew Mahlon Smith was managing the company, and its bookkeeper, Mahlon Kline, had joined as a partner to form Smith, Kline & Co.
The company acquired French, Richards & Co. in 1891, to form Smith, Kline & French Company. "Smith Kline" is the origin of the 'SK' in GSK.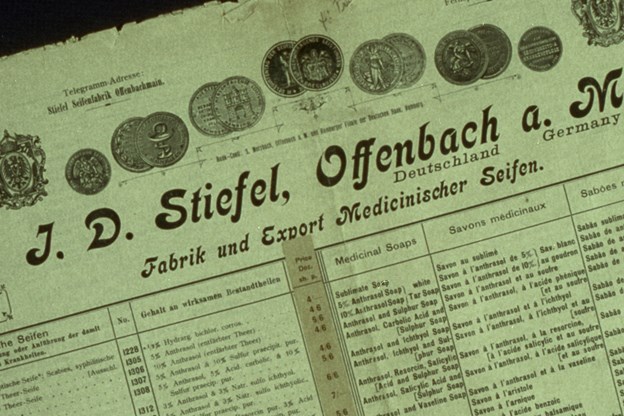 Soaps, candles and skincare 
In 1847, John David Stiefel established a candle company in Germany which later began making medicated soaps. The soaps were so popular that Stiefel began exporting them in the 1880s.

Stiefel was acquired by GSK in 2009 – by which time it had become Stiefel Laboratories, then the world's largest independent dermatology drug company. 
1830

Smith & Gilbert drug house opens in Philadelphia, USA

1847

John David Stiefel establishes a candle company in Germany

1891

Smith, Kline & French Co. formed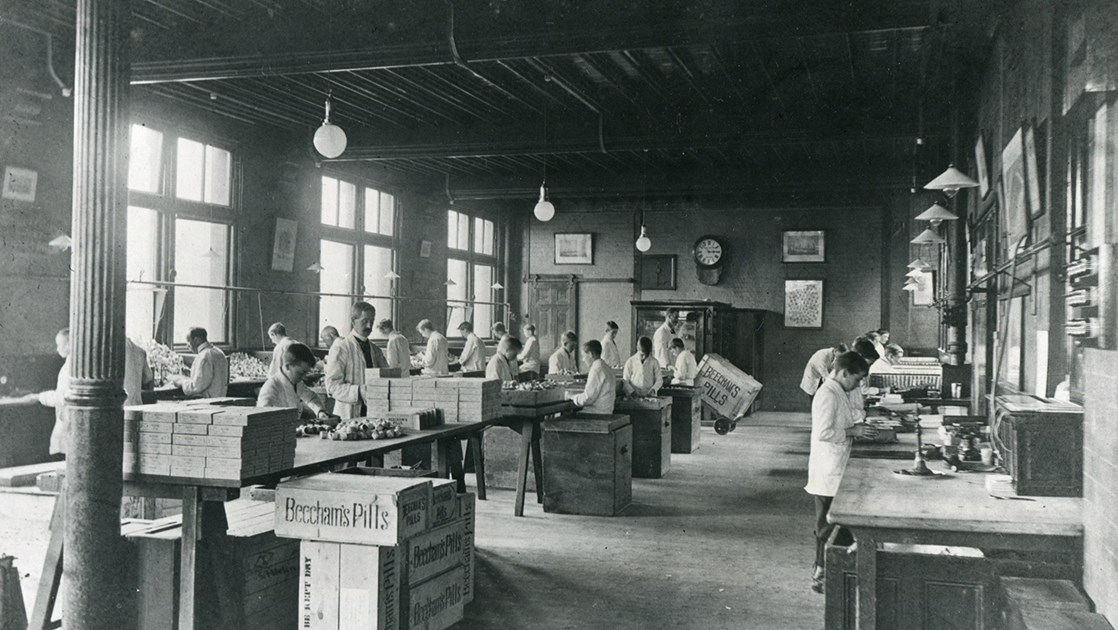 From shepherd boy to factory owner
Thomas Beecham, a former shepherd, was granted a licence for his first shop in England in 1848. He developed the recipe for Beecham's laxative pills before building what was claimed to be the first factory in the UK with electricity in 1887.
Beecham became a provider of healthcare products across the UK, which over a century later merged with SmithKline Beckman Corp. to form SmithKline Beecham plc.
Necessities in New Zealand
In 1873, Joseph Nathan, a Londoner who had left the UK at age 17, established a general trading company in New Zealand, called Joseph Nathan & Co.
He sold haberdashery, ironmongery and meat products shipped over from London and invested the profits in land used for dairy farms.
Joseph Nathan & Co. Ltd. was bought out by its subsidiary Glaxo Laboratories Ltd. in 1947.
1848

Thomas Beecham opens a healthcare shop in Wigan, UK

1859

Beecham opens its first factory in the UK

1873

Joseph Nathan & Co. established in Wellington, New Zealand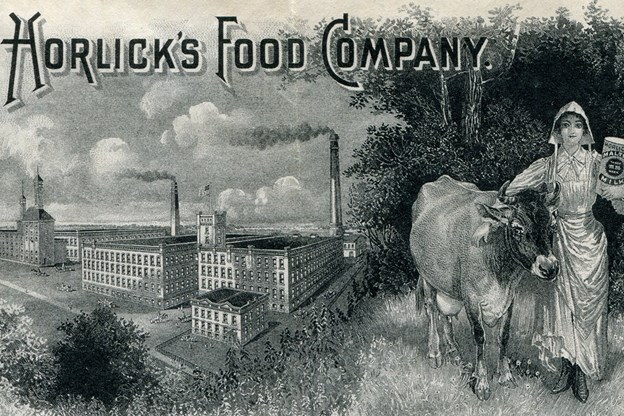 Malt and milk: Horlicks
In the 1870s, London pharmacist James Horlick developed a dried malt product which he and his brother William first sold in Chicago, USA, as a dietary supplement drink to be mixed with milk.
The Horlick brothers then moved to Wisconsin, USA, where in 1883 they patented the process of purifying and drying milk with malt to make the world's first malted milk, called Horlicks Malted Milk from 1887. 
Increasing sales of Horlicks Malted Milk across the British Empire led James Horlick back to London to open an office in 1890. 
Horlicks Ltd. became part of Beecham Group in 1969. 
Partners in pharmaceuticals
In 1880, American pharmacists Henry S. Wellcome and Silas Burroughs began Burroughs Wellcome & Co., a drug sales partnership in London.
In 1884, they developed a new compressed tablet for medicines, trademarked as a 'Tabloid', to be an alternative to pills.
Tabloid medications were so successful that the company opened its first large scale manufacturing facility in 1889.
1880

Burroughs Wellcome & Co. established in London

1883

James and William Horlick first patent malted milk

1889

Burroughs Wellcome & Co. opens a manufacturing facility in Dartford, UK