Inside the vaccine factory of the future
Read time: 4 mins
11 June 2021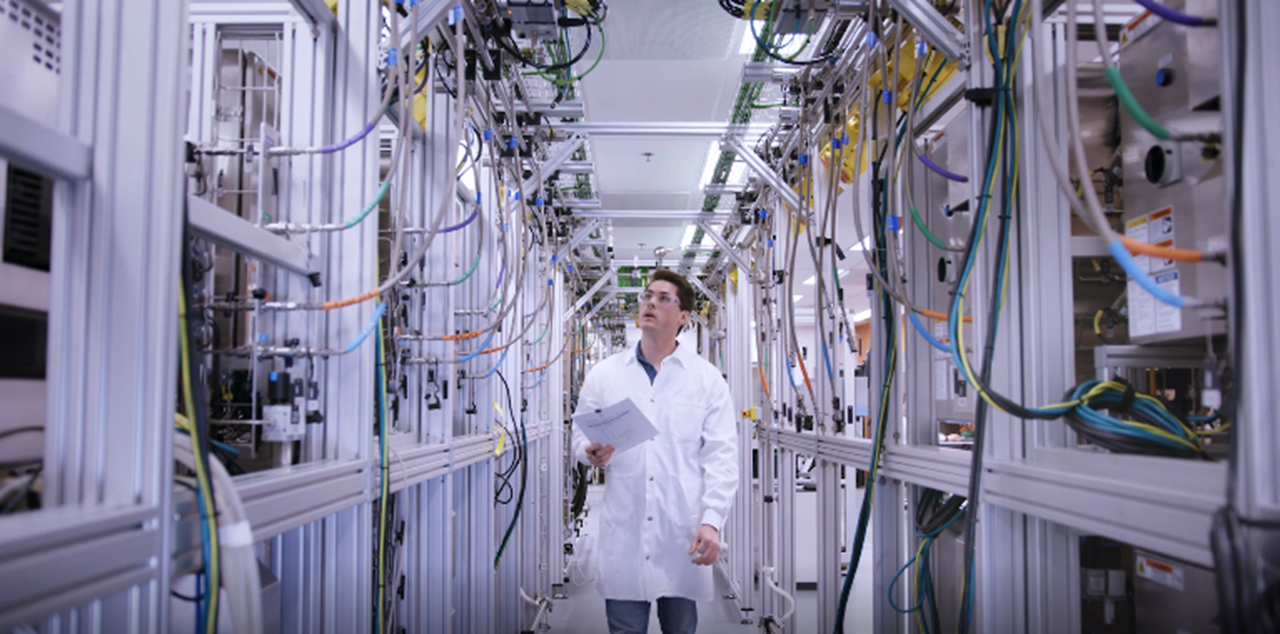 When there's a need for a vaccine, lives are on the line and time is of the essence. Historically, developing a safe and effective vaccine has been a time-consuming process, often taking more than a decade. That's in part because there are so many phases, each playing an integral part in delivering vaccines. One exciting way that we're continuing to innovate vaccines at GSK is through using digital technology to build a replica of the whole vaccine development process, from start to finish – otherwise known as a 'Digital Twin'.
The phases of vaccine development
Traditional vaccine development and production progresses in many stages, each digitalised to a certain extent, but with few digital connections between them. These steps include:
Understanding the pathogen, via genetic sequencing and other methods

Selection of the best vaccine candidate

Extensive preclinical testing, including proof of concept studies

Development of the processes to manufacture the vaccine

Robust in-human clinical trials to trials to evaluate safety and efficacy
The evidence generated then forms the basis of the vaccine's regulatory filing and approval. Once approved, the vaccine must be manufactured and distributed on a large scale – with significant lead time allocated to provide quality control.
At each step, we see tremendous potential for optimisation. This is why at GSK, we are embracing digitalisation to help speed things up. By working with Siemens and Atos, two of the world's leading expert companies in digital transformation and technology, we have piloted a Digital Twin – a complete and real-time simulation of the entire vaccine manufacturing process.

What is a Digital Twin?
A Digital Twin is a virtual replica of a process, product, or service. When applied to producing vaccines, it combines the virtual and real realms of development and manufacturing in a closed loop to collect real-time insights from the onset. When the Digital Twin is connected to the real process, the physical sensors send data to the twin and the simulated insights are fed back to the control system to keep the process at the optimum. Think of it as a real-world experiment informing a computer-simulated (in silico) experiment, and vice versa, in a closed-loop so that both can become as efficient as possible. Such is the case in the automobile industry, where designs are often digitally modeled and tested in a multitude of ways on the computer before a car is ever driven: the Digital Twin controls the driving process based on all the data from the real-life process to ensure quality as a self-driving car controls the vehicle based on the data collected from the car and sensors, camera, etc.
This digital 'factory' allows us to simulate, monitor closely, anticipate failures, and optimise quality and self-learning. The performance data obtained from real run is fed back into the development process and helps optimise products and processes at an early stage. Ultimately this means we can speed up the vaccine manufacturing process and get vaccines to people faster.
Operationalising Digital Twins at GSK
After successful completion of a proof-of-concept project with Siemens and Atos focusing on the production of particles of a vaccine adjuvant, Digital Twins are now becoming a reality at GSK and are being gradually implemented in our development activities. In addition to production, we are also exploring the potential of a Digital Twin to transform the process of vaccine R&D further upstream. Early in a vaccine project, the combination of high-throughput experimentation and the twin models would quickly produce data needed to confirm theories. Further down the line, a Digital Twin has the potential to drastically reduce real experimentation, meaning fewer materials and less energy is consumed, helping R&D to increase sustainability.
The principle of 'co-simulation' is the key element for us at GSK. Digital Twins of individual part-processes are created first, then all to be combined at a later stage in an ecosystem.