Outstanding People: Meet Graeme
Read time: 4 mins
07 May 2021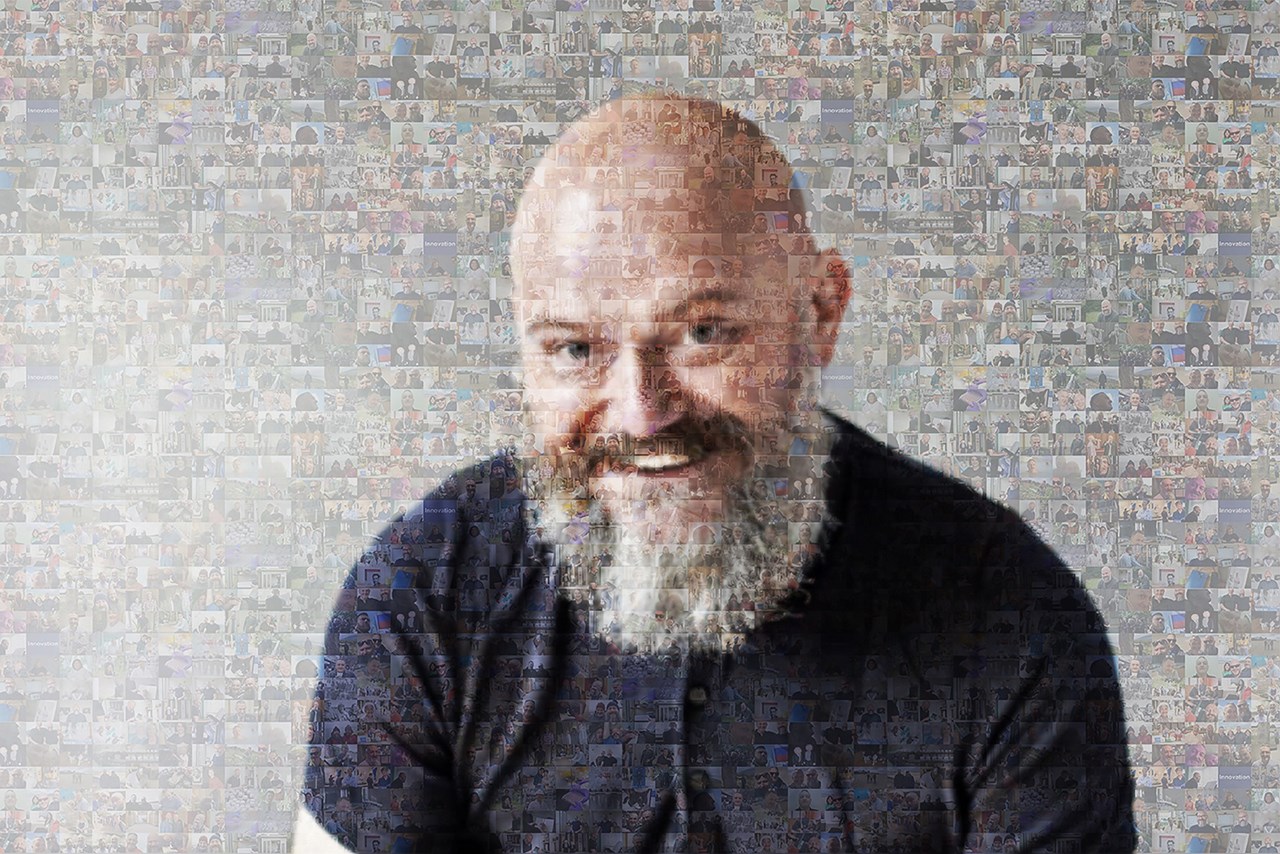 "Every decision is a risk." Here, Graeme Archer, VP & Head of Non-Clinical & Translational Statistics, tells us how data is a fuel for invention and how it's helped continue our work on Covid-19.
On growing up //
"I will never work in Pharma" is what I told my Dad when he suggested I follow his career path and study chemistry. But a few things converged and, other than a brief stint making doughnuts at a bakery, I've been working in statistical decision-making for all of my professional life.
At school, I felt a sense of control in maths. As you grow up, you realise that the universe won't bend to your will, but sitting in the library with my maths books—realising that I had a facility with equations, seeing their meaning almost intuitively—I found a place where I could be the master of something. And it struck me that though we lived in this three-dimensional world, there was nothing in the maths that prevented me from extending it to however many dimensions as I wanted.

Then there was the whole concept of imaginary numbers. Take the square root of minus one—it's an imaginary thing and it's also "real", in the sense that it exists mathematically and can be manipulated by human thought. How amazing is that?
So off I went to university in Glasgow, studying maths, physics and Statistics. Even as an undergraduate, it was the Statistics that hit me. I can do some arithmetic with pen, paper and calculator, and because of the maths I'm invoking, I can make a valid statement about scientific theories that describe the universe—which doesn't care about me and doesn't even know I'm doing this exercise. That was the eureka moment for me.
Now it's my job to ensure that the scientists at GSK can say to the world, we generated data and because of that data, we can tell you something about this drug—something critical, like its efficacy. And you can have confidence in what we say. It's easy to be unpopular because it's also my job to look at the many competing theories that might suggest a set of data would not make good medicine. But being as truthful and as rigorous as I can be is a moral duty and goes all the way back to that boy, sitting in the library, starting to comprehend the power of what numbers can tell us about the world.
On inspiration //
}
Numbers gave me a sense of control and I think that sense of control played a wider part in my youth.
I had a great upbringing with an absolutely fantastic mum and dad. One of my earliest memories is that I was blessed with love and I think that once a child knows that, he or she is quite robust with most of the slings and arrows to come.
And to come was the realisation that my sexuality was different to everyone else's. In small-town Scotland in the 1970s and 1980s, it wasn't normal to be gay. I remember thinking: I am Graeme; Graeme is gay; I am gay – and that's a big thing. But I also remember instantly thinking – this will never be my problem. I just assumed that if it was going to be a problem it would be someone else's and I'm proud of that.
My husband inspires me. I met Keith nearly two decades ago. His life is one of quiet and determined duty, a word that I'm sad to say has fallen from fashion.

If I wasn't loved by Keith, none of this would have happened. I think I'd just got to the limit of what I could achieve as a single person, without going off the rails. I'd given up on the idea of being loved. I didn't think it possible to love me. He proved that hypothesis false.
Everything else flows from that. I got this reinvigoration. That was the moment when work stopped being a case of — I've got to do this to pay the mortgage. There was a bit of a mission – I wanted to achieve things again. And when you wake up every morning and think—I love that man and I know that he loves me—life could throw what it liked at me. When it's not a case of proving yourself worthy every day, that's the rocket fuel that enables you both to say – right, so what can we achieve now?
On decisive choices //
When the pandemic started, lots of good people were trying to do lots of good things—it was a noisy, crowded market in innovation. Telling lots of senior people that we could deliver something really useful, and that we could deliver it in six weeks, was gut-wrenchingly terrifying. We planned to build a complex statistical model that enabled teams to predict the impact of COVID-19 on clinical trial recruitment. Without such trials, no new medicines would be approved. But we had no infrastructure—no integrated way of sourcing all the data we would need.
What we did have was one of the world's greatest statisticians as technical lead, Nicky Best, plus the data science team that I established a few years ago, whom I was convinced could build any pipeline. These big brains and the inspiration I take from Nicky's brilliance gave me the confidence to take a risk with my seniors and push this project.
And the spirit in that team—I've never seen anything like it. That initial phase of not sleeping, of relentless focus—it's one of the most amazing experiences of my professional life and without doubt the best team to which I've ever been exposed. Just a group of humble statisticians, helping the company make better decisions, strengthening our pipeline through scientific expertise.
It was brilliant to see the immediacy of how Statistics could respond usefully to a global crisis—a micro-picture of what the whole Pharma industry has been like since the pandemic. Thank God for big Pharma and the innovation we bring, because, though it's far from perfect, if we didn't have it, we wouldn't have a civilisation. I think it's as stark as that.
What turned out to be my favourite day at GSK was another one of those risk-taking moments. Preparing for a company-wide, prime-time presentation, we realised we had a big chance to show a captive audience of scientists why statistical thinking is critical to good clinical outcomes, to our ability to innovate and to instilling continued confidence in the products we deliver.
There was a particularly risky section we decided to include, listing examples where logic and data had not always informed choices. Everyone was laughing at the start. But when we got to the most recent red flags—confronting the outcomes that poor decision-making can bring—that was when they got it. That was the day when Statistics truly arrived at GSK. And from the lowest level study team to the biggest board decisions, there will now always be a statistician in the room.
Advice I now feel in a position to give is that, unless you've got that little bit of fear that you might be going too far—that knowledge that you're pushing a boundary— why would anybody listen to what you have to say? Risk is a necessary fuel for invention and one made all the easier by surrounding yourself with brilliant people.
On words //
}
As well as my husband and colleagues, I take inspiration from the words of Iris Murdoch and George Orwell. In fact, I would make everyone read Orwell's Politics and the English Language before so much as drafting an email if I could.
I've always enjoyed language and won an Orwell prize for writing back in 2011. After that, I had a column in a national newspaper for a few years, writing opinion pieces on British politics and my musings led to a position as a speech-writer for a cabinet minister in the British government—another risk, for which GSK granted me a sabbatical year.
As much as I like writing, I can't imagine being anything other than a statistician. It's intrinsic in me—like asking me to imagine I wasn't gay. And as unScottish as it is for me to say, right now, we are among the luckiest people alive on the planet, because of the opportunities that work provides for us to do something good.
So maybe my Dad's suggestion of a career in Pharma all those years ago wasn't such a bad one after all.
Meet more of our Outstanding People
Meet Amanda
Amanda Peppercorn, Medicine Development Leader, discusses how GSK's culture of smart risk-taking and patient focus enabled a collaboration with Vir in record time. 
Watch time: 1 mins
Meet Nicky
Nicky Best, Senior Statistics Director, shares how her team used data and modelling techniques to predict the impact of Covid-19 on our clinical trial recruitment.