Outstanding People: Meet Hangfei
Read time: 3 mins
10 August 2021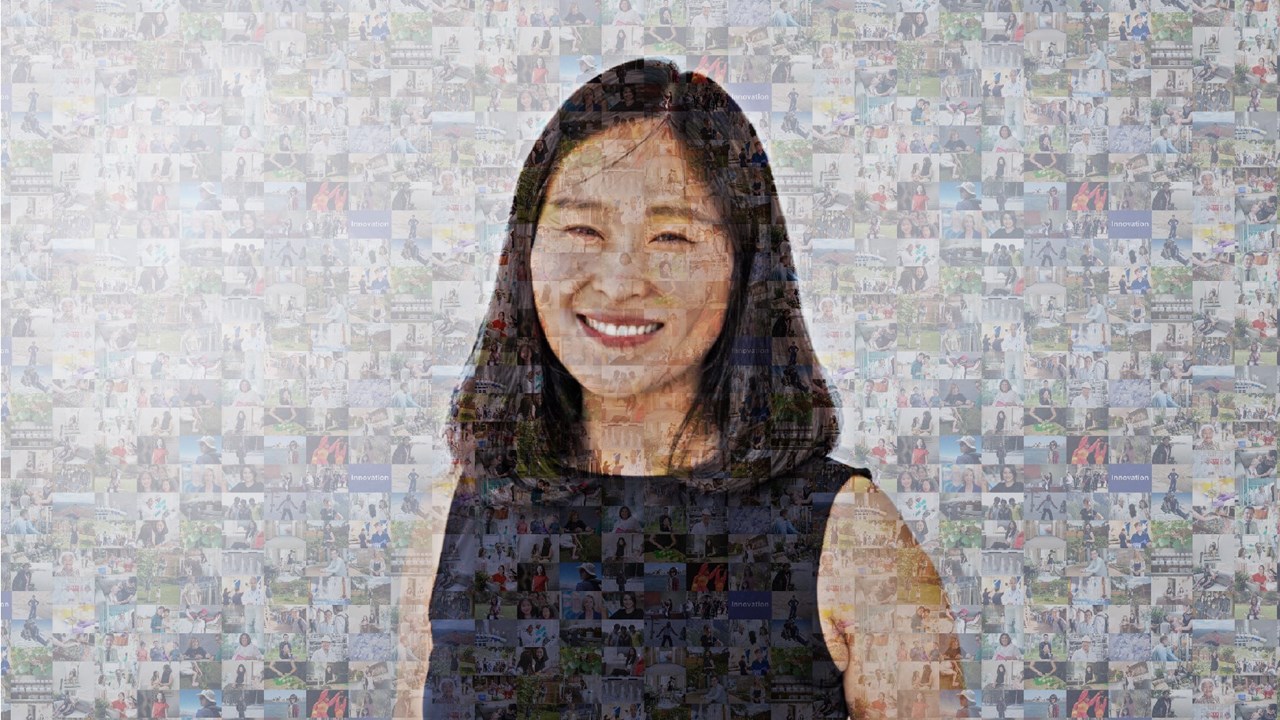 "She never let me see those tears, and I moved forward with my dream of becoming a scientist." Hangfei Qi, Scientific Leader, ViiV Healthcare, shares her story of taking risks and working to find a cure to help more people living with HIV.
From China to the US - a step into the unknown //

Growing up in China, I was the first person in my family to go to college. My mom didn't have the opportunity to get much education — it was simply not available to her — but she was extremely supportive of me, encouraging me to explore and test the limits of what life could bring. She inspired me from a young age, with stories of her childhood, working in the fields to help her family, right through to opening her own restaurant, where I would help out sometimes.
At school, I found that I was very good at science and maths, much more so than languages and literature. When I got the results from the Gaokao — the National College Entrance Exam taken by all prospective college students in China — I realised I had options available to me, that my life could be moving into a bigger space than I had really imagined.
After completing my undergraduate degree at Zhejiang University, I spent the summer in the laboratories of UCLA as part of their summer camp. It was my first proper experience of being in a lab environment and I absolutely loved it. When I told my mom I wanted to pursue a career in science by applying to grad school in the United States, she was immediately supportive of my decision to step into the unknown. I later found out from my little sister that when she turned away from me, she was crying.
She never let me see those tears, and I moved forward with my dream of becoming a scientist, earning a PhD at UCLA, but only having the opportunity to travel back to China to see my family briefly during the holidays. It wasn't until the pandemic hit and my parents got stuck in the US that I would spend more than a few weeks with my mom again. Their visit ultimately turned into a year-long stay in the States — a real gift in such an uncertain time.
Exciting innovations in tackling HIV //
}
After spending two formative years at GSK focussing on hepatitis B, I moved to ViiV, to focus on an infectious disease with a very different character. HIV is such a sneaky virus. Current treatments are highly effective at suppression, but cannot irradiate this virus, which uses so many different approaches to evade detection by the body's immune system and persists in a small population of cells. That's why our work on a cure remains vital.
This persistent infection can cause quick viral rebound once daily antivirals are stopped. So, sufferers are medicated, and infected, for life.
The cure strategy we are focusing on is about induction and reduction. While the overall strategy is well-accepted in the field, just last year, our team at HIV Cure Center published a major paper on the potential to induce HIV from latently infected cells. We are hoping that this will potentially lead to a new first-in-class agent to be tested in patients, which is such an exciting innovation in this race and shows the level of expertise ViiV has in this area.
I'm heading up the "reduce" side of the HIV cure strategy, where we are determining how to reduce or clear infected cells upon their exposure either by interventions we provide, or by enhancing the host's immune system. It's a lot of work and a challenging area of research but we are making progress, with some promising combinations showing signs of reductions in infected cells in our in vitro experiment systems.
We won't stop until we find cure for HIV - I believe we are closer than ever //
As a programme leader, I'm also an adjunct professor at UNC-CH, which means I can recruit keen students with an interest in exploring a career in pharmaceuticals to support the programme. It's been a huge investment from GSK, ViiV and UNC-CH and a great example of how private and public resources can come together to achieve genuine breakthroughs. And one that we are determined will make a difference to patients' lives.
At an all hands meeting just last month, we heard stories shared by patients about the stigma still attached to the HIV infection and the difference new treatment options can make. As a team, we definitely got inspired by those stories. And I know this may sound obvious, but we won't stop — we won't stop until we find a cure for HIV, and I truly believe that we are closer than ever.
Knowledge that is helping get us through the pandemic was based on HIV research //
There's certainly a lot of attention on the industry at the moment, and questions around how an effective vaccination for COVID-19 was found so quickly when it's been 30 years since we started to tackle HIV. To be fair, I think a lot of the knowledge that is really helping us to get through the pandemic was based on broader infectious disease and HIV research.
And taking nothing away from the incredible work we've seen on COVID, we have to acknowledge that HIV is tremendously difficult — with a sophisticated strategy of evasion, integrating into the genome and hiding from the immune system.
But I also think the speed of COVID-solutions has inspired us to push even more.  And with such a big public focus on the value of vaccines and therapeutic solutions, plus the accumulation of knowledge and progress we have made with the evolution of technologies and platforms, the future is very bright. We just need to keep going.
My turn to be the inspiring mom //
}
Having the support to imagine what is possible and to challenge myself was really important to me growing up. So, when my six-year-old recently started ballet lessons, to inspire her the way that my mom inspired me, I decided to start classes! I like trying new things and it's a really nice way to bond.
I enjoy the creativity of cooking too and prepare dishes in the Chinese style so the kids will grow up remembering their mom's flavours like I do. Maybe it's because I spend a lot of time in the lab and find that cooking is another way of experimenting — putting ingredients together, adding time and effort, and following a protocol. I guess there's just slightly less pressure on the outcome in the kitchen.
When I was younger, I did consider becoming a teacher, which is what my sister does back in China. There was also some suggestion that I study medicine — I lost my grandma to complications relating to infectious diseases as a teenager. But for me, it wasn't a lack of good doctors that cost them their lives, it was a lack of good treatment options. And it is this need to offer patients new and better treatments that continues to inspire me every day. So even if I could do it all again, what I know for sure is … I wouldn't change a thing.