Outstanding People: Meet Kevin
Read time: 3 mins
12 August 2021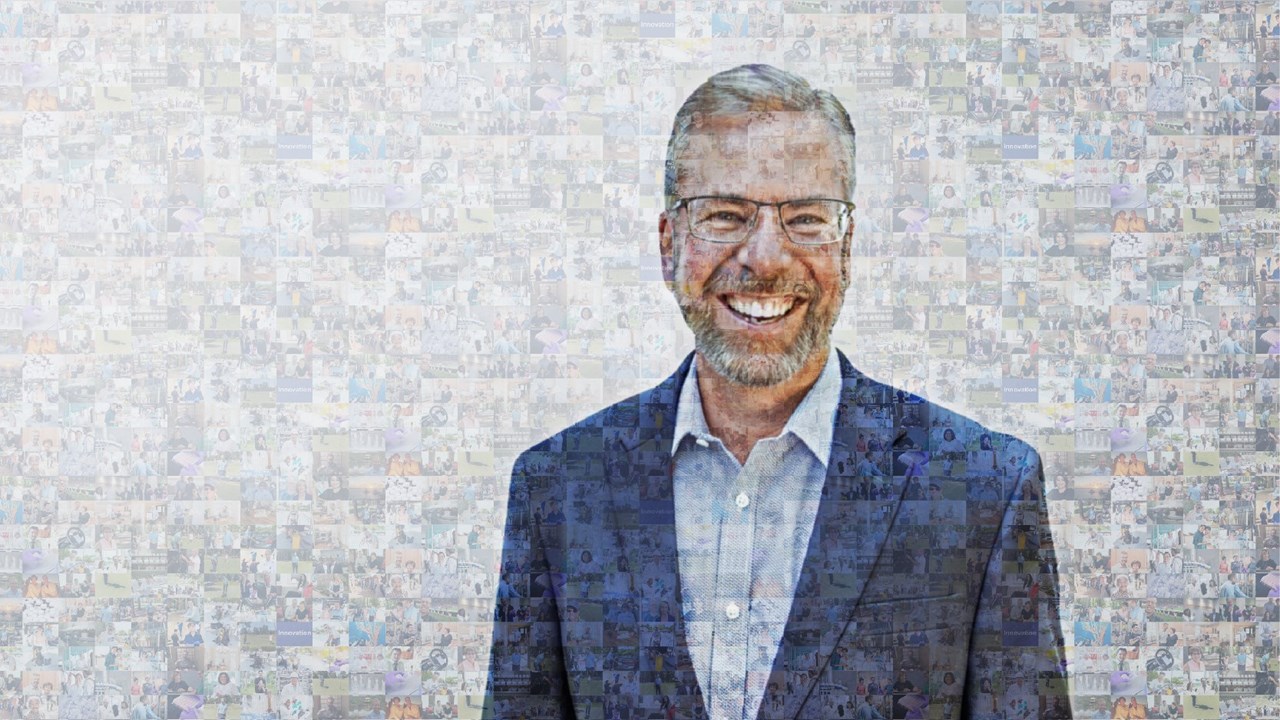 "One of the biggest impacts for me has been working on options to potentially prevent, treat and cure infectious diseases." Kevin LaWall, Global Marketing Director, reflects on bringing the outside in, the importance of creativity, and how journeys often come full circle.
Healthcare is where my heart is //
Caring for people's health has always been a keen interest. My mother worked as a nurse and my grandfather was a general practitioner, and extended family worked in healthcare in some form. Watching them and hearing their stories as a kid I always knew that I wanted to work in medicine in some capacity. I learned from my mom that helping others is one of the most rewarding things you can do. At one point I considered studying to become a doctor, but I felt more drawn to the business side of medicine. After my MBA, I was fortunate to be hired into a healthcare marketing role. It's now been over 30 years and I've never looked back. This is where my heart is.
When you've been in the industry as long as I have, you get to see how medicines you helped to launch transform lives — and that's an amazing thing. Unfortunately, not everything I've worked on has seen the light of day - my career includes developing marketing plans for plenty of medicines that almost made it. But for all the medicines that didn't make it, when you see the few that do and know that your work played a role in helping people who are suffering, it's all worth it.
Innovation full circle //
}
My role is to help ensure we develop innovative medicines that address the needs of patients and healthcare stakeholders. Most of my career has focused on developing and launching new medicines. In my almost 22 years at GSK I've worked in many different therapy areas, and led teams developing commercial plans for up to a dozen medicines at a time. One of the biggest impacts for me has been working on options to potentially prevent, treat and cure infectious diseases.
I'm getting to the point where medicines I helped launch almost 30 years ago are now being trialled against our new medicines. For me, that is innovation coming full circle. Right now, I'm completely focused on helping develop new treatments relating to a viral infectious disease which impact almost 300 million people globally.
The Covid-19 pandemic has definitely shone a light on the devastating effects infectious diseases can have globally and underscored the importance of continued research and development. I'm also noticing how much more interest there is in the need to tackle antimicrobial resistance, an area GSK is committed to. More generally, I am very proud of the speed and the way in which the pharma industry has responded to the pandemic. And now, government and industry are looking at ways to make early investment and research financially viable, which is so important for accelerating this culture of innovation in tackling infectious diseases.
Bringing the outside in //

What I've learned is that you can't develop transformational new medicines, or start to think about cures, in a vacuum. Part of my role is bringing the outside in — the voice of patients, physicians, experts, special interest groups and patient advocates. They are the people who dictate what true innovation would look like for them, in their lives — we then do everything we can to figure out how to achieve it, however ambitious that goal might feel.
Infectious diseases affect more than the body. They affect a person's wellbeing, their mental health, and their relationships. People living with Hepatitis B, for example, also face stigmas of living with the disease. Infectious diseases for some people involve significant lifestyle changes – from life at home to social settings. For people living with Hepatitis B, abstaining from alcohol is recommended to prevent further liver damage. I've heard patients share stories about being at parties and not being able to join in the celebration toasts, and then in some cases being asked why.
Listening to these stories inspires me to constantly strive for better. They're my reason for getting out of bed. Working in healthcare makes you more empathetic and compassionate. I believe those to be essential ingredients for continued progress and I see a lot of those qualities at GSK.

I've always been hands on, literally and figuratively. In my middle school years, I would ask friends to draw scribbles and I'd turn their drawings into a cartoon. I continued drawing throughout college. In fact, I even had a commercial art business designing logos, banners and other marketing materials. Having those experiences gave me the confidence, or the crazy idea, for my wife and I to renovate the first home we bought together from top to bottom – an historic, 90-year-old house rich with character. It was one of the best artistic outlets I ever had.
Creativity is all about conceptualizing something new, whether that's artwork for a campaign or a fresh solution to a problem. It gives you the ability to look at things from a different perspective.
Although cartooning is not part of my day-to-day work, I still occasionally lend my creative input on the look and feel of artwork we commission to support product development. It's a great way to combine all of my interests. More important though, especially when you're launching new medicines, is to ensure we tell the story in a thoughtful way that resonates with patients and makes the connections clear. I want patients to know that we see and hear their challenges, and for that to carry through in everything we do.
A family affair //
Golfing, walking or somewhere around water is where you'll find me in my free time. Often times, it's a family affair. The ocean is my happy place, and you'll find me scuba diving whenever I can. I got my certification back in the mid-80s and over 500 dives later, I finally got a GoPro! I have fun with that thing and can most definitely share neat videos of sharks and turtles for anyone who is interested.
After this past year, I've been thinking a lot about family. The pandemic put a lot in perspective for me about the importance of family. We have a family reunion in Buffalo coming up. Whenever I get together with family, they always ask me "Kevin, what medicines are you working on lately?" They'll definitely want to hear about my ongoing work in infectious diseases. And I'll be glad to hear about everything they are doing. Because after all, caring for one another is what it's all about.