Outstanding People: Meet Marilyn
Read time: 3 mins
30 November 2021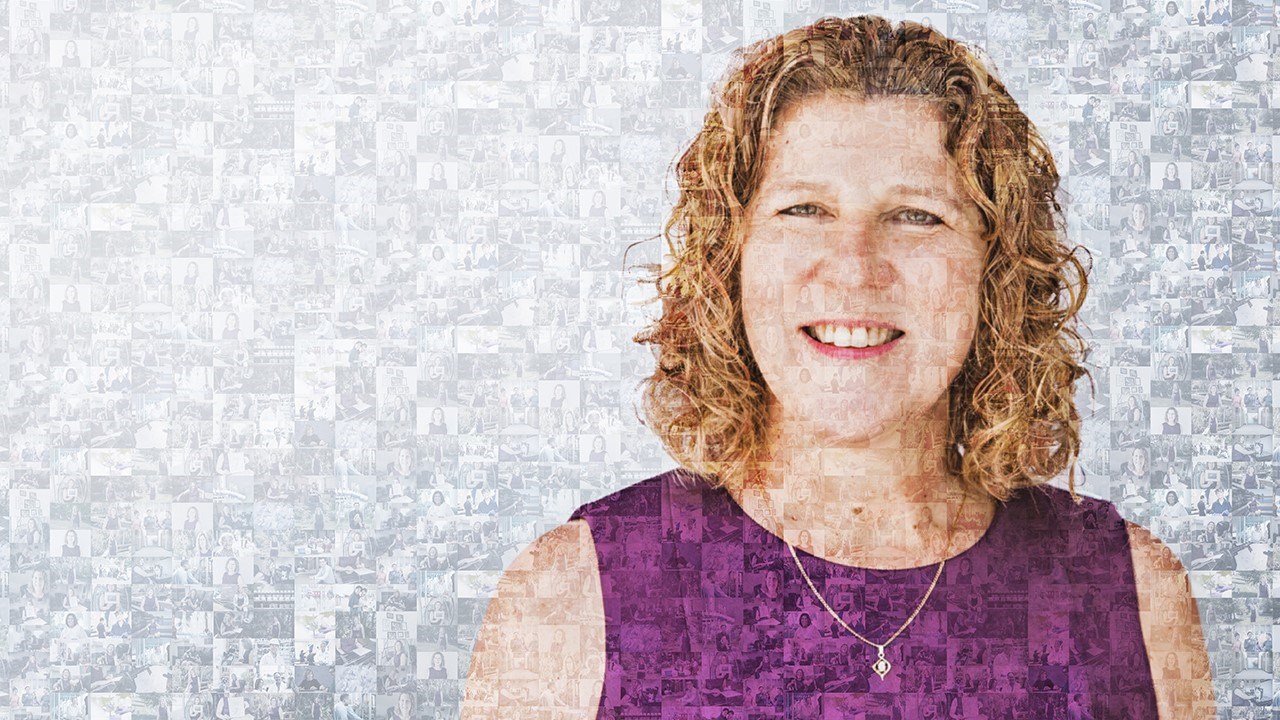 "We're going to do this thing together!" Marilyn Metcalf, Senior Director-Patient Engagement, USA, shares the power of connection and how she is inspired by the patients helping GSK innovate.

Early connections
I am the youngest of four children, and have returned to the small town where I grew up. There was one stoplight, and you could address letters simply by writing the person's name and town on the envelope and dropping it into the local delivery slot at the post office.  
I've been at GSK for 24 years, and my husband and I have been married for 33 years. I think growing up in a close-knit family in a small town helped me understand the value of human connection and feeling grounded. When you go to school with many of the same people year after year, you have the chance to see each other grow in different ways. And when you're surrounded by farms and groves, you have that real connection with nature: People still like to fish from the dock. Some people still have horses. Our lives would be empty if we weren't surrounded by plants and animals.  
My mom taught high school science, so she brought that perspective when she was helping us with homework or teaching us to cook. I loved reading in biology classes about how our bodies fight disease and grow and change. I was interested in understanding the full being. The more I work with patients, the more that's still true.  
Open to learning
}
My interest in health research was inspired by my cousin, who had cystic fibrosis. He lived his life to the fullest and was wise beyond his years. I was almost 25 when he passed away; he was only 23. He made me realise how much we need to live our lives in the moment, make our own choices and take responsibility for them, and be open to learning.  
In graduate school at the University of North Carolina at Chapel Hill, I worked with a sociologist studying doctor-patient relationships. I started my pharmaceutical career working with people taking HIV medications in horrible, high doses. I thought my first HIV patient focus group were the bravest people in the world, just to get up every morning and keep fighting. That really hooked me on patient perspectives. 
Medicine is truly miraculous in many ways, but each new advancement in treatment opens more complexity.  As a child I almost had this sense that doctors possessed an omniscient view of what was happening to your health, that somehow they could "read" everything about you in your vital signs. As a graduate student, understanding patients' charts and my own health records, and hearing doctors and patients talk about miscommunication, I realised how important those all-too-often rushed conversations in doctors' offices could be.

Brave voices
I am the wife, the daughter, the niece, the friend; all of those to people who have been through cancer treatments. I relate to what patients call "scanxiety" – your whole body clenching, waiting for test results. Until you've been through it, you may not fully understand that overwhelming sense of relief when everything's okay, or that gut-punch when it's not good news. It's the club nobody wants to belong to. But once you're in it, you understand. 
The patients we work with are some of the bravest and most giving people in the world, just to be willing to take an experience that was terrifying, probably one of the hardest in their lives, and allow others to learn from it. To intentionally say, 'I enrolled in a clinical trial because I wanted a medicine that would work for me', but also if it wasn't going to work, 'I at least want somebody to benefit from it'.  
Patient voices tell us not only what aspects of medicine still need developing, but why and how; which endpoints to measure in clinical trials and how to explain studies. They give us a sense of what can change in a patient's life if we get this treatment right. And they remind us that every patient is different. I think they are everything in terms of understanding where we need to go. I love feeling like the champion of that, because it's vital to everything we do.  

Kindred spirits
I spend a lot of my time off at the Dolphin Research Center in the Florida Keys. They are amazing ambassadors for our natural world. I think the more we understand about non-human animals, the more we connect with them, the more we'll want to save them. And, and in doing so, maybe we'll end up saving ourselves. 
When COVID-19 hit, even introverts found ourselves craving connection with other humans, and with nature. It's not the quantity of connection that is powerful, it is how genuine that connection is to what is important to us. My personal belief is when we over-engineer our environment we forget we have very real connections to the world around us. I think we are capable of learning and changing, and I think many of us are happy to lead healthier lives, so hopefully we humans can start living in a more harmonious way with the rest of the world. 
Seeing things differently
Exploring nature and listening to patients both help me see the world differently. Deep connections with others and learning empathy expands our world.  
My Dolphin Research Center experiences inspired me to start drawing a cartoon series I call Under Seage, with animals like fish and blue whales that live in and around water. Everybody in my family is artistic, and I always used to say they sucked up all the talent before it got to me! I tried to draw seriously, but my art ended up looking like cartoons, so I just went with it! I think sometimes the quirky humor lets you quickly share a message.  
Big picture
}
We're looking at things differently with oncology too. It's not simply about the disease experience anymore, and I think that's a real innovation; that's something we're pioneering at GSK with the Oncology Patient Council. I feel so privileged to work with them; I'm actually making my favourite memories right now.The monthly virtual meeting is a real bridge from the scientist to the patient, establishing patients as experts and partners with our drug development teams. 
We have frank, heartfelt conversations about things like how to minimise the burden and honour the contribution of an advanced stage patient in a clinical trial. It's such a personal thing, with nuances you're not going to get until you've built a very trusted relationship. That's what we've been able to do at GSK, because we've demonstrated that we care very much and really want to understand.
Big ambitions
We practice healthcare to support the lives people want to live. We conduct trials to enable healthcare to provide the best possible treatments. We can't stop at treating only their physical bodies; we need to listen to the whole person, see who they are, talk about what they want in life, and respect their partnership and wisdom. 
Patients who participate in studies or share their insights give us their time and their biological samples, but more importantly they give us and their fellow patients the chance to make life better. They sometimes give us some of their last remaining time on earth. How can we do less than honour them by helping to create the better future they are striving for?