Outstanding People: Meet Sumitra
Read time: 4 mins
14 May 2021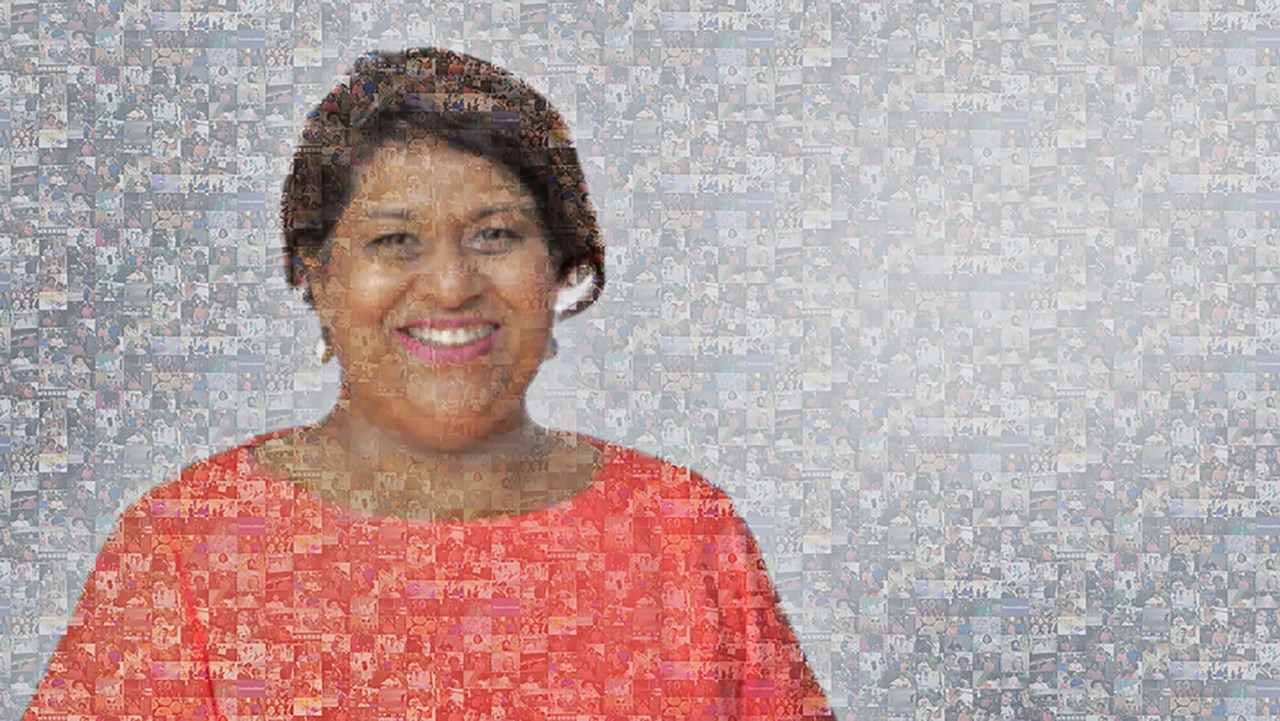 "The best advice I've been given was from my Dad." Here Sumitra Shantakumar, Head, Epidemiology, Health Outcomes & Strategic Execution, GSK Vaccines, Greater China and Intercontinental Region, tells us about unexpected journeys and why she's proud of our industry in the fight against Covid-19.
Crossing continents //
Growing up in Singapore, there was always an expectation that I would go to medical school. You were put through a rigorous streaming process at a young age and the choices were: science or arts—one or the other. And though I was happy to go down the science route, I applied to universities in the States, where you get a broad undergrad experience, rather than heading straight to six years of medical school.
America was a faraway land for a kid from Asia, and looking back, I can't believe my parents let me go. This was still the time when landlines were pretty much the sole option and I was their only child. But as a statistics professor, my Dad had spent time on sabbatical at North Carolina State University, not far from  the University of North Carolina at Chapel Hill, the college I wanted to attend. So, he knew what I didn't—I was heading to a quiet and leafy college town full of Southern hospitality. The bright, 24/7 skyscrapers of my Singaporean childhood did not feature in "downtown" Chapel Hill, where, after the shock wore off, I was to spend some truly transformative years.
And it was at this renowned institution with one of the highest ranked schools of public health, that I discovered epidemiology—a blend of everything that was interesting to me—a mixture of scientific fields combined with  biostatistics.. A gap year, a Masters and a PhD later, I landed my first proper job, at GSK.
Right place, right time //
}
I still think about the person who hired me, giving me a chance despite my lack of real-life experience.
When we had catch ups it was never about the minutiae of a project but ensuring I understood the rationale behind what I was doing and could articulate it.  In Pharma, so much of our work is patient-focussed, and that's a great driver, but you have to be able to explain your ideas—to your colleagues who aren't in epidemiology, to doctors, to patients, to payers, and to commercial bodies. My first boss taught me that how you position a project is critical and rather than explaining the detail around the science, focussing on the value of what you're doing—the impact it could have—that's what makes people listen.
​The day I received my first green light from the FDA is still my proudest. We were working on a treatment for cancer. I was rejoining the team soon after having my first child and walking into a pressure cooker of a situation where we had to prepare for an Oncologic Drugs Advisory Committee presentation to the FDA. But would we rise to the challenge or fracture under the strain?

Having designed a programme of studies to support the application, I had to prepare to be called upon to answer any questions the FDA's advisory committee might have. Sitting next to my team, who had worked so hard, and thinking about the passion from the scientists that had come before us, I'll never forget when the vote came in. To add to the drama of the moment, the committee actually goes around the table giving individual decisions in front of you.
After we got the "yes", everyone was overcome with emotion—and we don't normally do this—but we all hugged each other and there was this huge release, marking a great result for patients and a great example of the dedication of so many world-class GSK scientists. Then off I went, flying home to my four-month old baby. And that was truly the breakthrough moment of my career—the moment when I knew I was in the right place, doing the right thing.
Delivering innovative products that people need //
There's no way we'd work this hard if it weren't for the patients but it's not everyday we sit in the office and reflect on the lives of the people we've helped.
At one particular FDA approval I recall, it was difficult to think of much else. A group of survivors came to address the committee about why their community so desperately needed a new drug to be approved. This was the first generation of targeted therapies for oncology that we had—an innovation that ultimately changed the course of what was possible, paving the way for the next generation of targeted therapies to be developed.
And actually having those patients and their next of kin in in front of you? It was hugely emotional, pulling all the work we do out of the abstract, into this powerful trajectory that lengthens and improves someone's life, and brings hope to their entire family.
COVID19: Building confidence and cooperation //
My team is keeping track of the evolution of the epidemiology of COVID-19 to help inform solutions and support the business's ability to make decisions.
As things started to snowball, we were getting a lot of questions from across the company and what started out as a trickle of data rapidly turned into an avalanche.  So the big challenge became teasing out the more robust studies with higher quality evidence on which to base our reporting.
The level of co-operation and speed at which data is being produced and shared in pursuit of innovative science is unprecedented. For all the hard work and intensity of the last year, it's an incredible time to be working in my field.
Advice //
}
The best advice I've been given was from my Dad. At a young age, he impressed upon me that you can be intelligent and have great soft skills but at the core of it, there's really no substitute for hard work. Shortcuts don't work.

I'd be thrilled if my kids chose to follow me and opt for a career in science. And the pandemic has certainly created a situation where we talk about the role of STEM, of epidemiology and of vaccines—what Mommy does is more tangible for them than ever before. But life is really about finding what you have a passion for doing so that you get to wake up everyday and have a reason to do your best. And that's what I want for them—to be happy and to have purpose.
It's also about making the most of your opportunities, because when you don't, no one is going to ask you again or make the space for you to step in. That's what I learnt from my early career and certainly advice I would still give.
Downtime //
Someone asked me what I've learnt with all this extra time at home recently. I think they were expecting me to say I'd taken up Italian, or the cello, or some worthy hobby. But the reality is, I have three kids, so there isn't a lot of downtime right now.
That said, I'm really enjoying playing the piano with my daughter, watching The Mandalorian with my son, and my toddler is a major instigator of at home "dance parties" on weekends, which are about as chaotic as they sound. Despite my education, what I've actually learnt recently is how to do my childrens' math heuristics homework. And these are ten-year olds… but there's this whole process—it's hard!

Right now, I'm happy if I get to spend time with my husband and maybe read a book, or the New York Times. He is American and my two older kids were born in the States—we never thought we'd move to Singapore and I couldn't have done this without their support. But when a job opened up seven years ago, we decided it was too big an opportunity to turn down. So, having left Singapore at the age of 18, I'm back with my own family, working on vaccines at this important time in history, and that feels like a pretty big adventure for right now.
Meet more of our Outstanding People
Meet Amanda
Amanda Peppercorn, Medicine Development Leader, discusses how GSK's culture of smart risk-taking and patient focus enabled a collaboration with Vir in record time. 
Watch time: 1 mins
Meet Nicky
Nicky Best, Senior Statistics Director, shares how her team used data and modelling techniques to predict the impact of Covid-19 on our clinical trial recruitment.
Watch time: 1 mins