The vaccines of tomorrow
Read time: 2 mins
31 August 2019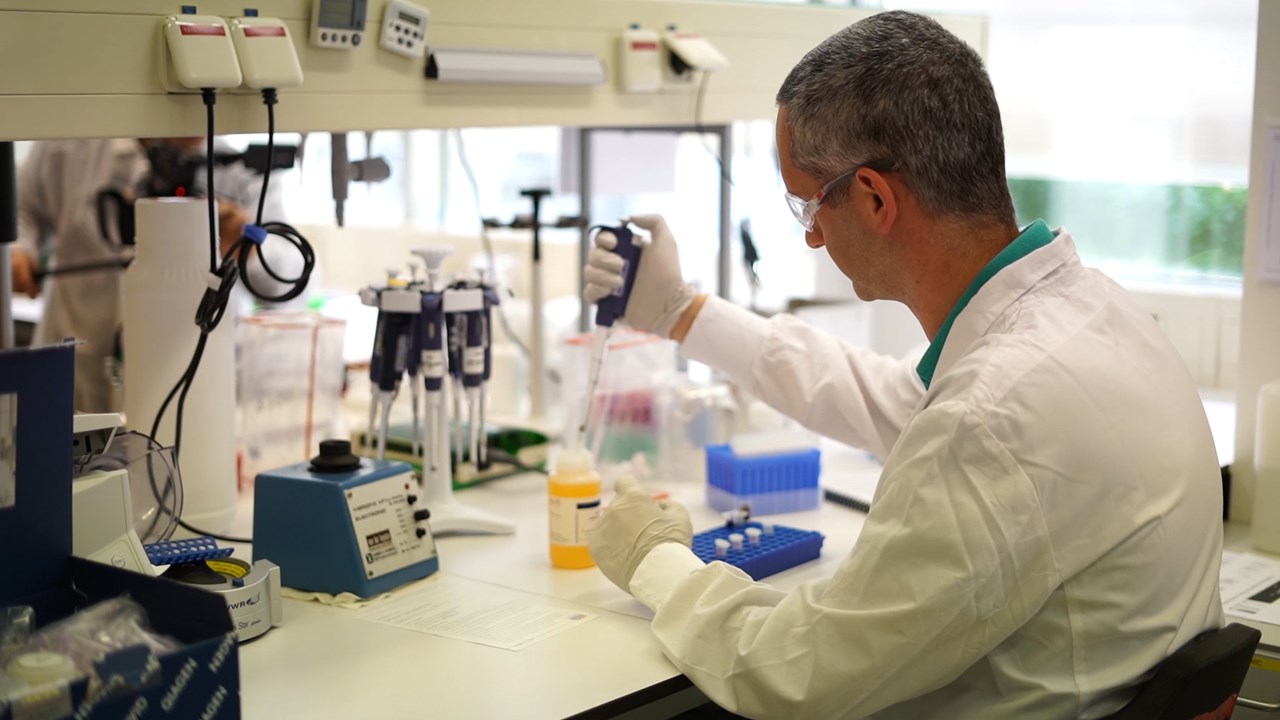 Join our leading scientists as they go behind the science of vaccine technology.
Vaccines represent one of the most important public health advances, helping to prevent the spread of many infectious diseases and, in some cases, all but eliminating some of the most devastating conditions.[i]
It was more than 200 years ago that Edward Jenner successfully developed the world's first vaccine. The basic concepts Jenner used in that first vaccine against smallpox are still widely used today; however, our understanding of disease and the evolution of vaccine technology has improved significantly since this first vaccine was created.  
During the last 40 years alone, a series of Nobel prize–winning discoveries in the fields of molecular biology, genomics, innate immunity, structural biology, and immunotherapy have transformed vaccine discovery and development, leading to novel vaccines for a range of infectious diseases that had been previously thought impossible.  
These rapid advances in science and technology are largely the result of a concerted effort by the global community in response to the challenge of some infectious diseases, which have a high impact on individuals and communities around the world.  Many of these diseases are caused by complex pathogens that elude the immune system and are unable to be addressed by traditional vaccinology methods.
We have a strong history and expertise in vaccines, and we are staying at the forefront of innovation in this field.  Our network of over 2,000 passionate experts across three global R&D centres are using new technologies and unique partnerships to discover and develop vaccines to help prevent disease, as well as treat existing conditions.
One such technology, synthetic Self-Amplifying mRNA, or SAM, has a huge potential to simplify, speed up and revolutionise how vaccines are being produced utilising a simple, synthetic and cell-free process.
GSK's SAM technology could revolutionise vaccines
}
This blog is part of our A view from the lab… series, sharing insights from scientists around our company. It was originally published on Jeff's LinkedIn profile
Using the SAM technology platform, for example, we can take part of the genetic code of a virus and produce a messenger RNA molecule.  Once injected in the body, the SAM molecule self-amplifies and uses the mechanisms of the body's own cells to produce the antigens of the disease pathogen. These antigens mimic an early-stage infection and trigger the body's immune response, generating immune memory for potential future protection against the pathogen, without causing disease. The body becomes the factory for its own vaccine which would streamline the R&D process significantly.
The SAM technology could also transform vaccine manufacturing, making it faster and simpler. This highly efficient approach would also allow for a rapid and more efficient response to disease outbreaks. Ultimately, the SAM technology could enable us to develop new therapeutic, and potentially even personalised vaccines. Based on GSK's advancements in science and technology, the SAM technology has the potential to revolutionise vaccines and vaccinology.
New technologies. While traditional methods of vaccine development have been effective for certain diseases, not all diseases respond to vaccines in the same way. However, recent advances in science and technology are helping us to better understand the genetic make-up of these diseases and create innovative vaccines where there were none before.
For example, reverse vaccinology, an approach pioneered by our chief scientist, Rino Rappouli, has helped to create a vaccine against meningococcus B bacteria, which is a common cause of meningitis. The principle behind reverse vaccinology is that by decoding the genomic sequence of the bacteria, our scientists are able to identify potential antigens (the substances that induce an immune response in the body) that are common to different Meningitis B strains, and use these as a basis to develop new vaccines.

Still, some new technologies can take years and even decades to develop; for more than 20 years we have been working on Adjuvant Systems, a technology that enhances the immune system's response to a vaccine. This has made it possible to develop vaccines that are more potent, and even allow to target specific age groups, such as older people.  As we age, so does our immune system, which means a vaccine may require the boosting effect of an adjuvant to help make it work more effectively.

Access to vaccines. Helping to contain the spread of infectious diseases via vaccination is a significant benefit to individuals and also societies. It's why we are committed to improving access to our vaccines in partnership with key organisations such as UNICEF, Gavi the Vaccine Alliance, and the Bill & Melinda Gates Foundation by providing discounted vaccines for refugees or working with other organisations to develop a malaria vaccine. 
We are committed to exploring new approaches to bridge the gap between scientific breakthroughs and real solutions that can make a real difference to people's lives.  And while significant challenges remain to prevent some infectious diseases, our improved understanding and expanding capabilities in vaccine development means there is much more exciting science and technology to come in the future.
[i] Greenwood, B. 'The contribution of vaccination to global health: past, present and future', Philosophical Transactions of the Royal Society London B Biological Sciences. 2014 Jun 19; 369(1645): 20130433.