Alex
Alex is a Medical Director in Global Health. Here, he tells us about his career path from TV to tackling lupus.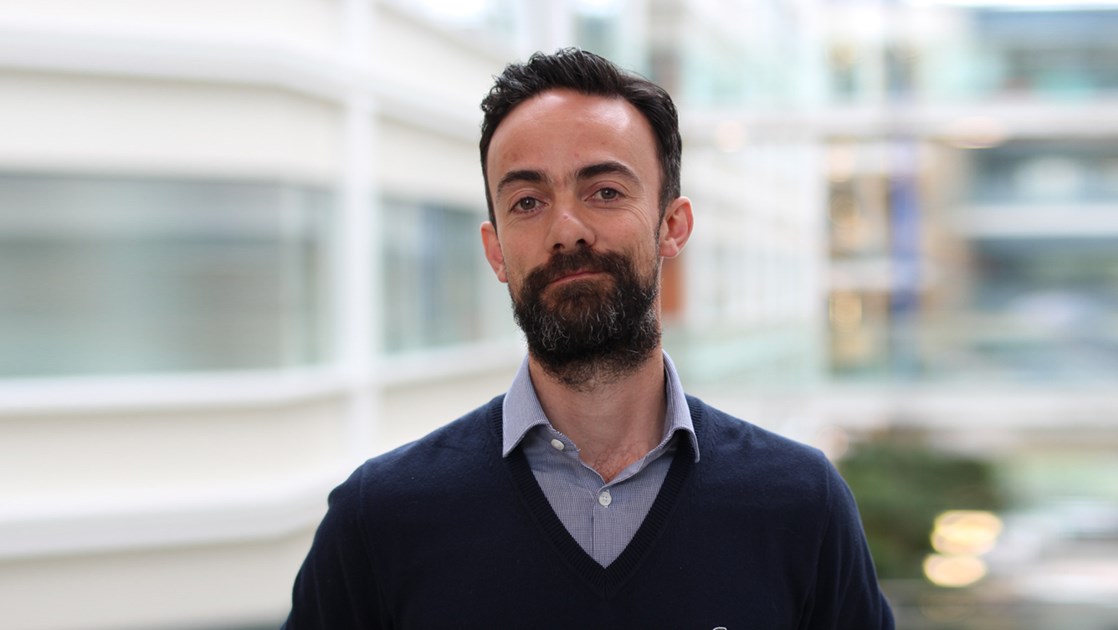 Growing up, I always thought I'd be a writer or a film director. I ended up doing a degree in English Literature and afterwards found my way into the TV industry. I worked for the BBC for three years on a range of programmes and although I liked aspects of the work, it was pretty clear that I wasn't going to derive a lifetime's worth of satisfaction from staying where I was.
I wanted to contribute in some way to people's everyday lives and, if I'm honest, take on something more challenging. Medicine was an obvious choice although not straightforward as my academic background was in the arts. Reacquainting myself with chemistry, physics, maths and biology in the first year of my undergraduate training at Guy's Hospital in London was pretty tough!
The journey from clinic to pharma        
Throughout my undergraduate training and after qualifying as a doctor I retained a breadth of interests beyond clinical practice. In every job I tried to juggle my clinical duties alongside such things as writing, education, local and national policy and international charity programmes. Having progressed through my house medical jobs and core medical training I started my consultant training as a rheumatologist and found that increasingly, it was becoming difficult to maintain my other interests.
The clinical work was all-consuming and so in my 12th year on the 15 year path to becoming a consultant I decided that to bring together all of my interests I needed to look outside clinical medicine. Industry was the obvious place to explore, and although it wasn't an easy decision, in 2013 I moved into a medical advisor role in a pharmaceutical company.
Joining GSK (and the industry)
I wanted to work for a healthcare company which has a presence in lupus. Since I started my undergraduate studies I've been fascinated by the disease; it was the main reason why I opted to specialise in rheumatology. Lupus is such a complex and challenging condition affecting mainly women in the prime of their lives and yet the treatment options are limited.  
I became aware of the work GSK was doing in this area, and also its humanitarian outlook and approach to access and innovation around the world.
Even from the outside, its values stood out and appealed to me. It's important to me to be able to stand by the principles of the organisation you work for. I've only been here since the start of 2017 but already I feel a strong sense of the organisation's identity and I am rapidly developing an affinity for it.
Working as a medic at GSK
The best doctors are the best listeners: that's doctors in clinical medicine, but also doctors in industry.
The hardest consultations are the ones where you give the patient as much time as they need and genuinely open up and listen to them. They are hard because you cede control to them, you run to their schedule and let them take the agenda. But although they are hard, they are the consultations that you get the most from.
Now I'm a medic at GSK, I can see the real value that these unique insights and experiences I gained can bring into the industry. Although the nature of my patient contact has changed, the need for working alongside the patient hasn't and collaborations that we have with patient organisations are hugely important – by working together we have the potential to make a difference to tens of thousands of patients; without them we risk relying on out of date insights and we risk misunderstanding the patient predicament.
I feel very lucky that I get to talk with people all around the world about something that really interests me. One of the core pillars of medical affairs is elevation of the patient voice, particularly when that voice is not as well heard as it should be. The challenge is to turn all that talking into something of tangible benefit to patients.