Bryan, Consumer Healthcare, Malaysia

60 minute mentors: Do more than make an impact – leave a legacy
Our 60 minute mentor series gives colleagues the chance to interview one of their senior leaders, over the course of an hour, and discover more about their career journey. Tze Yu, a graduate on our Future Leaders programme asked Bryan, General Manager of GSK Malaysia, how his career choices led him to GSK, and what inspires him the most about working here.
They discussed seeing the big picture, making breakthroughs and finding the right work-life balance.
Tze Yu: How has it been for you since joining GSK? It was a recent move for you wasn't it?
Bryan: Yes, I'm fairly new to GSK. I started here in March 2018 after relocating from the Philippines to take the role. The time has really flown! It's an exciting time for me because I've been on a long journey and now I've made a fresh start here.
I've already spent 24 years in the consumer goods industry, mostly in sales and trade marketing. Over the years I've worked in different countries – everywhere from Thailand to Singapore to the U.S. Now I'm here at GSK Malaysia, I'm looking forward to embracing different challenges and opportunities.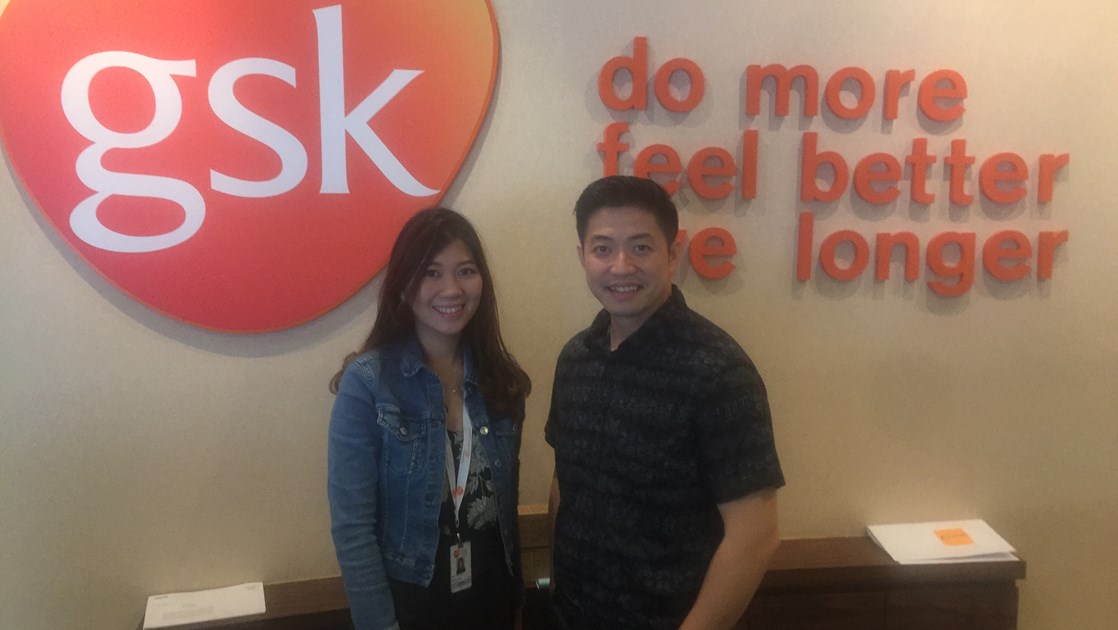 Tze Yu: It sounds like you've enjoyed some diverse roles over the years. Why did you decide to make the move to GSK?
Bryan: It was a case of the right door opening for me at the right time, for a great company. I was given the opportunity to come to Malaysia and drive this business. And already it's delivering over-and-above what I expected. I'm really enjoying being here!
Tze Yu: So, what's different about your responsibilities at GSK to where you've worked before?
Bryan: In fast-moving consumer health, the stakes are higher – we're talking about patient safety. Compliance is a big deal. We have to have all the right quality checks in place to absolutely guarantee that every product is safe. This isn't just about washing your clothes with the wrong detergent, it's much more important than that.
Tze Yu: What opportunities do you see in GSK?
Bryan: I would say it's the speed at which we can bring our innovations to the market. It's no longer about the big wins over the smaller players – it's about how fast we can be in addressing consumer needs. It's about the fast beating the slow, and you see that more and more, especially in the digital space. Finding new ways to streamline these processes is what excites me. It can depend on the product too, of course – a new toothbrush, for example, we can get to market faster than a new painkiller.
Making an impact on other people's lives can last a lifetime.
Tze Yu: What motivates you in your work and in life?
Bryan: I want to leave a legacy behind. It's about leaving your mark on every project you're involved in and seeing an impact that lasts beyond just a year or two. It's about building relationships too, whether that's with people you work with or your customers. Making an impact on other people's lives can last a lifetime. It's the same with my family – I want to make a positive impact on my children, helping them grow up to have good values and work hard to achieve what they want. That's what motivates me!
Tze Yu: What three qualities do you think a General Manager needs?
Bryan: I like to say that you need the 'three Bs' because it's easy to remember! The first one is 'Big' – you need to see the bigger picture – see the business as a whole, and the different facets of the organisation, both customer-facing and non-customer-facing. You also need to think big – to have big goals, ambitions and aspirations. The second 'B' is 'Breakthrough'. You can't fulfil big ambitions by doing the same thing over and over again. How do we go faster? How do we become more efficient but still remain compliant? How do we do more with less? That's breakthrough. And the third 'B' is 'Badger'. You have to 'badger' yourself and everyone around you – in other words, make sure you all share the same vision and ambition.
You can't fulfill big ambitions by doing the same thing over and over again.
Tze Yu: What did you think you would do when you were younger? Did you ever think you'd be working in sales?
Bryan: I actually wanted to be a doctor. I loved watching medical dramas on TV where people would say things like 'Thank you doctor, you saved my life!'. I didn't come from a wealthy family, so I didn't get a chance to train and pursue that dream. I did a business course instead. I don't think anybody says, 'I dream of being a salesperson', but I did an internship and I really enjoyed it. I liked the challenge and the chance to meet new people. Now I work with doctors and other health professionals to help improve people's lives.
Tze Yu: What advice would you give to your younger self?
Bryan: Continue working towards your goals and ambitions but take time to smell the roses. Enjoy the journey! Life has many twists and turns. Many opportunities open up for us along the way. Now I'm working for GSK in Malaysia and I'm loving it. I'm taking the time to appreciate where I am – I enjoy trying the amazing food here, going out and being a tourist. It's not all work, work, work.
Tze Yu: So, you would say it's about finding the right work-life balance?
Bryan: That's exactly it. And that varies for everyone, because we all have different working styles. Some people are morning people, others might work better in the evening. I've developed ways of working that mean I'm more productive which helps me achieve a better work-life balance and spend more time with my family. And I take proper holidays now – that's important too!
Tze Yu: Lastly, what advice would you have for someone who aspires to become a general manager? What should they be doing to start that journey?
Bryan: You need to manage your business – think of yourself as the owner, whatever the assignment. Think about what you need to do to make it a success. Ask channel leaders and those around you for their input, based on their experiences. Then apply it. And, as I said before, keep pursuing your goals – and never give up!