Danielle, Sales, US
"90% of transgender people have encountered some form of harassment in the workplace - Refusal to hire, privacy violations, even physical and sexual violence on the job are common occurrences".  As a result, one in eight experience extreme levels of unemployment and poverty.
In November we mark International Transgender Day of Remembrance (TDoR). It's an opportunity to honour the lives of trans and gender nonconforming community members who have been lost to oppression, stigma and violence. It's also a time to reflect on what more we can do to support our transgender friends and colleagues, colleagues like Danielle, a transgender woman who made the courageous decision to transition while working at GSK. Read her story.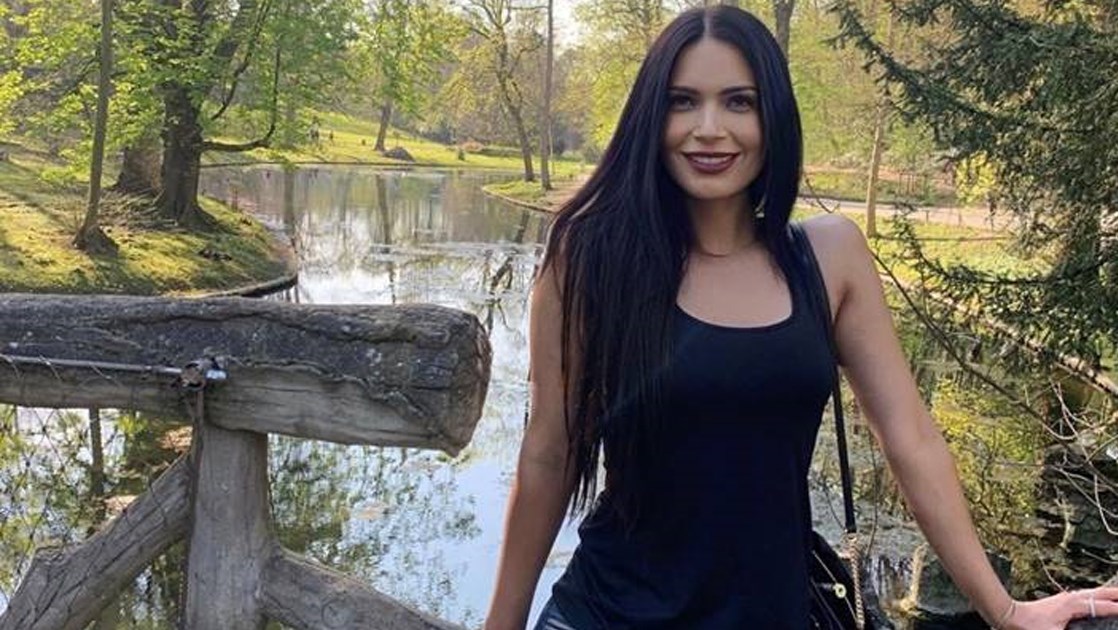 I'm Danielle, a Sales Specialist in GSK's Vaccines business, I am also a proud transgender woman. It wasn't always that way, although I was aware of my true gender identity at an early age, coming to terms with the enormity of what that meant took most of my life.
The thought of transitioning translated into feelings of despair and hopelessness about my future. Even in 2020, long held societal and cultural beliefs mean that identifying as transgender can be extremely hard. The prospect of potential hostility, such as discrimination, harassment and even violence is very real. For example, did you know there have already been at least 34 deaths of transgender people due to violence reported in the US alone? I say at least because many of these stories go unreported or misreported.
Finding the courage to be myself
I had been with GSK a number of years before I truly considered opening up about who I really was. We have a clear company mantra which states that everyone should feel able to be their authentic selves.  For those like myself, who identify as transgender, the importance of a workplace that demonstrates acceptance without exception is vitally important.
A workplace is just as daunting a place as the outside world and making the decision to 'be you' takes a lot of thought and consideration.
The pivotal moment when I made up my mind was during a national meeting. Our now Senior VP for Global Vaccines, Patrick Desbiens, was on stage sharing a personal reflection. He spoke confidently about how grateful he was to belong to a company where, as a gay man, he feels supported, and where his sexuality had never been an obstacle to having an outstanding 24-year career. Hearing this was the turning point for me.
This is a great example of why LGBT+ representation at all levels is critical. Had he not been open, I probably would have never gathered the courage to eventually come out in the workplace.
I approached Patrick the same day and we had a fantastic and open chat. He gave me time and compassion and agreed to support me as a mentor. For a year we spoke every month and keep in touch to this day. This connection meant so much to me, he was the first person I came out to and the first to see me as I look now, after my physical transformation. I am thankful to him for giving me the courage to be the real me at work.

My experience with Patrick, as a senior leader and role model was extremely positive. But I realise that isn't the same in all companies. It's a fact that discriminatory workplaces prevent companies from attracting and retaining top talent. When employers, fail to address prejudicial behaviour they send a potent message about their indifference and develop an external reputation for being an unwelcoming place to work. That's why I feel strongly that it is the responsibility of transgender inclusive companies to invite top leaders to become more involved by proactively cultivating a supportive work environment.   
A feeling of happiness
Transitioning is not a single event but, rather, a process, which begins with a deeply personal decision that usually results from years of soul-searching. The decision to come out, or disclose, at work is often very complicated. Coming out for me was absolutely the right decision. I have an improved quality of life, greater relationships at work and at home, higher self-esteem and confidence. In short, "I feel the happiest I have ever been in my entire life".
Although transition is a personal journey, you aren't alone – family, friends and colleagues will all be impacted and it's important to not lose sight of that as you go along the process. I believe workplaces can not only equip people to better understand diversity, but also give them the confidence to challenge prejudice.
Often colleagues are scared to step out of their comfort zones and engage in "courageous conversations" regarding difficult diversity-related topics. The only way we can move society forward is to have "uncomfortable" conversations around transgender matters. This approach certainly helped my colleagues feel more comfortable talking to me about what I was going through, and now it's no longer the "taboo subject".  
Research shows that coming out about sexual orientation and gender identity makes a huge difference to LGBT+ people's self-esteem and self-confidence, enables better relationships, improves employment satisfaction and increases well-being and physiological health.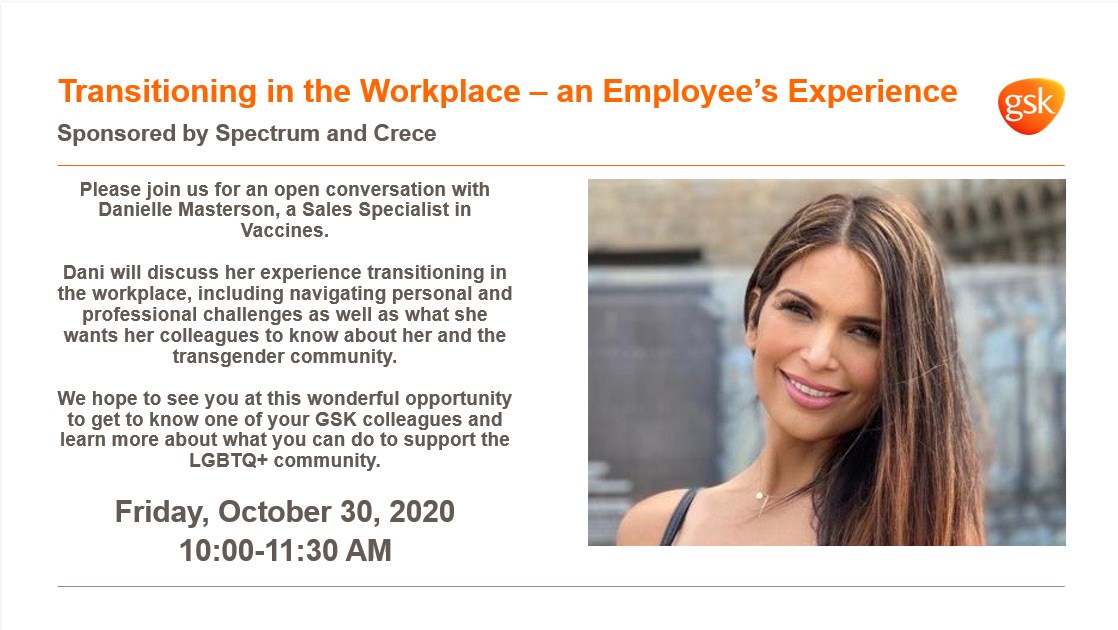 I was recently invited to give several talks to GSK employees across the world as a way of continuing the conversation. Through telling my story I wanted to create an opportunity to educate people on what it's like to be transgender and allow them a safe place to ask questions. It was incredible and I was overwhelmed by the warmth and support I received. Some of those who attended were parents of transgender children, eager to learn as much as they could, so that they would be equipped to help their children navigate the journey that they may take in the future.
My hope is that this story will inspire anyone (transgender or cisgender) whom today may feel hopeless.  It is possible, beautiful and completely right to embrace yourself fully, proudly and know that it does get better. I want to be visible because If I had read an article like this on platforms like LinkedIn or at work when I was younger, I would have transitioned much earlier and started bringing my best authentic self to work right from the beginning.