Jilcia, Supply Chain, US
Jilcia is a biopharmaceutical investigator at our Rockville manufacturing site, where they manufacture the antibody portion of BCMA (B-cell maturation antigen) – our investigational asset for people living with multiple myeloma. Here she tells us how her love of science and passion for helping others inspires the many roles she plays, whether in the lab or at home. 
My route from the classroom to the lab
I remember my first science experiment. I was in middle school, already a burgeoning scientist at heart, and it was all about understanding controls and variables.  I loved collecting and analysing the data, then sharing and discussing my findings with classmates. My teacher, Mr. Chang, opened my mind to exploring a career in science, but back then I had no idea where that road would take me.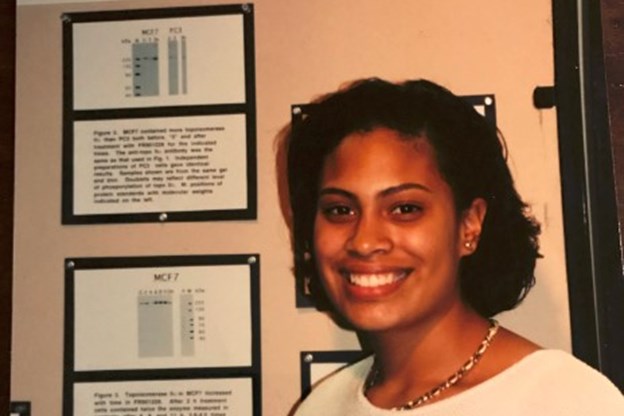 Growing up in Brooklyn, New York, I knew I wanted to see other parts of the country, so I decided to study Biology at Hampton University in Virginia. The rural surroundings were certainly different to what I was used to – it was a great experience!
After graduation I took a role with the National Institute of Health (NIH) conducting benchmark research. 
I was fortunate to find a mentor there who nurtured my passions and encouraged me to consider studying biotechnology, which uses biology to create meaningful products in various industries, including pharmaceuticals.
I later joined Human Genome Sciences (HGS) – which was acquired by GSK in 2012 as a bioprocess associate in the Purification Sciences department. My focus was on the purification of proteins used as oncology medicines. The goal of purification is to reduce unwanted impurities such as host cell DNA and other proteins not associated with the function of the medicine. 
Family and friends often ask what I do - I tell them our team helps make sure our patients get the highest quality medicines.
Seeing a product come to market makes me feel so excited for the patients whose lives could potentially be transformed for the better.
A pure love of science and teaching
After ten years, I left HGS to teach math and science to middle school students. I really enjoyedhelping students collect, analyse and interpret data to discover workable solutions to a problem. And I became so inspired by their curiosity and belief in any possibility.
When I returned to GSK in 2015, I had a new perspective and even greater passion for what we do. Today, I am primarily working on developing and optimising purification processes; supporting manufacturing operations; and executing validation and characterisation studies.
During process development, you learn a lot about purification, what works and what doesn't – always keeping in mind manufacturability, safety, cost, and of course, the patient at the end of the supply chain.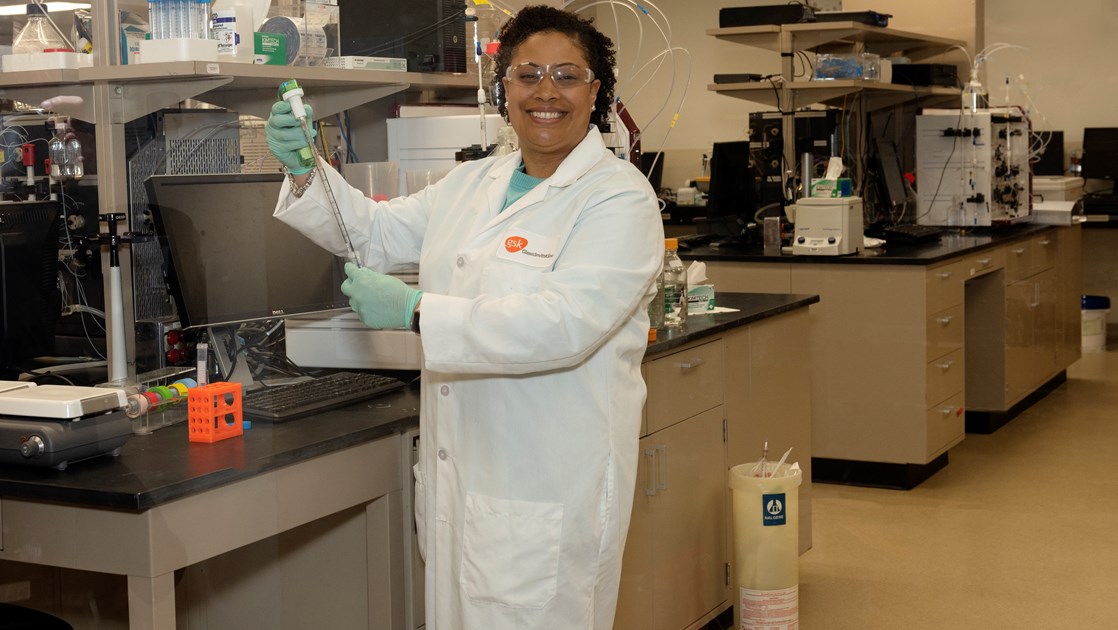 Most recently, I served as a subject matter expert for the transfer of asset GSK2857916 (GSK '916) from the research and development pilot plant to our commercial manufacturing centre at Rockville. GSK'916 is an anti-BCMA (B-cell maturation antigen) antibody drug conjugate being investigated in patients with relapsed and refractory multiple myeloma.
Our team in Rockville produced material for the clinical trial program that supports regulatory submissions and obtains marketing approval.
Our work to find new treatments for multiple myeloma is important because while multiple myeloma is considered treatable, it is not curable, and the disease often becomes resistant to available medicines. Researching and developing such a promising asset, at an accelerated pace, has been a rewarding experience. It may even be a once-in-a-lifetime!
I love what we do at GSK. Our mission inspires me every day. There is no greater reward than knowing you played a small role in helping another person improve their quality of life.
Inspiring future scientists and engineers
From my own experience, I know the impact a teacher can make on a student's path. I want to give back and inspire the next generation of talent. Industry analysts estimate that it takes an average of eight years to bring a new medicine to market – so you can see just how essential it is for the scientists of today to keep innovating to inspire the future scientists of tomorrow. Today, I continue to mentor junior colleagues in the lab and students in the field of science.