Prashant, Sales, Bangladesh


60-minute mentor: Learning to lead with an entrepreneurial spirit
Our 60-minute mentor series gives colleagues the chance to interview one of their senior leaders, over the course of an hour, and discover more about their career journey. Rehanul, a trainee in our Future Leaders Programme in Commercial Management, was fascinated by Prashant's entrepreneurial start and wanted to know more about how he became the General Manager of our Consumer Healthcare business in Bangladesh.
During the interview, Prashant opened up about his learnings, passions and his early dreams of becoming a fighter pilot.
Rehanul: Tell me a bit about yourself.
Prashant: I come from a family of entrepreneurs. The first thing I ever did in my career was learn the ropes of the family business. Then I moved into management, becoming interested in advertising and creative. This led me to a role at GSK marketing at GSK, where I eventually progressed to my current role as General Manager.
Rehanul: I know your family has a history of entrepreneurship but what did you dream of being when you grew up?
Prashant: When I was young I lived near a military base. I'd look up at the sky and see fighter planes going back and forth. I had it in my head that I wanted to be a fighter pilot.
People need to become as excited as you about your goals because when they are, miraculous things can happen."
Rehanul: How did your early start as an entrepreneur help you get to where you are?
Prashant: It taught me a lot about personal accountability. As an entrepreneur, you need to be accountable for every single thing that happens, good and bad. It also taught me how to work with different kinds of people, which is so necessary for what I do now. People need to become as excited as you about your goals because when they are, miraculous things can happen.
Rehanul: Tell me a bit about your work with GSK.
Prashant: It's been focused on making meaningful additions to the lives of our consumers. Bangladesh has a large population and growing economy, meaning it has immense business potential. Keeping this in mind, I leverage the opportunity to serve the public by introducing low unit packs, improving overall access to our products. GSK implements its values as a guiding star for every decision we make, which helps us do our best for the people we serve. My time here has provided me with a lot of opportunities to develop and has led to a very diverse career.

Rehanul: You started your career in an ad agency. How do you think that informed your current role?
Prashant: It taught me that behind every question lies another question. Never go by people's first response when you ask them something. You need to think about why they're motivated to answer the way they did. The better you understand their motivation, the better you can sharpen your intuition and empathise with people.
Rehanul: When did you grow most in your career?
Prashant: I learn the most in times of adversity. That's when your ability to lead is tested. You need to keep your team united and motivated, you need to shift your strategy. It builds your resilience and teaches you to ask yourself tough questions.
Rehanul: What memory stands out most during your time with GSK?
Prashant: The period between 2007 and 2011 when we were tasked to double our business in India. We succeeded. It was a wonderful achievement.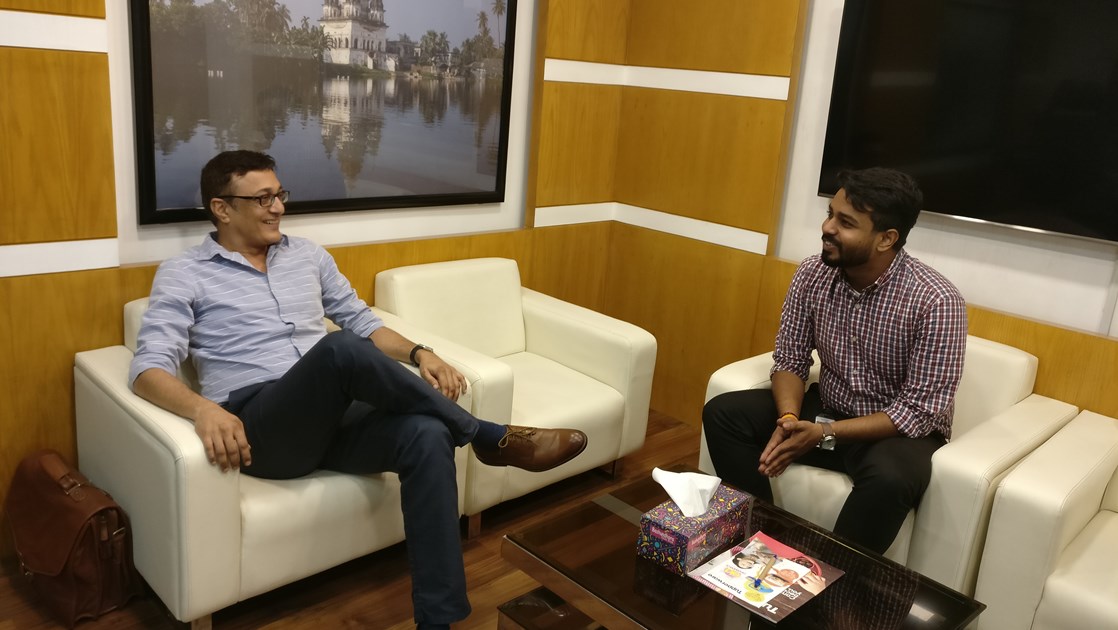 Rehanul: What excites you most about your work?
Prashant: Creating value for the organisation and our consumers. The work we do impacts people. We have a commitment to our community; 20 percent of our profits goes to community work in Bangladesh.
Rehanul: How would you describe your work in three words?
Prashant: Opportunity, responsibility, fulfilment.
Rehanul: How do you think your role will change in the next five to 10 years?
Prashant: Technology will make a profound difference to how our consumers evaluate and choose brands in the future. It's no longer a one-way communication, it's all about experience and peer-to-peer review, so innovation in what we deliver is key. More important is our ability to build trust and keep in sync with how people are changing.
Rehanul: What steps do you take to make sure you constantly develop as a leader?
Prashant: It's all about what you want to accomplish in your career, and based on this what kind of roles and challenges you give yourself. You can stay in your comfort zone or push yourself into unfamiliar territory. I always listen to my teams. I'm deeply interested and engaged in feedback because some of the best insights are gained through simple conversations. Your task as a leader is to be holistic in your thinking in all aspects of the organisation.
Rehanul: What advice would you give to a new graduate thinking about their long-term career?
Prashant: Stay hungry, stay curious and always take personal accountability. When you're committed to the outcome, you're committed to finding ways to make it happen. Additionally, always make sure you have a plan B. Right now, you have the freedom to ask silly questions and make mistakes. Use it.
Rehanul: What's one thing about you that people might not know?
Prashant: I'm a wildlife enthusiast with a deep fascination for tigers. My other big interest is history.