Tracy, Disability Inclusion, US
Tracy, Training, Disability Inclusion Director, dispels some of the myths surrounding disability in the workplace, and tells us about the successes and challenges of improving accessibility.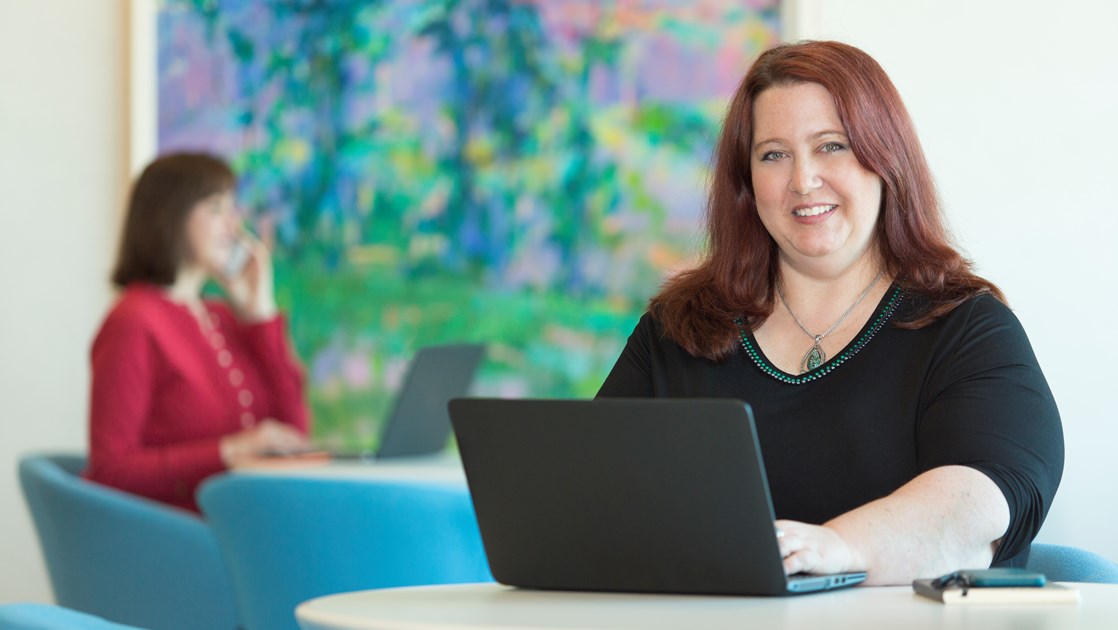 Disability and health conditions can affect any of us – directly or indirectly – at any time. Did you know 80% of disabilities are acquired between the ages of 18 and 64?1. This could result in people needing workplace adjustments or accommodations sometime during their working life. After spending years dedicated to disability advocacy in her spare time, Tracy took the leap to make advocacy and inclusion her job. Now working as part of our Worldwide Real Estate and Facilities (WREF) team, Tracy helps to make sure that every member of our workforce is comfortable bringing their authentic self to their role.
How would you describe what you do, and what attracted you to your role?
I help raise the profile of disability inclusion gaps - gaps in policy, process, and behaviours - so that we can bring about transformational change through awareness, education, and advocacy. I am also the founder and co-lead for the Global Disability Confidence Network (DCN) Employee Resource Group (ERG) which supports employees and our business through our inclusion efforts.
Having experienced firsthand the challenges in getting an accommodation for my disability, I was inspired to help others. For many years, my work in the disability inclusion space was above and beyond my role. I followed my passion and now it is my day job.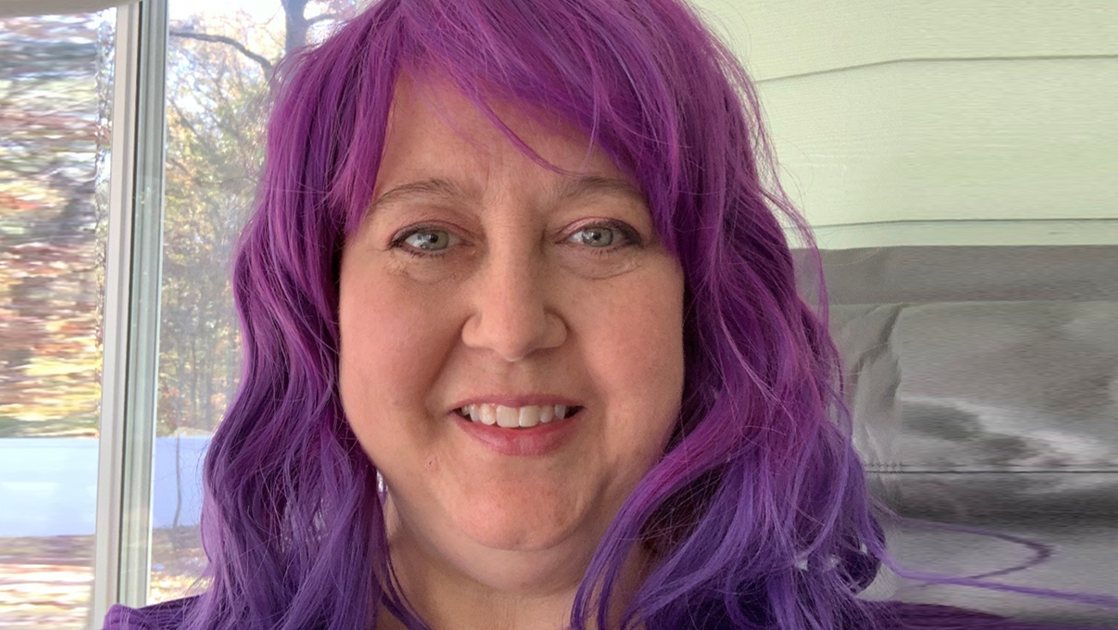 You mentioned accommodation, what does this mean for disability inclusion?
In the workplace, we often use words like accessibility, accommodations, adjustments and adaptations.  A better way for organisations to approach and look at being "disability confident" is to be accommodating – "eager or willing to give what is needed to someone". 
The difference in the words accommodations versus accommodating is just a few letters, but the meaning and impact behind it can make a big difference. Sometimes the right solution may be different but just as effective from what was initially requested. In many cases, you can be accommodating without having to revert to a formal process to support ad hoc flexibility or providing straight forward solutions. 
Ultimately, it's about acknowledging and accepting that people with disabilities know when they need flexibility to overcome a barrier. Then being accommodating when agreeing how to remove those barriers.
For many people with disabilities or health conditions, asking for flexible working or other accommodations can be intimidating, daunting or even avoided. Along with many other reasons – the concern may arise from fear about how the ask may be responded to or that information about the person's circumstances could potentially be misused. By removing barriers and making the process of requesting what is needed as easy as possible, we are showing employees that we value their contribution and want to support them.
What's the best part of your work?
The best part is being able to advocate for someone when they are facing challenges and to make sure they feel heard, included and considered. I also love it when I've facilitated a Disability Etiquette session for teams and get feedback that they now understand some simple things they can do differently to be more inclusive of people with disabilities.
Also, the work that I do helps GSK meet our internal and external commitments to become disability confident and inclusive. Part of being Disability Confident means that we are recruiting and retaining people with disabilities and removing barriers so they can thrive in their roles. 15% of the population is not a talent pool we can afford to overlook!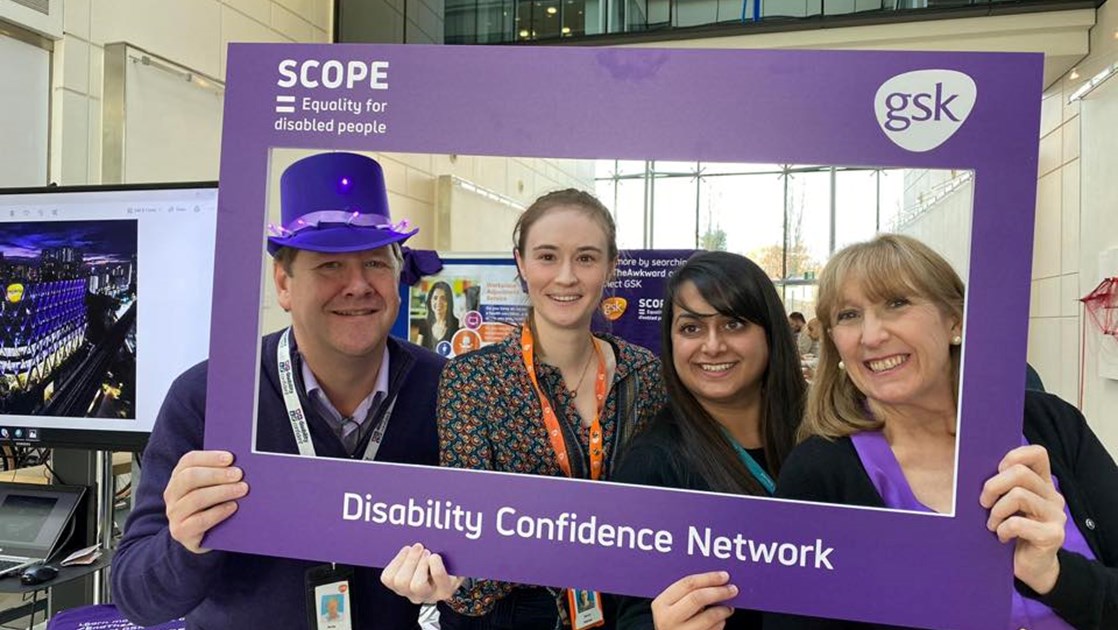 What do you believe is the best way to provide an environment for everyone to thrive?
There are common things to consider when being more inclusive: 
Language: Use positive, person-first language when communicating with or referring to people with disabilities and avoid negative language such as wheelchair-bound, handicapped, suffers from, etc. Feel confident to challenge and correct negative language when you notice it.
Remote working: Be flexible, enable remote collaboration and don't insist it's essential to be 'in the office' for all roles. Being accommodating means understanding that people may need to work remotely, where practical.
Travel: Consider remote options versus expecting everyone to travel to a face to face meeting. Employees may be high risk due to other medical conditions or being a caregiver for someone who is high risk and may not feel comfortable disclosing their specific circumstances. 
Content: Strive to develop accessible content wherever possible – this includes font size, contrast, colour pallet, captioning, easy read and Web Content Accessibility. If in doubt, speak to your Disability Employee Resource Group for advice.
Flexibility: Be thoughtful about the accessibility of return to work plans, and ensure that communications and processes (masks, social distancing, extra cleaning etc.) consider different needs and abilities. Remember: one size rarely fits all when it comes to creating solutions, so it's crucial to listen, support and accommodate on a case by case basis.
What does disability inclusion look like at GSK?   
We expect everyone who works at GSK to help create a fair and inclusive work environment, where people can be themselves and are encouraged to bring their own perspectives to our business. We want the workplace to 'work for all', and to equip each of us to do our best work. Our people should feel trusted and that they can bring their best selves to work. Disability inclusion shouldn't be negotiable. It's about finding the right solution that works for the individual and the business. We continue to focus on what can be done to design an inclusive environment and to make accommodations or adjustments when needed. Understanding that accommodations, adjustments and inclusive design are not just about the physical environment, but it extends to the way that people work as well. 
Reference
[1] The Valuable 500. Disability is your business (2020): https://www.thevaluable500.com/