60-minute mentor: How learning from others gives you the confidence to succeed
Our 60-minute mentor series gives colleagues the chance to interview one of their senior leaders, over the course of an hour, and discover more about their career journey. Alejandro, a Retail Pharmacy Channel Manager, was fascinated by Victor's journey through GSK and the experiences that came with it. He asked him what he's learnt along the way to becoming Commercial Director of our Pharmaceutical business in Spain.
They discuss Victor's 28-year journey at GSK: his memorable first interview, forward-thinking attitude towards leadership and top tips for a life-long, enjoyable career.
Alejandro: Where did it all start for you Victor?
Victor: When I joined the business, it was called SmithKline Beecham. This was many, many years ago. I started in marketing in antibiotics – I'll never forget my interview. The Commercial Director at the time said, "Where will you be in 10 years' time?" I replied, "I'd like to be sitting in your place."
Alejandro: Wow, 28 years – have things changed much over this period of time?
Victor: As you can imagine, a lot has changed. After SmithKline Beecham merged to become GSK, we have tried to be more focused in the pharmaceuticals space and closer to what today's markets need, whether that is in respiratory, HIV/infectious diseases or oncology and immuno-inflammation.
One thing that hasn't changed is our desire to keep pushing ourselves, to believe in our people and make a genuine difference to the world.
You have to develop your own opportunities, GSK gives you the right tools but you need to be willing to push yourself."
Alejandro: What steps have  you taken to be where you are now?
Victor: Looking back at the past 17 years, I've had lots of different experiences, lessons and challenges. I was working in marketing, then I moved over to sales and worked my way into the commercial area. I was working as Marketing Director for the whole of the company before being promoted to Commercial Director.
One thing that has helped me to make these steps is the willingness to learn. I don't feel ashamed of admitting when I don't know something. At GSK, you have to develop your own opportunities. The company gives you the right tools, but it is up to you to learn and push yourself into different situations.
Alejandro: Is there a person or resource you've found helpful in your career?
Victor: Michael E. Porter's Chain of Value. It helps you work out how to make the greatest impact with the skills you have. It helped me to learn about strategic thinking – making the most out of situations with what you have, or don't have.
Alejandro: Tell us why you've stayed with GSK over the years?
Victor:  One of the main reasons I've stayed is the focus on people. That's where GSK is different from other companies; they take care of their people. People enjoy their time here because the company looks after everyone – that definitely says something about the culture.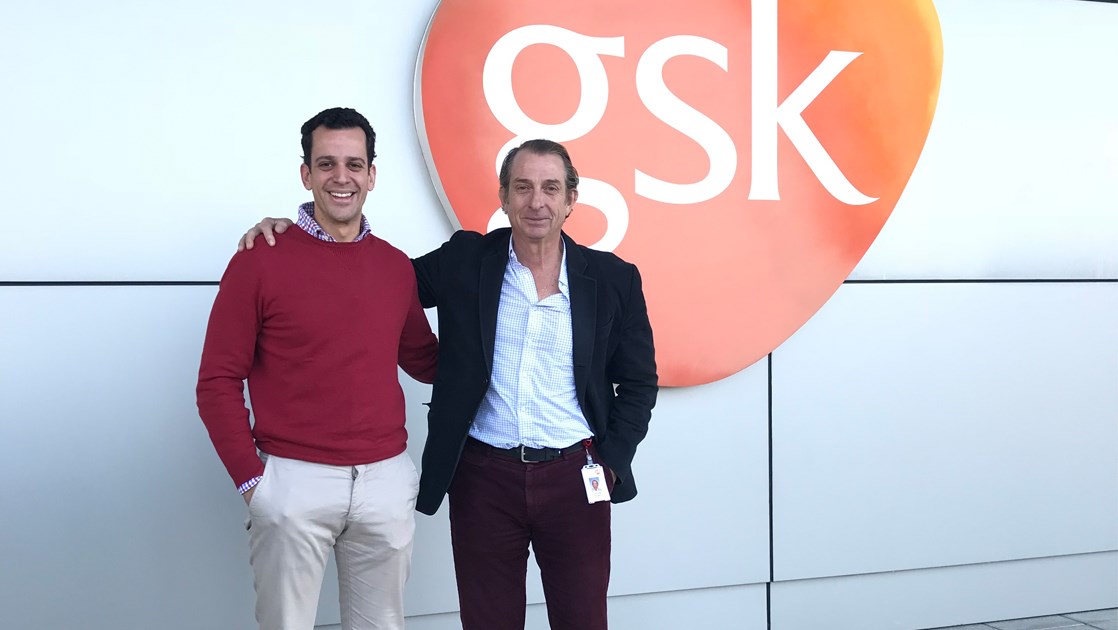 Alejandro: You must have made some great friends here.
Victor: Absolutely. Over the years I've been lucky enough to work with some great people. One of the biggest influences for me was my previous manager, a Commercial Director.
He always believed in me and gave me the opportunities that I needed to push my career, which I can't thank him enough for. He's going to retire next year so I wrote him a letter to congratulate him on his career.
Alejandro: As a leader, what advice can you give?
Victor: I prefer to let people learn by themselves and not give them all the answers straight away. Sometimes I have to manage the situation depending on how experienced the people involved are, stepping back where I can, or stepping in where necessary.
I let people learn by doing and always keep an open relationship with them. Giving them small challenges helps them to believe in themselves.
Alejandro: What is the key thing that has helped you to get this far in your career?
Victor: Being open to advice from people you trust. Over the years I've always had confidence in my own ability, but I've also learnt who to take advice from and when. If I know I'm not an expert in a particular field, I don't have a problem in asking people I trust for advice on certain subjects. This has been a massive help for me over the years.  
Clarity is also very important. I always know what my 10-year plan is; that's helped me to map out my career and focus on the things that matter most. 
Alejandro: Do you have any advice for people starting out in the business?
Victor: A strong work ethic is key to having a career you love. It's about knowing your own limitations and your values. Think about your positive and negative traits; embrace your skills and you will in turn be able to use them in your favour.
Also, learning has no limit, irrespective of your experience and knowledge, you have to keep learning to better yourself – this kept me moving through the business and got me to where I am now.