and 3 million volunteers
in healthcare and disability [2]

Close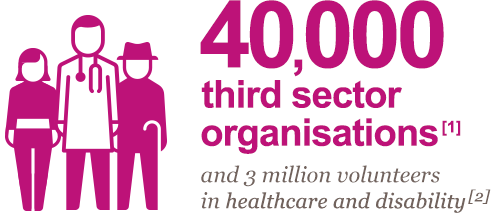 Organisations close to their communities can often respond to local health needs in a more targeted way, find solutions and co-ordinate services. Their understanding of their client group enables them to identify pockets of unmet needs and find innovative solutions. [1]
Financial support and professional training can help small charities continue their important work

Close

Investment in professional development for third sector leaders is often limited. The GSK IMPACT Awards Network offers winners personal professional development training as well as a financial award. The network now has an active membership of 83 individuals from 51 award-winning health charities.


has been awarded to UK charities by the GSK IMPACT Awards, since 1997 [3]

Close

During this time, we have supported over 300 charities. Winning charities receive both unrestricted funding of £30,000, plus an invitation to join the GSK IMPACT Awards Network, helping charities to thrive. [3]
"Recognising our work in this way will help provide vital support for victims of domestic abuse.
Gail Gray - CEO - RISE
Supporting survivors of domestic abuse
"The GSK IMPACT Award is an opportunity for us to help more young families. This investment is incredibly useful.
Kim Roberts - CEO - HENRY
Helping to tackle childhood obesity