GSK delivers 2019 sales of £33.8 billion +10% AER, +8% CER (Pro-forma +4% CER*)
Issued: London, UK
Total EPS 93.9p; +27% AER; +23% CER; Adjusted EPS 123.9p +4% AER, +1% CER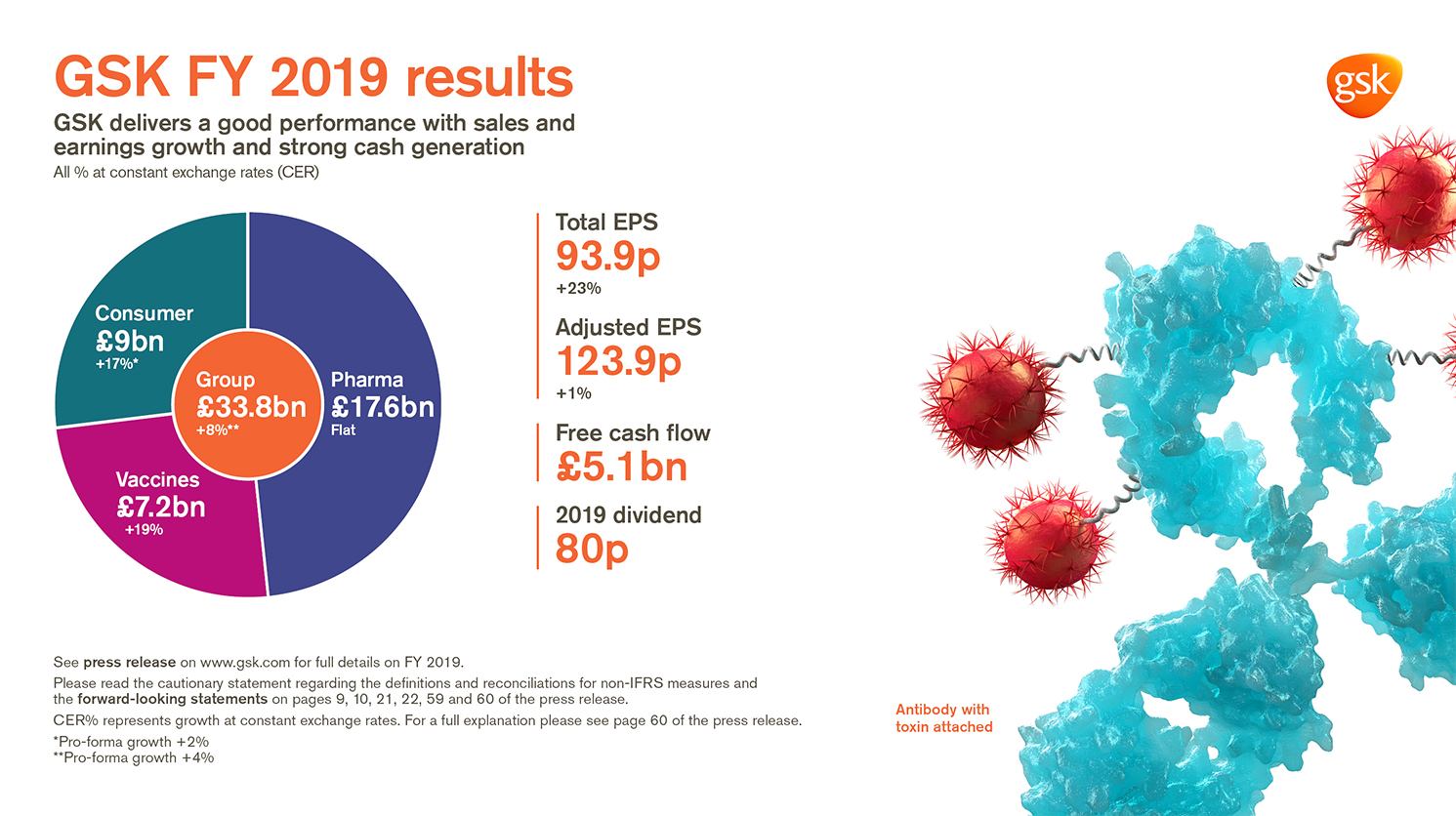 Full results announcement (PDF)
Download the FY 2019 results announcement
2019 financial and product highlights
Pharmaceuticals £17.6 billion +2% AER, flat CER; Vaccines £7.2 billion +21% AER, +19% CER; Consumer Healthcare £9 billion +17% AER, +17% CER (Pro-forma +2% CER*)
Shingrix sales £1.8 billion +>100% AER, +>100% CER driven by strong execution in the US
Total Respiratory sales £3,081 million +18% AER, +15% CER.  Trelegy £518 million +>100% AER, +>100% CER.  Nucala £768 million +36% AER, +33% CER
Total HIV sales £4.9 billion, +3% AER +1% CER.  Two-drug regimen sales £422 million
Total Group operating margin 20.6%.  Adjusted Group operating margin 26.6% reflecting increased R&D spending and impact of generic Advair in the US partly offset by improved Vaccines and Consumer Healthcare performance. (Pharmaceuticals 26.2%; Vaccines 41.4%; Consumer Healthcare 20.8%)
Total EPS 93.9p +27% AER; +23% CER primarily reflecting reduced contingent consideration charges
Adjusted EPS 123.9p +4% AER, +1% CER reflecting operating performance and lower effective tax rate, partly offset by increased profit allocation to non-controlling interests
Net cash flow from operations £8.0 billion.  Free cash flow £5.1 billion
23p dividend declared for the quarter, 80p for FY19
Pipeline highlights
Continued strengthening of R&D pipeline in 2019: eight submissions, six positive pivotal trial results and four new assets progressed into pivotal trials

In 2020 expect at least six potential approvals in oncology, HIV, specialty and respiratory

Expect proof of concept readouts on several key pipeline assets including four oncology medicines and vaccines for COPD and RSV
2020 guidance
Expect Adjusted EPS to decline -1% to -4% CER

Expect 80p dividend for 2020
Preparing for two new companies
New programme initiated to prepare for separation of GSK into two companies:  New GSK, a biopharma company with an R&D approach focused on science related to the immune system, use of genetics and new technologies; and a new leader in Consumer Healthcare
As GSK increases investment in R&D and new product launches, the two-year separation programme aims to:

Drive a common approach to R&D across modalities with improved capital allocation
Align and improve capabilities and efficiencies of global support functions to support New GSK
Further optimise supply chain and portfolio, including divestments of non-core assets.  Strategic review of prescription dermatology underway
Prepare Consumer Healthcare to operate as a standalone company

Programme to target delivery of £0.7 billion of annual savings by 2022 with total costs estimated at £2.4 billion (of which £1.6 billion cash).  Programme expected to deliver improved operating performance, with meaningful improvements from 2022.  Anticipated divestment proceeds largely expected to cover programme cash costs
Additional one-time costs to prepare Consumer Healthcare for separation estimated at £600-700 million

Emma Walmsley, Chief Executive Officer, GSK said:
"GSK delivered a good performance in 2019 with growth in sales and earnings, together with strong cash generation.  We also made excellent progress in all three of our long-term priorities: Innovation, Performance and Trust, strengthening our pipeline, improving operational execution and reshaping the company.
"In 2020, our first priority remains Innovation, to progress our pipeline and support new product launches. Recent data readouts underpin our decision to further increase investment in R&D and these new products.  At the same time, we are again focused on operational execution, including delivering a successful integration in Consumer Healthcare, and we are also preparing for the future, starting a new two-year programme to get GSK ready for separation.
"All of this aims to support future growth, deliver significant value creation, and set up two new leading companies in biopharma and consumer healthcare, each with the opportunity to improve the health of hundreds of millions of people."
Watch Hal Barron, Chief Scientific Officer and President, R&D, give an update on R&D.
Broadcast quality versions of these films are available on request for use by media from our video footage library. To request access, please contact us through our media relations team on +44 (0)20 8047 5502 or email corporate.media@gsk.com
About GSK
GSK – one of the world's leading research-based pharmaceutical and healthcare companies – is committed to improving the quality of human life by enabling people to do more, feel better and live longer. For further information please visit www.gsk.com/about-us
Assumptions and cautionary statement regarding forward-looking statements
The Group's management believes that the assumptions outlined above are reasonable, and that the aspirational targets described above are achievable based on those assumptions. However, given the longer term nature of these expectations and targets, they are subject to greater uncertainty, including potential material impacts if the above assumptions are not realised, and other material impacts related to foreign exchange fluctuations, macro-economic activity, changes in regulation, government actions or intellectual property protection, actions by our competitors, and other risks inherent to the industries in which we operate.
This webpage contains statements that are, or may be deemed to be, "forward-looking statements". Forward-looking statements give the Group's current expectations or forecasts of future events. An investor can identify these statements by the fact that they do not relate strictly to historical or current facts. They use words such as 'anticipate', 'estimate', 'expect', 'intend', 'will', 'project', 'plan', 'believe', 'target' and other words and terms of similar meaning in connection with any discussion of future operating or financial performance. In particular, these include statements relating to future actions, prospective products or product approvals, future performance or results of current and anticipated products, sales efforts, expenses, the outcome of contingencies such as legal proceedings, dividend payments and financial results. Other than in accordance with its legal or regulatory obligations (including under the Market Abuse Regulation, the UK Listing Rules and the Disclosure and Transparency Rules of the Financial Conduct Authority), the Group undertakes no obligation to update any forward-looking statements, whether as a result of new information, future events or otherwise. The reader should, however, consult any additional disclosures that the Group may make in any documents which it publishes and/or files with the SEC. All readers, wherever located, should take note of these disclosures. Accordingly, no assurance can be given that any particular expectation will be met and investors are cautioned not to place undue reliance on the forward-looking statements.
Forward-looking statements are subject to assumptions, inherent risks and uncertainties, many of which relate to factors that are beyond the Group's control or precise estimate. The Group cautions investors that a number of important factors, including those on this webpage, could cause actual results to differ materially from those expressed or implied in any forward-looking statement. Such factors include, but are not limited to, those discussed under Item 3.D 'Risk Factors' in the Group's Annual Report on Form 20-F for 2018. Any forward looking statements made by or on behalf of the Group speak only as of the date they are made and are based upon the knowledge and information available to the Directors on such date.
A number of adjusted measures are used to report the performance of our business, which are non-IFRS measures. These measures are defined and reconciliations to the nearest IFRS measure are available in our Q4/FY 2019 results announcement on pages 9, 10, 21, 22, 59 and 60  of the announcement.