GSK delivers improvements in sales, margins and cash flow in Q2 2018
Issued: London UK
GSK delivers improvements in sales (at CER), margins and cash flow in Q2 2018
Total EPS 9.0p, >100% AER, >100% CER; Adjusted EPS 28.1p, +3% AER, +10% CER
GSK sets out new approach to Research and Development and upgrades 2018 EPS guidance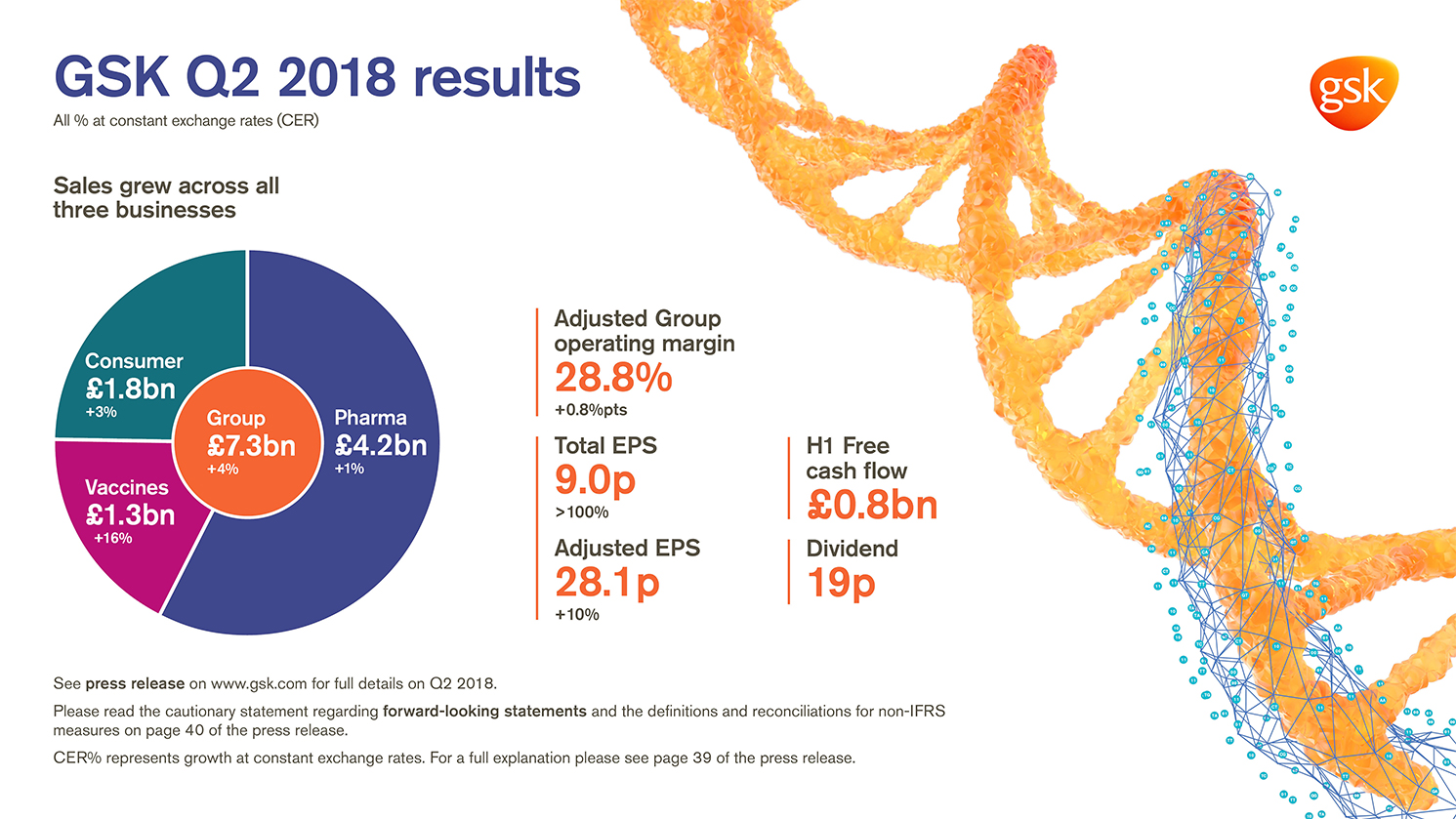 Full results announcement (PDF)
Download the Q2 2018 results announcement
Financial highlights
Group sales: £7.3 billion, flat AER, +4% CER. Pharmaceuticals sales £4.2 billion, -3% AER, +1% CER; Vaccines £1.3 billion, +13% AER, +16% CER; Consumer Healthcare £1.8 billion, -1% AER, +3% CER
Adjusted Group operating margin: 28.8%, +0.3 percentage points AER, +0.8 percentage points CER. Pharmaceuticals: 35.3%, Vaccines 28.5%, Consumer Healthcare 19.3%
Adjusted R&D £868 million, -18% AER, -15% CER reflecting benefits of prioritisation, comparison with utilisation of Priority Review Voucher in Q2 2017 and phasing of new investments
Total EPS: 9.0p (Q2 2017: loss per share 3.7p) reflecting reduced impairments and lower charges for restructuring and changes in valuations of Consumer Healthcare and HIV businesses
Adjusted EPS growth +3% AER, +10% CER driven by operating leverage, continued financial efficiencies and reduction in minorities following completion of Consumer Healthcare buyout on 1 June 2018
H1 2018 free cash flow £0.8 billion (H1 2017: £0.4 billion)
19p dividend declared for quarter. Continue to expect 80p for FY 2018
New major restructuring programme expected to deliver annual cost savings of £400 million by 2021. Charges expected to be £0.8 billion cash and £0.9 billion non-cash over next 3 years
Now expect 2018 Adjusted EPS growth of 7 to 10% at CER if no substitutable generic competitor to Advair introduced in US in 2018. If a substitutable generic competitor to Advair is introduced in the US from 1 October, expect 2018 Adjusted EPS growth of 4 to 7% at CER
Product and pipeline highlights
Sales of Ellipta products, including Trelegy, £509 million +20% AER, +26% CER. Nucala sales £141 million +93% AER, +>100% CER
Tivicay and Triumeq sales of £1.1 billion +10% AER, +15% CER. New launch Juluca £24 million
Positive results of GEMINI study of new 2-drug regimen dolutegravir+lamivudine supports use in treatment naïve patients
Shingrix sales £167 million. Now expect 2018 sales of £600-650 million
R&D update
New approach to R&D announced focusing on science related to the immune system, the use of genetics and investments in advanced technologies
Strategic collaboration with 23andMe announced to take advantage of novel genetic insights to enhance selection of drug targets and clinical development of new medicines
GSK currently has over 40 NMEs in its pharmaceutical pipeline with significant data readouts 2018-2020
Several assets expected to launch 2018-20 including two treatments for HIV: dolutegravir+lamivudine and cabotegravir+ripilvirine; and GSK's most advanced new oncology treatment 2857916 (BCMA antibody-drug conjugate)
'916 pivotal studies started for 4L use. Initial 2L study, for use in combination with standard of care, to start H2 2018
US FDA approval received for Krintafel (tafenoquine), a radical cure of P. vivax malaria

Emma Walmsley, Chief Executive Officer, GSK said:
"GSK has delivered encouraging results across the company this quarter with CER sales growth in each of our three global businesses, an improved Group operating margin, Adjusted EPS growth of 10% (CER) and stronger free cash flow.
"Sales growth reflected strong commercial execution of the three new launches we have prioritised: Trelegy Ellipta which provides three medicines in a single inhaler to treat COPD; Juluca, the first 2-drug regimen, once-daily, single pill for HIV, helping to reduce the amount of medicines needed, and Shingrix, which represents a new standard for the prevention of shingles. We are increasing our expectations for sales of Shingrix in 2018 to £600-650 million.
"Focused improvements in operating performance have helped deliver increases in earnings and cash flow. Free cash flow for the year to date was £0.8 billion and we are announcing a dividend of 19p for the quarter. We continue to expect to pay a dividend of 80p for 2018.
"With the recent new product launches, development of the new R&D approach and the successful buyout of the Consumer business, we have evaluated the Group's cost base and what is required to deliver competitive long-term growth and performance in each of the Group's three businesses. As a result, we are today announcing a new major restructuring programme, which aims to significantly improve the competitiveness and efficiency of the Group's cost base with savings delivered primarily through supply chain optimisation and reductions in administrative costs.
"We are today upgrading our guidance for CER growth in Adjusted earnings per share for 2018. This reflects increased sales expectations for Shingrix, the positive effect of the completed Consumer Healthcare buyout as well as the delay of a potential generic version of Advair in the US, partly offset by the continuing pricing pressures in Respiratory. We remain increasingly confident in our ability to deliver mid to high single digit growth in Adjusted EPS CAGR 2016-2020 (at 2015 CER)."
A broadcast quality version of this film is available on request for use by media from our video footage library. To request access, please contact us through our media relations team on +44 (0)20 8047 5502 or email corporate.media@gsk.com
R&D Update
Alongside the Q2 results, at a presentation to investors in London today, GSK sets out the new approach it will take to Research and Development (R&D).
Emma Walmsley, Chief Executive Officer, GSK said:
"Innovation is the first of our three long-term strategic priorities I set out for GSK last year. Improving the performance of our Pharmaceuticals business and strengthening our R&D pipeline is fundamental to this. Today, we have announced the start of a new approach to R&D which aims to capitalise on the assets we have in our promising early-stage pipeline and build the next wave of growth for GSK.
"Under Hal Barron's leadership, we are reallocating resources to support this new R&D approach, and savings realised from the new major restructuring programme will be used to help fund targeted increases in R&D spending as well as support new products. We believe the R&D approach outlined today will deliver the value we see in our pipeline for the benefit of patients and shareholders."
Dr Hal Barron, Chief Scientific Officer and President R&D, GSK said:
"GSK has a long history of developing novel medicines that provide significant benefits for patients and today we are describing the next phase of innovation in R&D that will strengthen our pipeline and deliver a new generation of medicines and vaccines. At the core of this new approach is identifying new medicines by focusing on ways to modulate the immune system, leveraging the vast amounts of human genetic data now being generated, analysing this complex data with machine learning and creating an accountable culture where smart risk-taking is rewarded. This combination of science, technology and culture will generate new insights, improve our probability of success, enable us to focus and, most importantly, create new medicines that will have important benefits for patients."
New R&D approach
Our understanding of the science related to the immune system in the development of human disease is rapidly advancing, suggesting a much broader clinical and commercial opportunity for novel immune modulatory therapies. In addition, access to large databases derived from carefully genotyped and phenotyped patient populations, coupled with technological advances in data analytics, now offer the opportunity to direct drug discovery and development to a new generation of targets with significantly increased probability of success.
Science
Going forward, GSK's Research will have an even greater focus on the basic biology of the immune system as well as targets that have a high degree of validation based on human genetics. Medicines targeting mechanisms of action with strong human genetic validation have a higher (2-fold) probability of success. This means a shift to a genetics-driven (vs genetics-supported) portfolio.
GSK's Pharmaceutical and Vaccines businesses have a deep history of developing novel and competitive assets targeting the immune system. The company currently has 27 immunomodulatory NMEs (new molecular entities) in the clinic, representing 60% of the total clinical pipeline. Of these 27 assets, more than half are potential first-in-class therapy options for a range of different diseases. In Oncology, GSK is developing a number of assets using different immune-based approaches: cell therapy, epigenetic modulators and antibodies targeting immune cells (agonists and antagonists).
Access to databases that can be used to assess the impact of genetic variation on human disease offers significant opportunities to improve drug development. Today GSK announced a major advance in this capability with the formation of a new collaboration with 23andMe, the world's leading consumer genetics and research company. This collaboration offers GSK a transformational opportunity to utilise 23andMe's database and statistical analytics to identify disease-relevant genes and novel targets. 23andMe currently has 5 million customers and growing, making it the world's largest genetic and phenotypic resource. GSK will also be able to benefit from 23andMe's ability to identify patients with specific gene variations in specific diseases, helping significantly accelerate recruitment for new clinical studies. This new collaboration complements GSK's existing investments in the EBI/Sanger Open Targets consortium, Altius Institute, and the UK Biobank.
Technology
Investing in advanced technology platforms, such as machine learning, to support interpretation of genetics data will be an important part of enabling the new R&D approach. In addition, the Group will be investing in functional genomics to validate potential targets, applying techniques for gene modification such as CRISPR technology. GSK will also invest in computational design, automation and new capabilities to assess the indication potential, selection, sequencing and management of evidence generation for new assets over the lifecycle. These investments will supplement GSK's existing strengths in other technologies, including a leading position in Cell and Gene Therapy.
Culture
Execution of this new approach will require investing in, and changing the culture within GSK R&D. A critical element of this will be through effective collaboration with external partners, investment in new talent and development of people. GSK also intends to promote a culture of increased accountability and smart risk-taking. This will include redefining success and fostering a culture of truth-seeking versus progression-seeking, and optimised portfolio decision-making, alongside implementation of a new robust governance model. Targeted business development to strengthen the Group's pipeline and technology capabilities will also be part of the new R&D approach.
Pipeline
GSK currently has over 40 NMEs in its pharmaceutical pipeline and expects a significant number of critical data readouts in 2018-2020. The Group has potential assets expected to launch in this period, including two new dual therapy treatments for HIV, dolutegravir+lamivudine and cabotegravir+ripilvirine, and GSK's most advanced new oncology treatment, 2857916 (BCMA antibody-drug conjugate), for treatment of multiple myeloma. Beyond 2020, GSK expects to launch multiple medicines from its promising, early-stage and highly innovative R&D portfolio. Further details and updates on GSK's R&D pipeline are presented on page 37.
About GSK
GSK – one of the world's leading research-based pharmaceutical and healthcare companies – is committed to improving the quality of human life by enabling people to do more, feel better and live longer. For further information please visit www.gsk.com/about-us.
Cautionary statement regarding forward-looking statements
This document contains statements that are, or may be deemed to be, "forward-looking statements". Forward-looking statements give the Group's current expectations or forecasts of future events. An investor can identify these statements by the fact that they do not relate strictly to historical or current facts. They use words such as 'anticipate', 'estimate', 'expect', 'intend', 'will', 'project', 'plan', 'believe', 'target' and other words and terms of similar meaning in connection with any discussion of future operating or financial performance. In particular, these include statements relating to future actions, prospective products or product approvals, future performance or results of current and anticipated products, sales efforts, expenses, the outcome of contingencies such as legal proceedings, and financial results. Other than in accordance with its legal or regulatory obligations (including under the Market Abuse Regulation, the UK Listing Rules and the Disclosure and Transparency Rules of the Financial Conduct Authority), the Group undertakes no obligation to update any forward-looking statements, whether as a result of new information, future events or otherwise. The reader should, however, consult any additional disclosures that the Group may make in any documents which it publishes and/or files with the SEC. All readers, wherever located, should take note of these disclosures. Accordingly, no assurance can be given that any particular expectation will be met and investors are cautioned not to place undue reliance on the forward-looking statements.
Forward-looking statements are subject to assumptions, inherent risks and uncertainties, many of which relate to factors that are beyond the Group's control or precise estimate. The Group cautions investors that a number of important factors, including those in this document, could cause actual results to differ materially from those expressed or implied in any forward-looking statement. Such factors include, but are not limited to, those discussed under Item 3.D 'Risk Factors' in the Group's Annual Report on Form 20-F for 2017. Any forward looking statements made by or on behalf of the Group speak only as of the date they are made and are based upon the knowledge and information available to the Directors on the date of this report.