GSK delivers Q3 sales of £7.8 billion, +4% AER, +2% CER
Issued: London UK 
Total EPS 24.8p, +49% AER, +46% CER; Adjusted EPS 32.5p, +3% AER, flat CER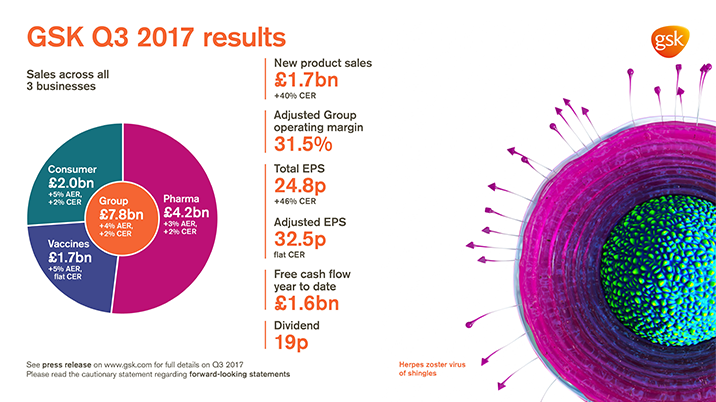 Full results announcement (PDF)
Download the Q3 2017 results announcement
Financial highlights             
Sales growth in Pharmaceuticals and Consumer Healthcare; Vaccines sales flat    
Pharmaceuticals sales £4.2 billion +3% AER, +2% CER; Vaccines £1.7 billion +5% AER, flat at CER; Consumer Healthcare £2.0 billion +5% AER, +2% CER    
Improved Total operating margin of 23.9% (+4.9 points, including 0.2 points currency benefit) and EPS (24.8p), primarily reflecting reduced transaction-related charges related to valuations of Consumer Healthcare and HIV businesses    
Improved Adjusted Group operating margin of 31.5% (+1.0 point, no currency effect) primarily reflecting leverage from sales growth, focus on costs and benefits of restructuring. Pharmaceuticals 34.0% (-0.3 points, no currency effect); Vaccines 41.3% (+1.6 points, including 0.3 points adverse currency effect); Consumer Healthcare 20.0% (+3.9 points, including 1.3 points currency benefit)    
YTD free cash flow £1.6 billion (9 months 2016: £1.3 billion)
19p dividend declared for quarter. Continue to expect 80p for FY 2017    
Guidance for 2017 Adjusted earnings per share growth maintained at 3% to 5% CER
Product and pipeline highlights    
New product sales of £1.7 billion, +44% AER, +40% CER, driven by continued strong performance from Tivicay/Triumeq in HIV, Relvar/Breo Ellipta and Nucala in Respiratory and meningitis vaccines    
Trelegy Ellipta approved in the US for COPD and positive opinion received in Europe. Positive results from landmark IMPACT study show benefits of Trelegy Ellipta in reducing COPD exacerbations compared to dual therapies    
Shingrix vaccine for shingles approved in US and Canada    
Phase III results for Nucala (mepolizumab) in COPD published in New England Journal of Medicine with regulatory filings planned for this year   
In Oncology, CHMP PRIME designation granted for 2857916 (BCMA antibody-drug conjugate) for relapsed and refractory multiple myeloma and new data to be presented at an upcoming scientific conference; option exercised from Adaptimmune to develop T-cell therapy (NY-ESO-1) for multiple tumour types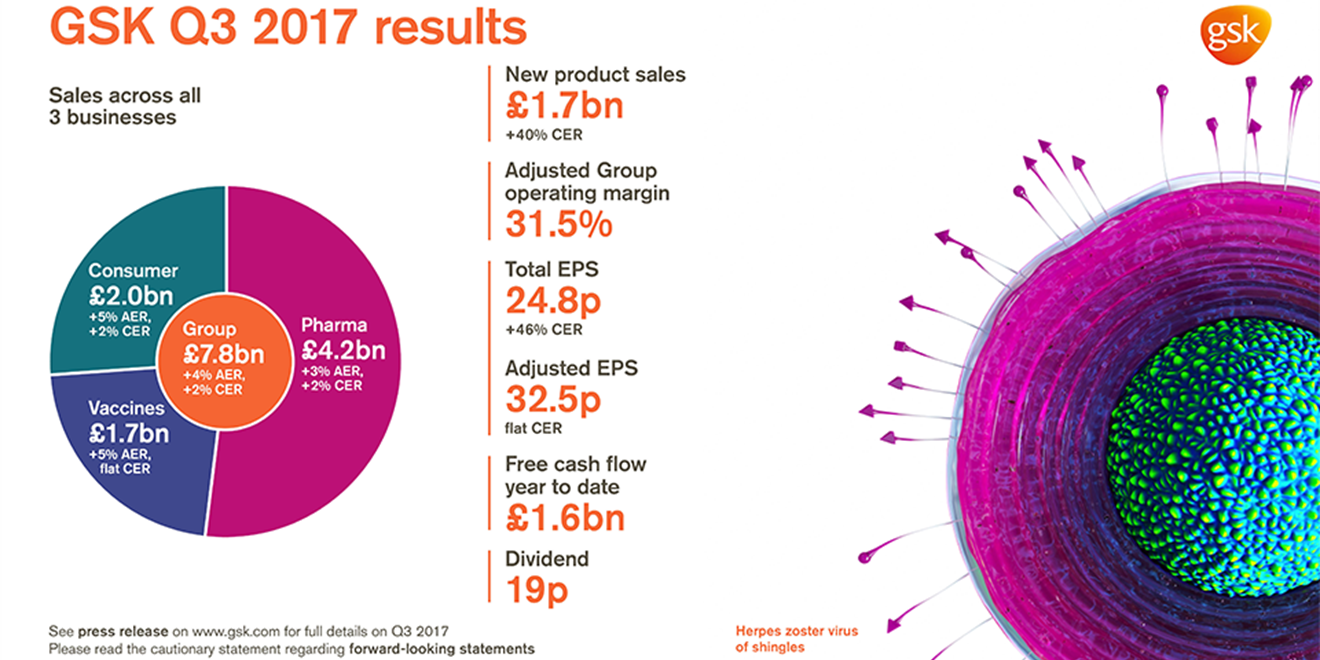 Emma Walmsley, Chief Executive Officer, GSK said:
"Performance in the quarter showed continued progress with sales growth and improved operating margins. This was driven by targeted cost savings and restructuring and integration benefits, which particularly benefited Vaccines and Consumer Healthcare, and also supported investment in our new products and R&D pipeline. Adjusted earnings per share for Q3 were 32.5p and we remain on course for our full-year earnings guidance, with cash generation continuing to improve. We are also pleased that we have secured major approvals for Trelegy Ellipta in COPD and Shingrix, our shingles vaccine."
About GSK
GSK – one of the world's leading research-based pharmaceutical and healthcare companies – is committed to improving the quality of human life by enabling people to do more, feel better and live longer.  For further information please visit www.gsk.com/about-us.
Cautionary statement regarding forward-looking statements
GSK cautions investors that any forward-looking statements or projections made by GSK, including those made in this announcement, are subject to risks and uncertainties that may cause actual results to differ materially from those projected. Such factors include, but are not limited to, those described under Item 3.D 'Principal risks and uncertainties' in the company's Annual Report on Form 20-F for 2016.