Pharmaceuticals resources
Here you will find a range of useful resources for journalists about our HIV and respiratory activities.  
HIV: GSK statement: Trial planned for new HIV vaccine regimen - 19 May 2016
GSK welcomes the news from the USA's National Institute of Allergy and Infectious Diseases (NIAID) and the P5 partnership that it will be moving an investigational HIV vaccine into a large scale phase IIB/III clinical trial in South Africa later this year, assuming approval from regulatory authorities.
Vaccine development takes a long time, however we believe this is a positive development in the search for a vaccine to prevent HIV infections.
The clinical trial, which is the only currently planned efficacy trial of an HIV vaccine in Southern Africa, will take several years to complete, including 3 years of follow-up of the 5,400 volunteers.
The P5 (Pox-Protein Public-Private Partnership) collaboration is made up of a diverse group of organizations including GSK along with NIAID, the Division of AIDS (DAIDS), Fred Hutchison Cancer Research Center/HIV Vaccine Trials Network (FHCRC/HVTN), Bill & Melinda Gates Foundation (BMGF) and Sanofi Pasteur. The trial is sponsored by the Division of AIDS (DAIDS), National Institutes of Allergy and Infectious Diseases (NIAID).
The candidate vaccine regimen being studied consists of two experimental vaccines including a bivalent gp120 antigen (supplied by GSK) with an adjuvant designed to boost the body's immune response to the vaccine regemin. Both candidates have been modified to be specific to HIV subtype C, the predominant HIV subtype in southern Africa.
GSK has a long commitment to HIV. Through ViiV Healthcare, we continue to research new treatments and increase access to our medicines for people living with HIV around the world. However with an estimated two million new HIV infections occurring worldwide annually, controlling and ultimately ensuring a durable end to the HIV/AIDS pandemic a safe and effective vaccine will play a critical role in bringing about a durable end to the HIV/AIDS epidemic.
Back to top
Respiratory: Asthma and COPD
329 million people suffer from COPD worldwide. A further 242 million suffer from asthma. We are on a journey to help everyone breathe better and live the life they want.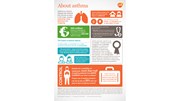 Asthma
Intended for medical and consumer media. Produced in December 2015 RF/AST/0068/15.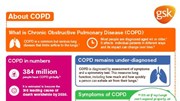 COPD
Intended for medical and consumer media. Produced in August 2017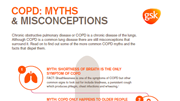 COPD: myths and misconceptions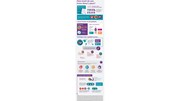 How much do you really know about Lupus?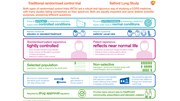 Randomised Control Trial compared to the Salford Lung Study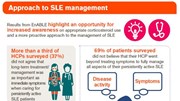 EnABLE Survey – Discrepancies in SLE management: barriers to improved care

Severe asthma and the role of the eosinophil
Intended for medical and consumer media. Produced in October 2015
HIV
At GSK, we have a long commitment to HIV treatment, from the development of the world's first breakthrough HIV medicine in the 1980s, to our leadership today. In 2015 we established a research centre with the University of North Carolina (UNC) entirely focused on researching a cure to eventually eradicate HIV.