How we develop new medicines
Developing a medicine takes many years. However, rapid advances in science and technology are transforming healthcare, improving the probability of success in R&D, and may help accelerate this process.
Developing a new treatment typically goes through seven stages from laboratory to patient: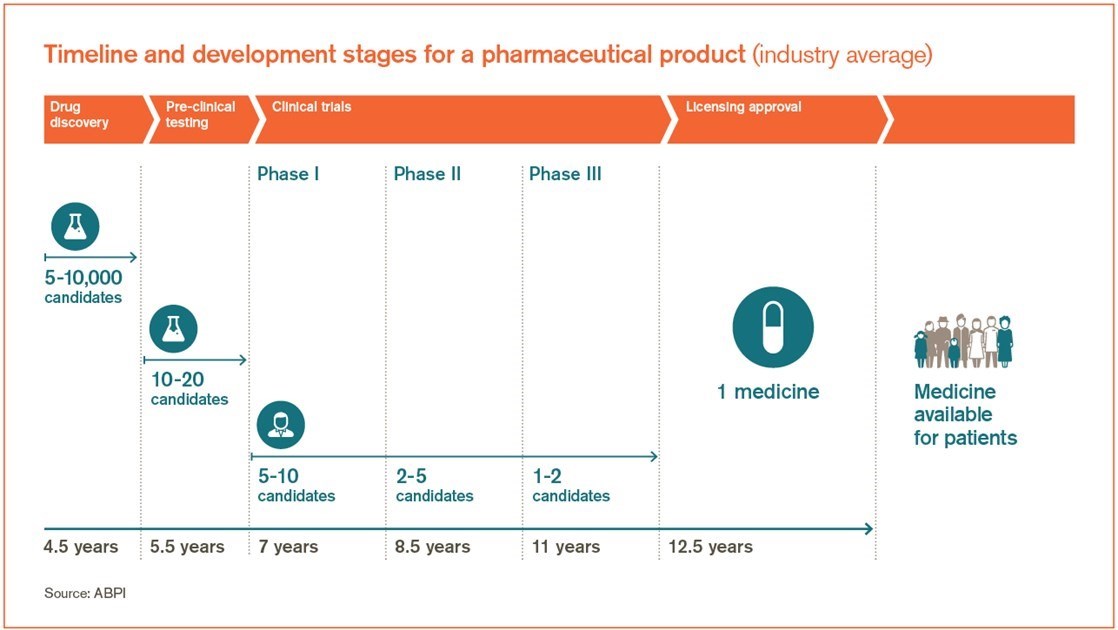 In Development, we translate innovative early science - by following the data, unconstrained by therapy area or modality - into disease-specific potential new medicines. A project is handed over to our medicine development teams at Phase II, although our Development teams will start working with Research colleagues much earlier in the journey of a medicine. You can learn more about the phases in drug development on our clinical trials pages.
Once a potential new medicine is in development, it goes through a series of stages of testing:
Clinical trials – carrying out tests in humans
Before any trials can start in humans, a plan is developed that defines what the trial would involve. The plan will be carefully considered by an ethical review committee of experienced independent medical and scientific practitioners as well as the medicines regulator in each country where the country will be conducted. The regulator has the power to reject or stop a clinical trial at any time.
New medicines must go through three phases of human testing before they can be approved for use. To find out more about these critical phases in the development of a new medicine go to our section on clinical trials.
The safety of those who take part in clinical trials is of paramount importance. All our clinical trials follow the guidelines developed by the International Conference on Harmonisation (ICH), and the World Medical Association Declaration of Helsinki on the Ethical Principles for Medical Research Involving Human Subjects (2008).


Find out about our clinical trials process, how we work with doctors and volunteers throughout this process, and how to become a research volunteer.
Trials in people
Regulatory approval – gaining approval for a new medicine from regulators
Once we have successfully completed clinical research of our potential medicine, the information we have gathered is submitted to regulatory authorities. This is the formal application to seek approval for the new medicine. The process must be followed in every territory in which we hope to offer the new treatment to doctors and patients.

Based on our research, we suggest to the regulators which patients may find our medicines helpful, but it is the regulators who make the final decisions. Their approval will include details of the diseases or conditions that the medicine has been cleared to treat. Regulators may also require restrictions or warnings to be placed on the use of new medicines.

Only after the regulators have given their approval to a medicine can we make it available to doctors to prescribe to patients.
Supply – manufacturing and shipping the approved medicine so that doctors can prescribe it
The approved new medicine is now manufactured and distributed. Doctors are supplied with the information that will help them in deciding when to prescribe the new treatment
Monitoring – continuing to gain understanding from the use of new medicines
As new medicines are used more widely, we build a deeper understanding of their effectiveness in different circumstances. This can mean that our appreciation of a medicine changes over time.