Research
Researching the next generation of medicines and vaccines.
Dr Hal Barron, Chief Scientific Officer and President, R&D, has been instrumental in driving our scientific innovation since he joined GSK in January 2018.
Our Pharmaceuticals research is focused on science related to the immune system, the use of human genetics, and the application of advanced technologies such as functional genomics, artificial intelligence and machine learning.
This new approach will accelerate the pace at which we research, develop and deliver transformational medicines, prioritising those molecules with a higher probability of success and terminating less promising programmes.  It will also enable us to increase our focus on specialty medicines in areas such as oncology.
In Vaccines, our efforts are centred around discovering and developing prophylactic and therapeutic vaccines to help protect people against infectious diseases. Every disease has its own characteristics and developing a vaccine to help protect against any specific disease requires a unique approach.
We invest in scientific and technical excellence to develop and launch new innovative vaccines that meet the needs of patients and payers. We balance our focus on our robust pipeline with the active life-cycle management of our existing vaccines, seeking to protect more people through expanded indications and geographies.   
We have developed vaccines against 21 of the 31 diseases currently preventable by vaccination to help protect people at all stages of their life. We are advancing our adjuvant technologies designed to enhance the immune response to vaccines. This is especially important for those who tend to respond poorly to vaccination, for example immune-compromised patients and the older population.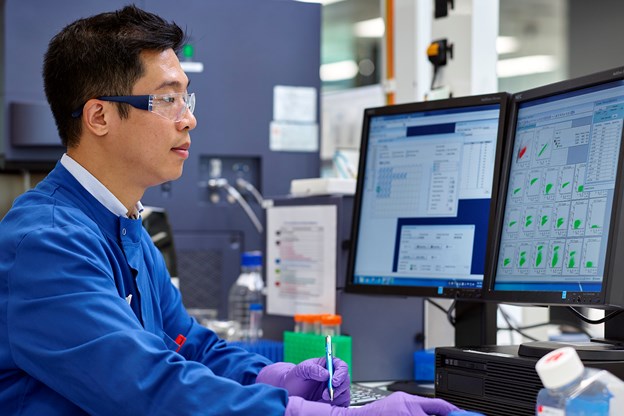 Advanced technologies
Significant investment in a wide range of advanced technologies is central to our research. We are developing a core capability in artificial intelligence and machine learning, to enhance our ability to interpret and understand genetics and genomic data. We are also investing in functional genomics, applying techniques for gene modification such as CRISPR technology, to help discover and validate potential targets. These investments supplement our existing strengths in other advanced technologies, including our leading position in cell and gene therapy, which we continue to develop.
Improved understanding of biology is fueling the development of novel, targeted vaccines. In parallel, the rise of digital technologies and data analytics is creating new opportunities to understand the effect of interventions on diseases. We are building on these advances by using reverse vaccinology, innovative trial designs and other techniques to accelerate vaccine discovery and development. Effectively harnessed, we believe these advances will have a strong contribution to improving health outcomes.
Joining forces to advance genomic research and improve drug discovery
New 'Laboratory for Genomic Research' unites CRISPR pioneers with industry expertise to help unravel mysteries of the human genome.
Partnerships are key to our innovation
In June 2019, we announced a five-year collaboration with the University of California to establish a state-of-the-art laboratory for CRISPR technologies, establishing the Laboratory for Genomics Research (LGR). With a focus on immunology, oncology and neuroscience, the new laboratory will explore how gene mutations cause disease and develop new technologies using CRISPR, the most powerful tool in functional genomics, to rapidly accelerate the discovery of new medicines. GSK's artificial intelligence and machine learning group will be involved in building the necessary computational pipelines to analyse the data. The LGR aims to automate existing CRISPR approaches so that this work can be done at scale. Ultimately the goal is to deepen our understanding of genetics and discover new targets, and to create next generation technologies that will become future standard practice for the pharmaceutical industry.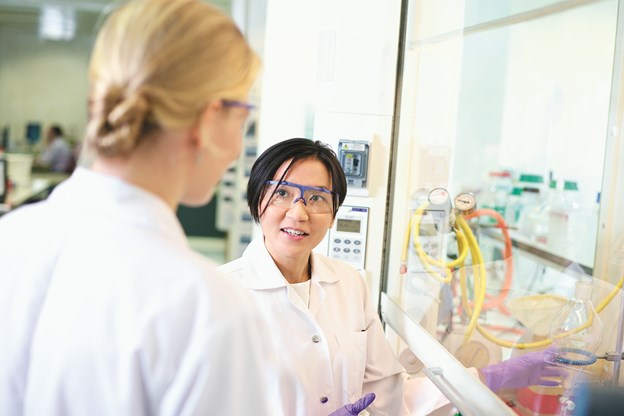 In 2018, we formed an exclusive collaboration with 23andMe, the world's leading consumer genetics and research company. This collaboration combines our scientific and medical knowledge with 23andMe's large-scale genetic resources and unique data science skills, improving the probability of R&D success Other strategic partnerships include: Altius Institute, which pioneers new technologies and approaches for decoding gene control; the UK Biobank, which is generating anonymised genetic sequence data from 500,000 volunteers, and the Open Targets consortium, which supports an open access search engine that searches, evaluates and integrates biologic and genetic disease data.
Partnership is key to our innovation in Vaccines too. We have around 150 external scientific collaborations in vaccines, with most of our candidate vaccines being developed in partnership. Our partnerships and technologies also support our work on tuberculosis and shigella for instance, which is part of our ongoing commitment to developing vaccines against the diseases of the developing world. Such collaborations enable our Vaccines scientists to learn from other leading experts and stay close to emerging technologies and new science.