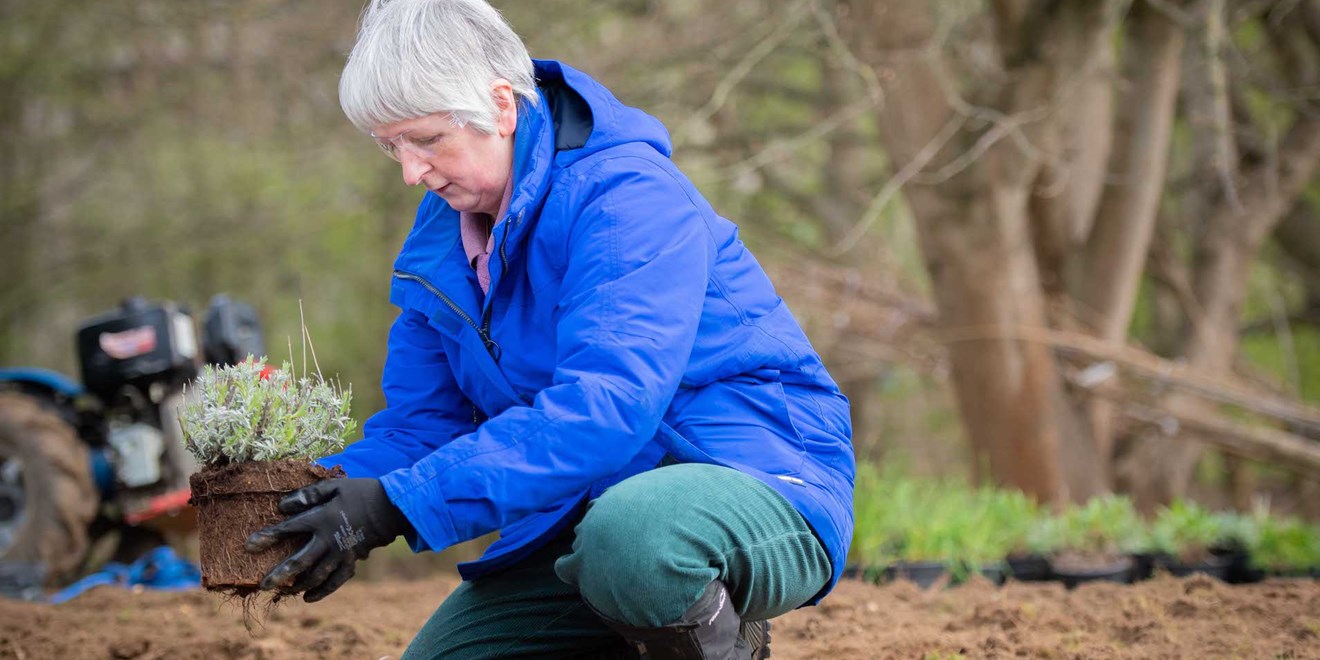 Our biodiversity targets
Positive impact on biodiversity at all sites by 2030[1] 

100% of agricultural, forestry and marine derived materials sustainably sourced and deforestation free by 2030[2]
Notes:
[1] GSK-owned sites
[2]  Target updated in November 2021 to reflect focus materials

How we plan to achieve our targets
Biodiversity at GSK sites
We have committed to positive biodiversity at GSK-owned sites by 2030, with all sites to have biodiversity action plans in place by 2025 and investment in programmes that improve habitats, protect species and improve soil or water quality. Specific site-based actions might include tree planting, adding bird boxes on-site and pond maintenance.
In 2022, we completed baseline biodiversity assessments for 80% of our sites. We have commenced biodiversity uplift projects at our three largest R&D facilities. We have also completed a full assessment of our biodiversity impact (across the entire value chain), in line with the latest Science Based Targets for Nature (SBTN) guidance, and will be taking targeted actions to address the highly-stressed areas.
We know that making nature easily accessible improves mental and physical wellbeing. Investing in site biodiversity is also investing in health and wellbeing for our people, as well as supporting team building as people can get involved with local projects.  
Sustainable and deforestation-free sourcing
To address biodiversity in our supply chain, our target is that 100% of agricultural, forestry and marine-derived materials will be sustainably-sourced and deforestation-free by 2030.
Deforestation is a major contributor to climate change. We continue to take steps to ensure that raw materials, such as wood-based packaging materials and palm oil, are sourced responsibly.
We are committed to deforestation-free sourcing, as defined by the Accountability Framework (AFi), for all key commodities purchased by GSK or indirectly on our behalf. The complexity of our operations and our supply chain makes this an ambitious undertaking that requires a phased approach.
We have identified priority materials that are of strategic importance to our business, and that also have an impact on deforestation. These include paper packaging, palm oil derivatives, soy and cattle-derived products.
To date, we have focused on developing sourcing standards for paper packaging based on Forest Stewardship Council (FSC) requirements and palm oil derivatives based on principles set by the Roundtable on Sustainable Palm Oil (RSPO). We have implemented responsible sourcing programs for these commodities in conjunction with the Rainforest Alliance. We are members of Action for Sustainable Derivatives (ASD) which works to increase the transparency and traceability of palm oil derivatives in supply chains.
We are committed to working with others to improve our approach to sustainable sourcing across all materials, including finding deforestation-free solutions, and will collaborate with other stakeholders in the supply chain, government, and civil society, and will contribute to industry activities that focus on improving sustainable sourcing for the healthcare industry.
Investing in nature
We will also invest in the protection and restoration of land use across and beyond our value chain, in a way that also contributes to carbon removal and water basin restoration – further helping us to achieve our climate and water targets.
For example, GSK is a participant of the Lowering Emissions by Accelerating Forest finance (LEAF) Coalition, which supports high-quality emissions avoidance from tropical and subtropical forest countries, helping to reduce and end deforestation and protect future biodiversity.