Protecting and restoring the planet's health to protect and improve people's health
In November 2020, we announced ambitious new environmental sustainability goals in both climate and nature. 
Read more about our new goals.


Value chain carbon footprint
Download our detailed value chain carbon footprint PDF
Raw materials
Working with suppliers
We know that the impact of producing our products and medicines is much broader than what we do in our own operations. Around 48% of our carbon footprint comes from our supply chain, so working with our suppliers to help them reduce their carbon emissions is critical to achieving our carbon goals. That is why we are working closely with them to help look at ways we can reduce our collective environmental impact.
We work with EcoVadis to provide an extensive independent assessment of our third parties, assessing a range of areas including environment and sustainable procurement. If efforts fall below the standards we expect then suppliers can work with EcoVadis in order to improve their performance.
Supplier recognition
We recognise outstanding sustainability performance from our suppliers through the annual GSK Supplier Environmental Sustainability Award. The winners collect a trophy and £1,000 to donate to Save the Children.
In 2019, the winners of the SME category were Callisons who engaged with over 16,000 local mint farmers across regions of India to encourage excellence in agricultural practices. Their efforts raised the incomes of farmers and their families by improving yields and reducing the costs of operations.
The winner of the large category was Centrica who created an innovative local energy market in Cornwall using solar panels and battery storage to create a virtual powerplant. This generated clean energy in the local area.
These awards offer us a great opportunity to share ideas and initiatives among our suppliers in order to improve sustainability at GSK.
Back to top
Operations
Reducing energy use, and the carbon emissions associated with the energy that we purchase, is an important focus of our programme to cut environmental impacts. In 2019, we lowered our Scope 1 and 2 emissions1 by 4% through continued deployment of energy efficiency programmes across our operating sites. Globally, around 5% of our electricity came from renewable sources. We plan to expand this and by 2020, through a combination of green certificates and on-site renewable generation, over 30% of our global electricity needs will be decarbonised across the UK, US and Europe.
Metered-dose inhalers
Our manufacturing site in France has installed technology to capture emissions of the propellant released during manufacturing enabling the recovered gas to be sent for recycling and reuse in non-medical applications as well as reducing GHG emissions.
Green chemistry
We apply the principles of green chemistry when producing many of our medicines to help us reduce or eliminate hazardous chemicals from the drug development and discovery process. Our Green Chemistry Performance Unit (CPU), established in 2012, researches ways to replace hazardous or unsustainable chemicals with lower-impact alternatives. We have also published a specialist guide that helps our scientists understand the environmental impact of different reagents - chemicals used to produce our medicines - and to encourage the use of lower-impact alternatives.
Back to top
Logistics
We are partnering with our logistics providers to reduce emissions from the transportation of our products, which account for around 4% of our carbon footprint.
Back to top
Product use
Like so many companies across so many sectors, the most challenging area of our carbon footprint is in usage - whether by consumer or patient.
Use of our products
We have been working with the Carbon Trust since 2011 to measure the carbon footprints of our 40 biggest selling products to identify where we can make the most effective reductions from emissions associated with our products.
Metered dose inhalers
Around 32% of our carbon footprint is from patient use of our metered dose inhalers. In 2017, the Carbon Trust certified the carbon footprints of all our UK respiratory inhaler products according to the Greenhouse Gas Accounting Sector Guidance for Pharmaceutical Products and Medical Devices. This assessment showed that the lifecycle carbon footprint of our dry powder inhalers is around 24 times lower than a propellant-based inhaler.
Back to top
Disposal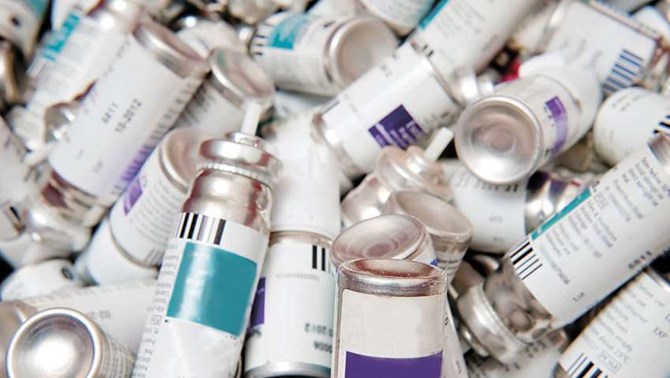 We are keen to increase the recycling of our products and to support the driving of positive behaviour change among patients and consumers.
The biggest carbon impact from customer disposal of our products comes from inhalers because there is often a small amount of propellant (greenhouse gases) left in them after use. Since 2012, we have encouraged UK patients to return more than 2 million used inhalers to pharmacies where they are sent back to us to be recycled through our Complete the Cycle scheme.
Back to top