Carbon
We are working to reduce emissions from our entire value chain while extending access to our products for the people who need them.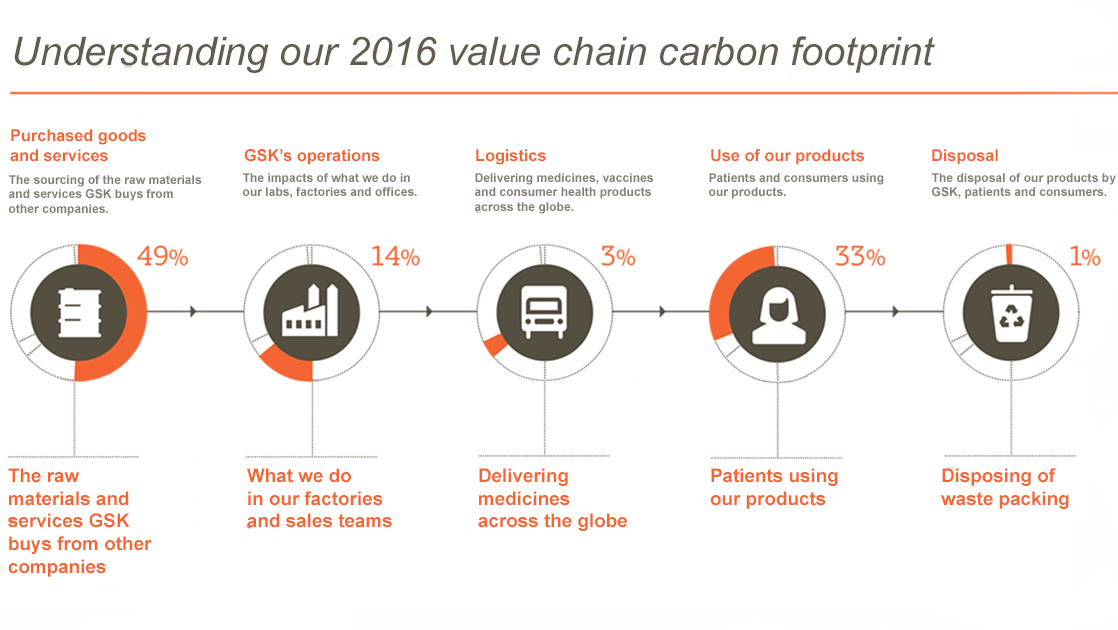 Value chain carbon footprint
Download our detailed value chain carbon footprint PDF
Raw materials
Working with suppliers
We know that the impact of producing our products and medicines is much broader than what we do in our own operations. Working with our suppliers to help them reduce their carbon emissions is critical to achieving our carbon goals.  In fact, around 50% of our carbon footprint comes from our supply chain. We view suppliers as critical partners in achieving our sustainability goals, and effective collaboration is central to that success. That is why we are working closely with them to help look at ways we can reduce our collective environmental impact.
By taking a value-chain approach, we are identifying risks and opportunities right across our entire supplier network – from our supply chain operations to our procurement activity. For example, for every tonne of palm oil we buy to manufacture Horlicks in UK, an equivalent mass of sustainable palm oil is produced.
We use Ecodesk, an online platform, to gather data on carbon, water and waste from around 200 suppliers representing approximately £1 billion - more than half - of our annual spend on raw materials used in manufacturing and R&D. We are using this data to prioritise our efforts to reduce suppliers' environmental impacts.
If you are a supplier to GSK and would like to disclose your information on Ecodesk you can find more information via the GSK Supplier Exchange.
We also have our own platform to encourage our suppliers to share best practices on sustainability, the Supplier Exchange Platform. The platform is a private online forum, where our suppliers are collaborating with each other and GSK to share practical ideas about improving resource usage, save water and increase energy efficiency. Suppliers use this insight to make improvements in their operations. If you are a supplier to GSK and would like to share your own calculated product footprints, or would like to know more about how you can participate in GSK's carbon footprint exercises, please contact GSK's Environmental Sustainability team.
Supplier recognition
We recognise outstanding sustainability performance from our suppliers through the annual GSK Supplier Environmental Sustainability Award. In 2016, we introduced two awards: one for multinationals and one for small or medium sized (SME) companies. The winners collect a trophy and £1,000 to donate to a charity of their choice.

In 2017, the awards went to Paharpur 3P, a small packaging supplier in India, for its efforts to reduce water use and to Model AG, a larger packaging supplier, for the installation of a paper recycling facility at its site in Switzerland.
These awards offer us a great opportunity to share ideas and initiatives that can help create a more sustainable GSK. We also work with our suppliers through our online Supplier Exchange Platform and Ecodesk which shares best practice to reduce environmental impacts.
Back to top
Operations
Reducing energy use, and the carbon emissions associated with the energy that we purchase, is an important focus of our programme to cut environmental impacts. We are investing to generate renewable energy, and use waste as fuel for energy.  For example, the wind turbine installed at our site in Cork, Ireland, is now generating around 30% of the site's electricity, delivering savings of 4,100 tonnes of CO2.
Metered-dose inhalers 
Our manufacturing site in France has installed technology to capture emissions of the propellant released during manufacturing enabling the recovered gas to be sent for recycling and reuse in non-medical applications as well as reducing GHG emissions. 
Abacavir used to treat HIV 
We have changed the process to manufacture the Active Pharmaceutical Ingredient, Abacavir, used to treat HIV.  This reduced the product's carbon footprint by 7%.  
Green chemistry 
We apply the principles of green chemistry when producing many of our medicines to help us reduce or eliminate hazardous chemicals from the drug development and discovery process. See our position statement on Hazardous Chemicals Management for more information. Our Green Chemistry Performance Unit (CPU), established in 2012, researches ways to replace hazardous or unsustainable chemicals with lower-impact alternatives. We have also published a specialist guide that helps our scientists understand the environmental impact of different reagents - chemicals used to produce our medicines - and to encourage the use of lower-impact alternatives.
Back to top
Logistics
We are looking to make efficiencies in the transportation of our products in air, road and sea.
We are partnering with our logistics providers to reduce emissions from the transportation of our products, which account for around 4% of our carbon footprint. For example, we have encouraged our suppliers to invest in specialised trailers that can support storage at two different temperatures so products requiring different levels of refrigeration can be transported together. This has enabled us to take more than 1,500 vehicles off the road and cut carbon emissions by 1000 tonnes CO2e per year. We are also using a route planning tool that enables our vehicles to reduce journey times, making each trip more efficient, further reducing carbon emissions.
Back to top
Product use
Like so many companies across so many sectors, the most challenging area of our carbon footprint is in usage - whether by consumer or patient.
Use of our products 
We have been working with the Carbon Trust since 2011 to measure the carbon footprints of our 40 biggest selling products to identify where we can make the most effective reductions from emissions associated with our products.   
Metered dose inhalers 
Patients using our metered dose inhalers account for 25% of our carbon emissions from the propellant. In 2017 the Carbon Trust certified the carbon footprints of all our UK respiratory inhaler products according to the Greenhouse Gas Accounting Sector Guidance for Pharmaceutical Products and Medical Devices. This assessment showed that the lifecycle carbon footprint of our dry powder inhalers is around 24 times lower than a propellant-based inhaler.
Back to top
Disposal
We are keen to increase recycling of our products and to support the driving of positive behaviour change among patients and consumers. Read more...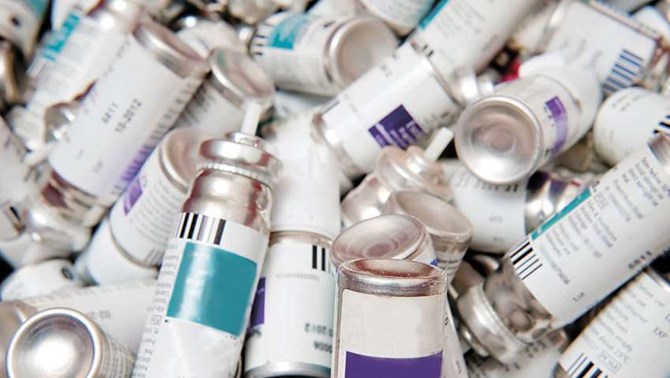 The biggest carbon impact from customer disposal of our products comes from inhalers because there is often a small amount of propellant (greenhouse gases) left in them after use. Since 2012, we have encouraged UK patients to return more than 1 million used inhalers to pharmacies where they are sent back to us to be recycled through our Complete the Cycle scheme.
We are also working with healthcare trusts across the UK to combine health and environmental messages through projects like 'Don't waste a breath' in the Grampian region and 'Breathe better, waste less' in Brighton, which support patients to get the most out of their inhalers - reducing the need for emergency care and cutting waste.
Back to top