Preparing for future disease threats
We are using our vaccines, medicines and scientific know-how to help the world to better prepare for future disease outbreaks with pandemic potential and tackle antimicrobial resistance.
Preparation through innovation
To prepare for future public health emergencies, we continue to advance rapid-response vaccine platform technologies and are collaborating on the development of a universal influenza vaccine candidate. In our Pharmaceuticals pipeline, we are progressing the development of gepotidacin – the first in a new class of antibiotics. Gepotidacin is the result of successful public-private partnerships between GSK, the Biomedical Advanced Research and Development Authority (BARDA) and the Defence Threat Reduction Agency (DTRA).
Antimicrobial resistance
Extensive use – and misuse – of antibiotics means that their effectiveness has waned. This is fast becoming a major public health crisis. Without action, up to 10 million people could die from drug-resistant infections every year by 2050.[1]
We are playing a leading role in the industry's response to antimicrobial resistance (AMR), ranking first among the large pharmaceutical companies in the Access to Medicine Foundation's AMR Benchmark.
Using our vaccines to prevent infection
Our vaccines against diseases such as diphtheria, meningitis, pneumonia and pertussis protect tens of millions of people from bacterial infections that would otherwise contribute to direct antibiotic prescribing. In addition, our vaccines for non-bacterial infections such as influenza, rotavirus and malaria prevent the development of diseases that can trigger the use of antibiotics – to treat secondary infections, for example. We are also committed to researching and developing new vaccines against infections that will reduce the need for antibiotics even further. For example, we are currently developing vaccines against RSV (a virus), as well as shigellosis, staph aureus, and TB (all caused by bacteria). We are also looking at the potential of Bexsero, our meningitis vaccine, to offer protection against gonorrhoea, another bacterial infection with increasing resistance to antibiotics.
Developing a vaccine against Clostridium difficile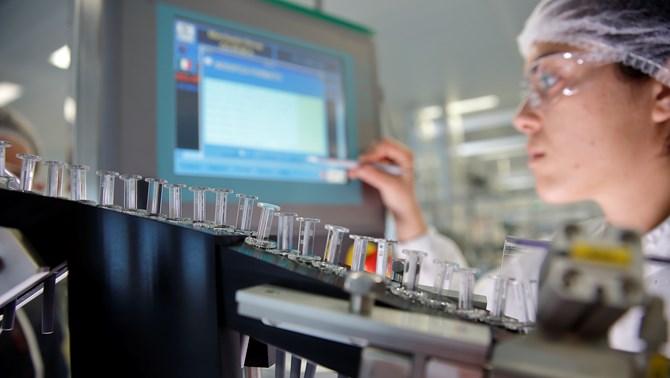 Clostridium difficile is a major cause of gastrointestinal illness. In the US alone, each year there are approximately 500,000 infections and 29,000 associated deaths. The emergence of extremely infectious varieties/types of C. difficile has contributed to increase the number and severity of cases, which has simultaneously increased antibiotic use.
We are committed to researching and developing new vaccines to prevent and mitigate AMR infections and reduce avoidable antibiotic use, and we have been working on developing a vaccine against C. difficile.
In 2019, we started clinical testing (phase I) assessing the safety, immunogenicity and efficacy of a candidate targeting this bacteria. The first subjects to take part in the clinical trial enrolled in August, and we hope this candidate vaccine will be able to help a lot of people and cut antibiotic use in the future.
Back to top
Awareness and education
For more than 15 years we have invested in AMR surveillance, awareness and education programmes. Through our Survey of Antibiotic Resistance (SOAR) programme, we study, analyse and publish reports on antibiotic resistance at a local level and share the findings with healthcare professionals and public health bodies to inform the development of local antibiotic prescribing guidelines. In addition, in 2019 we trained over 32,000 healthcare professionals across 65 countries on the appropriate use of antibiotics.
How consumer healthcare is raising public awareness to reduce antibiotics use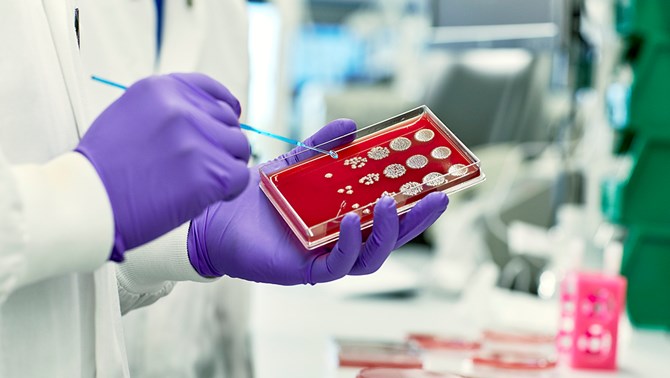 Estimates suggest that as many as half of all patients who visit their GP with a cough or cold leave with a prescription for antibiotics. Viruses cause many of these infections, meaning antibiotics are of no use[2]. We wanted to use our scientific expertise to help raise awareness of how people should be treating their symptoms. 
So in 2019, our UK Consumer Healthcare team established a strategic partnership with the Royal Pharmaceutical Society, engaging experts from Public Health England, key UK retailers (including Boots, Lloyds, McKesson, Well & Independents) and academia. The goal of the collaboration is to drive engagement between pharmacy teams and consumers around effectively managing cold and flu symptoms with appropriate products, helping reduce the use of antibiotics.
"The partnership is already proving to be successful," explains Soha Dattani, Director Scientific Affairs, Consumer Healthcare. "So far, an editorially independent supplement on this topic has been published in The Pharmaceutical Journal, as well as educational resources to empower the pharmacy teams to proactively educate consumers presenting with cold and flu - thereby helping reduce inappropriate demand for antibiotics. These have been distributed to 44,000 pharmacists."
The RPS will continue to engage pharmacy teams on this topic going into 2020, providing them with the practical skills needed to help consumers manage cold and flu symptoms effectively, and without asking for antibiotics.
Back to top
Collaboration
Addressing the challenge of AMR ultimately requires cross-sector collaboration. GSK is part of the AMR Industry Alliance launched in 2017 and is a signatory to the Industry Roadmap for Progress on Combating AMR. We also supported the creation of the Innovative Medicines Initiative's AMR Accelerator, which launched a call for proposals in 2018. This public-private partnership will aim to speed up the discovery and development of new medicines to treat or prevent resistant bacterial infections through collaboration and capability building. We are also collaborating with Zhejiang University in China by tackling AMR through social science research and a campaign to promote the responsible use of antibiotics among young people. As part of a global antibiotic surveillance clinical trial, our Institute for Infectious Diseases and Public Health (IIDPH) in China is also facilitating the first global research on AMR in the country.
1 The 2014 Review on Antimicrobial Resistance
2 Health matters: antimicrobial resistance - Public Health England