Preparing for future disease threats
We are using our vaccines, medicines and scientific know-how to help the world to better prepare for future disease outbreaks with pandemic potential and tackle antimicrobial resistance.
Preparation through innovation
To prepare for future public health emergencies, we continue to advance rapid-response vaccine platform technologies and are collaborating on the development of a universal influenza vaccine candidate. In our Pharmaceuticals pipeline, we are progressing the development of gepotidacin – the first in a new class of antibiotics. Gepotidacin is the result of successful public-private partnerships between GSK, the Biomedical Advanced Research and Development Authority (BARDA) and the Defence Threat Reduction Agency (DTRA).
Outbreaks with pandemic potential
Global health security is integral to our business model – protecting people from the health and economic consequences of epidemic and pandemic threats; and building capacity to respond to global emergencies into our regular operations, without disrupting the development and supply of critical interventions for other diseases.
The COVID-19 pandemic has revealed serious gaps and weaknesses in global and national preparedness and response. It has highlighted the need for a dramatically different approach to detect and manage outbreaks; and has brought our interdependencies to the fore, underlining that strengthened national health security requires international coordination.
We know that planning for the next pandemic must start now – the risk of pandemics is increasing, with more than five new infectious diseases emerging in humans each year. With global travel rapidly growing, any of these diseases harbours epidemic or pandemic potential. Exiting the "pandemic era" requires a decisive shift towards prevention.
Experience tells us that tackling public health challenges requires scaled interventions and bold investment choices made over a sustained period of time. We are actively engaged with governments and other stakeholders now to strengthen global pandemic preparedness; drawing on learnings from COVID-19 and previous outbreaks, reaffirming the role of innovation and promoting sustainable approaches for the biopharmaceutical sector and for public health.
GSK was one of five companies to sit on the Pandemic Preparedness Partnership Steering Group in 2021, convened by the UK Government. The partnership brought together industry, international organisations and leading experts to advise G7 governments on a roadmap to help speed up the response to a future pandemic through R&D and embedding best practice in business-as-usual activity.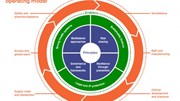 Our position on pandemic preparedness
Download our detailed position on pandemic preparedness PDF
Antimicrobial resistance
Extensive use – and misuse – of antibiotics means that their effectiveness has waned. This is fast becoming a major public health crisis. Without action, up to 10 million people could die from drug-resistant infections every year by 2050.[1]
We are playing a leading role in the industry's response to antimicrobial resistance (AMR), ranking first among the large pharmaceutical companies in the Access to Medicine Foundation's AMR Benchmark.
Using our vaccines to prevent infection
Our vaccines against diseases such as diphtheria, meningitis, pneumonia and pertussis protect tens of millions of people from bacterial infections that would otherwise contribute to direct antibiotic prescribing. In addition, our vaccines for non-bacterial infections such as influenza, rotavirus and malaria prevent the development of diseases that can trigger the use of antibiotics – to treat secondary infections, for example. We are also committed to researching and developing new vaccines against infections that will reduce the need for antibiotics even further. For example, we are currently developing vaccines against RSV (a virus), as well as shigellosis, staph aureus, and TB (all caused by bacteria). We are also looking at the potential of our meningitis vaccine, to offer protection against gonorrhoea, another bacterial infection with increasing resistance to antibiotics.
Awareness and education
For more than 15 years we have invested in AMR surveillance, awareness and education programmes. Through our Survey of Antibiotic Resistance (SOAR) programme, we study, analyse and publish reports on antibiotic resistance at a local level and share the findings with healthcare professionals and public health bodies to inform the development of local antibiotic prescribing guidelines. In addition, in 2020 we trained over 70,000 healthcare professionals across 39 countries on the appropriate use of antibiotics.
Collaboration
Addressing the challenge of AMR ultimately requires cross-sector collaboration. GSK is part of the AMR Industry Alliance launched in 2017 and is a signatory to the Industry Roadmap for Progress on Combating AMR. We also supported the creation of the Innovative Medicines Initiative's AMR Accelerator, which launched a call for proposals in 2018. This public-private partnership will aim to speed up the discovery and development of new medicines to treat or prevent resistant bacterial infections through collaboration and capability building. We are also collaborating with Zhejiang University in China by tackling AMR through social science research and a campaign to promote the responsible use of antibiotics among young people. As part of a global antibiotic surveillance clinical trial, our Institute for Infectious Diseases and Public Health (IIDPH) in China is also facilitating the first global research on AMR in the country.
1 The 2014 Review on Antimicrobial Resistance
2 Health matters: antimicrobial resistance - Public Health England