Prevention, awareness and infrastructure
Across the world, and particularly in developing countries, people affected by certain diseases face stigma and discrimination, disability and a vicious cycle of ill health and poverty.
Diseases that can be prevented, managed, or cured cause significant suffering and mortality due to a lack of basic knowledge and inadequate health services.
To improve healthcare access and support people in vulnerable communities, we make targeted product and financial donations to programmes run by local and global partners that are designed to be sustainable in the long term.
We also partner with NGOs to tackle some of the root causes of disease and ill health. Our philosophy is to support health and educational programmes that are innovative, sustainable and produce tangible results.
Save the Children
Every day approximately 15,000 children under the age of five die, most from preventable causes.
That's why Save the Children and GSK joined forces in 2013. Our innovative ten-year partnership with Save the Children goes beyond the traditional corporate charity fundraising model to help save one million children's lives.  We are combining GSK's scientific and manufacturing expertise with Save the Children's on-the-ground experience to find new ways to help bring down the number of children dying from preventable and treatable diseases.  By focusing on running long-term health programmes, strengthening countries' healthcare systems, finding new treatments and advocating for global change, we can help build a world where no child under the age of five dies from preventable causes.
To date, we have reached over 3 million children in 46 countries through our partnership. Over 118,000 children under-five have been fully immunised and over 374,000 children have been treated for malnutrition, malaria, diarrhoea or acute respiratory infection. Our chlorhexidine gel, formulated from the simple antiseptic commonly used in mouthwash, has been used to treat the umbilical cords of over 30,000 newborns in Kenya and protect the babies from potentially life-threatening infection.  And over 300,000 children have been helped during and after emergencies.
Together we are using our joint voices at a global level to pursue the creation of systemic change, improve children's health and inspire others to act. We talk to and work with global leaders to help achieve SDG3, Universal Health Coverage, with a particular focus on equitable access to medicines and vaccines for mothers, newborns and children under five.
By demonstrating the effectiveness and impact of our far-reaching partnership, we are also encouraging other best-practice NGO-business partnerships.
At GSK, stories from our partnership inspire everyone and encourage them to fundraise for Save the Children. All money raised by employees is matched by GSK.  To date employees have raised over £4.2million.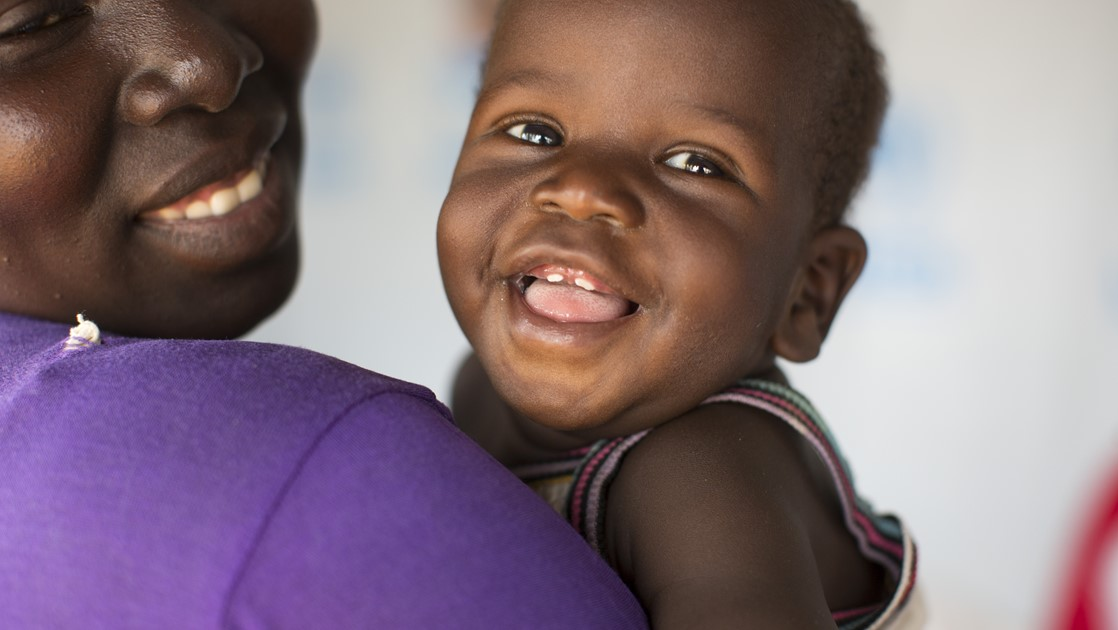 With Save the Children, we are strengthening health systems in all contexts to increase our impact for children in poorer communities and fragile emergency settings.  We aim to help reduce the deterioration of health services, and save lives during emergencies, when children and their families are most vulnerable.
The activities span our programmes across the world.   From DRC, where we have a major addressing the urgent health needs of communities, preparing and responding to emergencies and strengthening the health systems in critical and remote areas;  to our health system strengthening programmes in over 25 countries, where we are working to accelerate newborn and child survival for the hardest-to-reach communities through our joint areas of expertise. 
We have increased the global capacity of our emergency preparedness and response capabilities, to play a key role in effective and timely healthcare responses when crises hit. And we are piloting an approach to adapt the delivery of our projects in rapidly changing contexts through our programmes in extreme and volatile contexts, such as Yemen.
INSPIRING Nigeria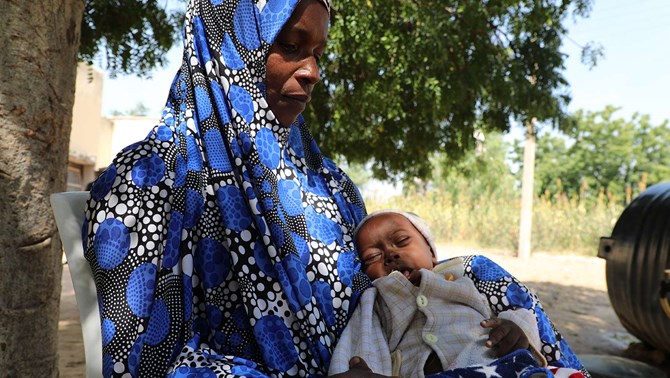 Our partnership programme with Save the Children in Nigeria aims to contribute to an accelerated reduction in child deaths from preventable infectious disease, with an emphasis on childhood pneumonia. Through our INtegrated Sustainable childhood Pneumonia and Infectious disease Reduction In NiGeria (INSPIRING) programme, launched in June 2018, we will build on our strong partnership and utilise the talent and insights of our GSK and Save the Children country offices, as well as the legacy of health programmes we've supported together since 2015.
Although infectious disease-related deaths can be prevented thanks to existing treatment options and vaccinations, this isn't always the case in many places around the world. In Nigeria, pneumonia alone causes over 130,000 deaths per year and kills 350 children every single day.
"By investing £7.5 million in Nigeria's health system over five years, the GSK and Save the Children partnership will catalyse change in infectious disease deaths through a virtuous cycle of awareness, mobilisation and empowerment, reinforced by high impact research, strategic advocacy and technical assistance", explains Matt MacCalla, Manager, GSK and Save the Children partnership. "As its name suggests, the programme is truly inspiring and will make a difference to thousands of lives."
As the INSPIRING programme works with key national and international stakeholders on infectious disease prevention, it is well positioned to respond to COVID-19.  The programme is using its existing resources, and an extra donation from GSK, to support the response to the COVID-19 outbreak in Nigeria. 
Back to top
Ethiopia
In Ethiopia 67 children out of every 1,000 still die before their fifth birthday and in rural areas the situation is even worse.
GSK is funding a programme to expand access to immunisation in the remote and arid Somali region where fewer than 79% of children have been fully immunised.
We are focusing on strengthening key areas of the health systems in the Somali region to increase vaccination coverage by 10% across eight selected districts (woredas). This includes ensuring health facilities have the right equipment and expertise available, from training and mentoring health workers to providing or fixing vaccine refrigerators.
Trek for Kids
In 2019, 40 GSK employees from 25 countries around the world took part in Trek for Kids, trekking through the challenging Simien Mountains in Ethiopia and raising over £275,000 for Save the Children. 
Mouthwash to medicine
Find out how our scientists have adapted an ingredient from a GSK mouthwash into a potentially life-saving gel for newborns in developing countries, in partnership with Save the Children.
Yemen
With GSK's support, over the last two years, Save the Children has been improving the health of women and children under five in the two health districts of Al Musaymir and Al Milah in Lahj Governate, Yemen.
The COVID-19 pandemic has compounded the effects of earlier crises, and left millions without enough food or access to the healthcare they need so we have made an additional donation, from our partnership COVID-19 Response Fund, to help children and their families in Yemen survive the pandemic.
2.98 million

We've reached over 2.98 million children through our partnership with Save the Children


Meet Mckline
The first baby born at a healthcare facility in Bungoma County, Kenya, supported through our partnership with Save the Children.
Amref Health Africa
Together, GSK and Amref Health Africa have partnered on many programmes training frontline healthworkers and strengthening fragile health systems across the African continent.
New programmes launched in 2021, based in Kenya and Ethiopia, are focused on strengthening the health systems to reduce the impact of malaria and TB. The programmes are designed for maximum impact and sustainability and build on the learnings and successes from over 30 years of partnership between our two organisations.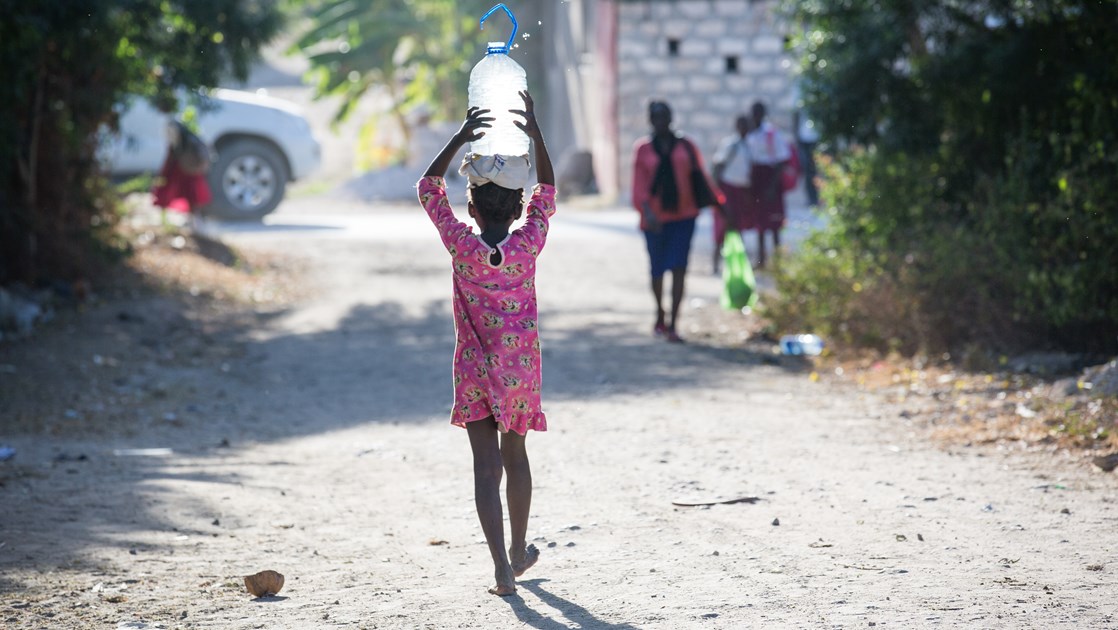 Healthcare worker training
The world is expected to be short of 18 million health workers by 2030; the shortage is most acute in the world's poorest countries and is recognised as one of the most fundamental barriers to good health. A fully trained and well-supported community health worker can effectively deliver treatments for common childhood illnesses and provide health education reaching up to 500 children in a year.
Since 2010, we have worked closely with Amref Health Africa, CARE International and Save the Children, acting alongside governments to address the chronic global shortage of health workers.  Our biggest area of focus to date has been training local health workers, who then bring better healthcare and knowledge into the heart of communities. Through consistent commitment and support, together with our three partners, we've trained over 100,000 frontline health workers across 43 countries in Africa and Asia, and reached 15 million people.
We implement sustainable healthcare programmes and advocate for affordable, quality healthcare, for everyone, everywhere.
Our programmes train frontline health workers not only to treat individuals, but to connect communities to the wider health system, for example, by helping people access more specialised healthcare outside of their community. Our partnership represents one of the biggest private sector-NGO partnerships in the world focused on frontline health workers.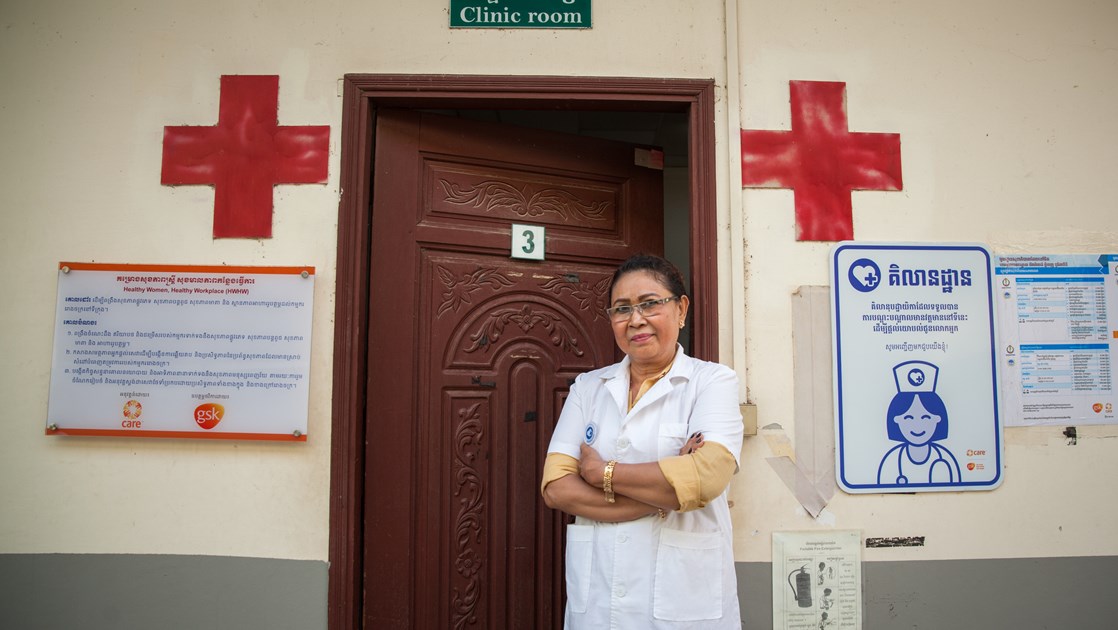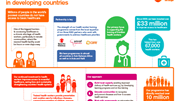 Learn more about our healthcare worker training programme
Positive Action
ViiV Healthcare's Positive Action programmes continue to make great progress through community partnerships, connections and collaborations with the broader HIV community. Funding enables these communities to:
tackle stigma and discrimination and reduce violence against at-risk populations
test innovations in education, care and treatment
build the grassroots capacity of these disproportionately affected communities.
Find out more about ViiV Healthcare's Positive Action Programmes
Disaster relief
Every year millions of people are displaced by disasters and emergency situations. These crises can devastate families, leaving them without access to adequate food, shelter or healthcare. GSK works with partners and humanitarian organisations to prepare for and respond to emergency situations.
In some instances, we fast-track the development of life-saving vaccines, and in others, we contribute by donating cash, products and our employees' time. Sometimes we also invest in long-term rebuilding and reconstruction in the aftermath of a disaster.
Smile Train
GSK Consumer Healthcare, with its heritage in specialist oral health, supports Smile Train, a world-leading charity which empowers local medical professionals to provide free, life-changing surgery and comprehensive cleft care to children with cleft lip and palate in more than 90 countries. We have been providing Smile Train with valuable funding, support and expertise to help more children living with clefts lead full and productive lives, as well as helping increase awareness and education about cleft.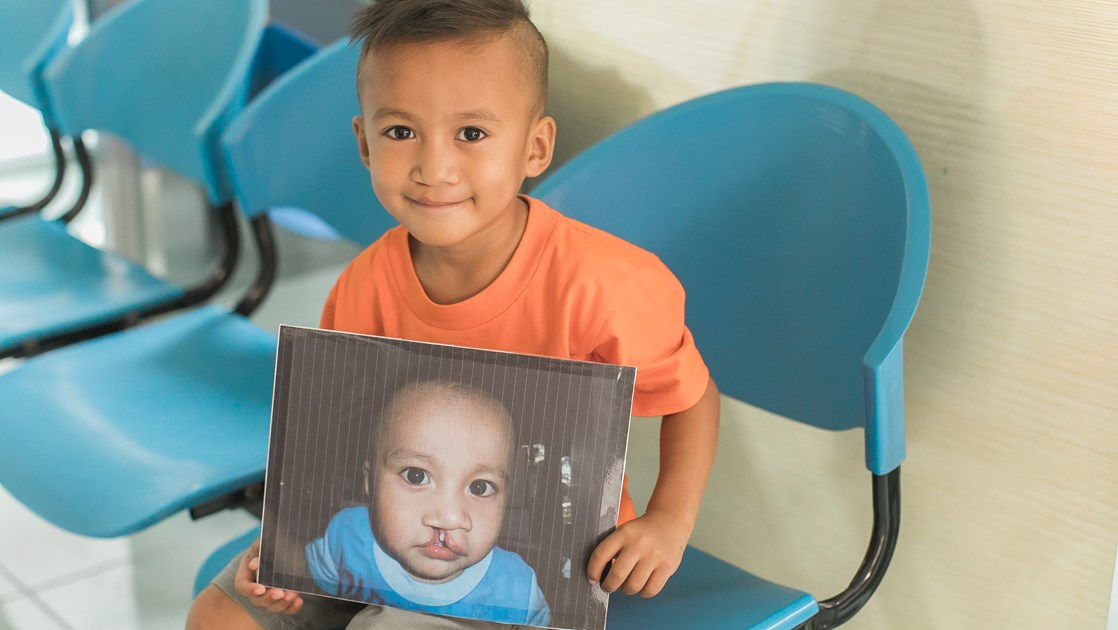 Employee volunteering
Our PULSE Volunteer Partnership provides a skills-based volunteering opportunity for eligible GSK employees to be matched with a non-profit organisation for three or six months full-time.


Volunteer stories
Meet some of our employees who are taking part in PULSE and learn more about their experiences.
Read more