Partnership for Prevention
Anthony Tropea is an International Benefits Manager, based in the USA. He is part of the team leading the roll-out of our Partnership for Prevention Programme which will enable GSK employees and their family members to access to up to 40 healthcare services at low or no cost. 
Tell us about your career with GSK
I've spent the majority of my career in HR. I started at GSK as an analyst within our Environment, Health, Safety & Sustainability function, where I conducted the first analysis for the Partnership for Prevention programme. The programme is now being rolled out globally.
What was the thinking behind the P4P programme?
The P4P programme stemmed from a series of site visits in the emerging markets conducted by our US Medical Director. A consistent theme was that our employees did not have access to preventive healthcare services. It was their collective stories that were the true catalyst for the programme.
How does P4P work?
P4P offers a core set of preventive healthcare services to our employees and their benefits-eligible dependants at little to no cost. These services include immunisations, cancer screenings, preventive exams, prenatal care and tobacco cessation. P4P also includes some treatment options, which prevent further disease complications for example HIV, diabetes, hypertension and high cholesterol. We encourage employees to work closely with their healthcare providers to determine which services are appropriate for them.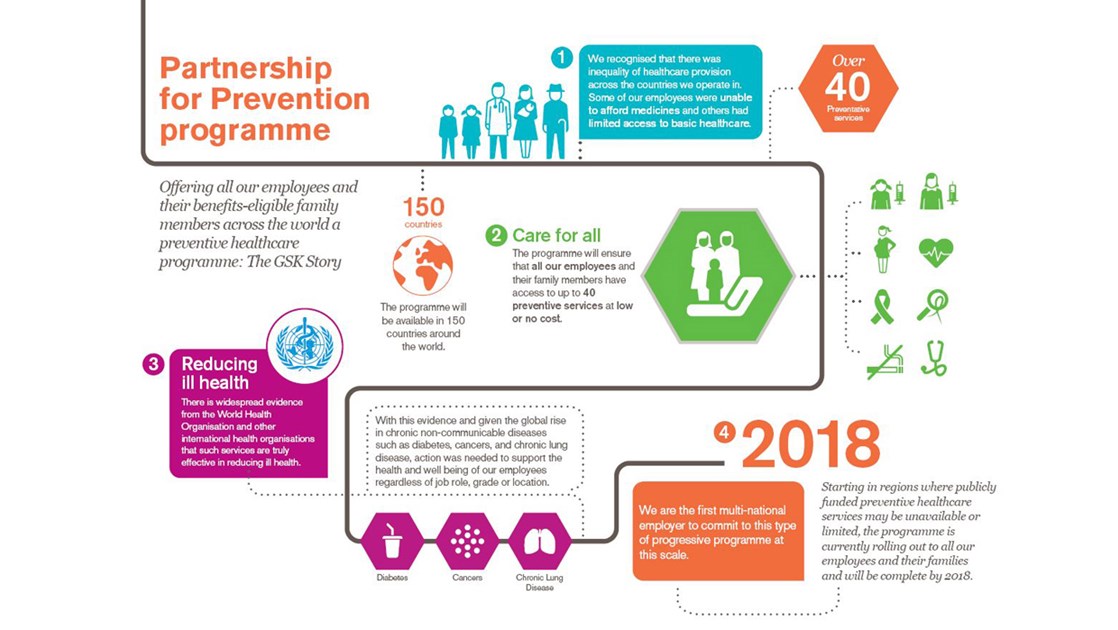 What makes P4P unique?
We're constantly looking at ways to do more for our employees' health and wellbeing. To my knowledge, we are the first multinational employer to create and implement a preventive healthcare programme of this scale. It's a step beyond conventional wellness programmes, and we're extremely proud of it.
A programme of this nature must be at a significant cost to the company?
Evidence from the World Health Organization and the US Center for Disease Control demonstrates that preventive healthcare services can reduce ill health costs. We believe our investment in P4P helps us foster a healthy high-performing workforce, increases employee engagement, and positions us an attractive employer.
Shouldn't companies like GSK already be doing this?
I can't speak for other companies, but as a healthcare company, we believe that this is the right thing to do for our employees. P4P is strongly aligned to our mission to help improve lives and reinforces our ongoing efforts to maintain a highly motivated, engaged and resilient workforce. Healthier and happier employees are better able to focus on the patients and consumers we serve.
I can't speak for other companies, but as a healthcare company, we believe that this is the right thing to do for our employees.
How have you quantified the success of P4P to date?
The programme is still relatively new. It was introduced as a small pilot in 2012 and will be available to all GSK employees by 2018. P4P currently covers over 80,000 people in 65 countries, a  number that includes employees and family members. We know that nearly 30,000 services have been taken up to date. This means that a significant number of our employees are making their health, and that of their families, a priority. The feedback we've received from employees all over the world is extremely positive, which is very encouraging.
For me, it is extremely rewarding to see the impact this programme is having on individuals. I'm proud of how far the programme has come and excited to see where it can go.