What is PULSE?
 PULSE is our employee volunteering programme where eligible employees are matched to a not-for-profit partner, such as Save the Children, for a three-to-six month assignment. Volunteers contribute their skills to solve healthcare challenges at home and abroad.
On this page, you can follow the journey of a selection of our employees currently on a PULSE assignment.  Each of the three employees listed below will be sharing their story on a regular basis.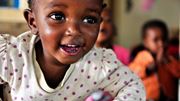 PULSE impact report
Download PULSE impact report
Please select...

Hello, I'm Tommy, and I've been with GSK since 2000. Currently I am a Senior Sales Representative in the respiratory division in the Bloomington, Indiana territory.
I am embarking on a six month PULSE assignment as a communications specialist with PATH in Ho Chi Minh City, Vietnam, working on the Communities for Healthy Hearts programme, which aims to increase awareness of cardiovascular disease and where to access screening and treatment.
Video blog #2 - August 2017
In his second vlog, Tommy reflects on his first month in Vietnam and how Ho Chi Minh City has surprised him (including the traffic!).  He also gives an update on PATH's Communities for Healthy Hearts campaign and why this is more than just an awareness campaign.
Video Blog #1 - July 2017
In his first vlog, Tommy gives an introduction to himself and discusses what he's excited about for the next six months, and what his hopes and fears are ahead of his PULSE assignment.

Hi, my name is Alexandra (Alex) and I am Regional Head of Supply and Demand for our Latin America and Brazil Pharmaceuticals organisation. I am based in Panama.  From October 2017, I am going to be spending six months with the Clinton Health Access Initiative in Kampala, Uganda as Oncology Associate.
During my assignment, I will be providing Supply Chain expertise to help the government scale up access to cancer treatment and to create a roadmap that other countries can follow.

Hi, I'm Caroline and I am an Organisational Development Consultant. I work in HR, but support the Vaccines organisation and am based in Belgium. From September 2017, I am going to be spending six months on a PULSE assignment with UNICEF. I will be doing this in my home country.
On my assignment, I will be supporting the CEO of UNICEF Belgium to help shape the people and organisation strategy for the company. I'll be focusing specifically on leadership capabilities and engagement levels.
Back to top