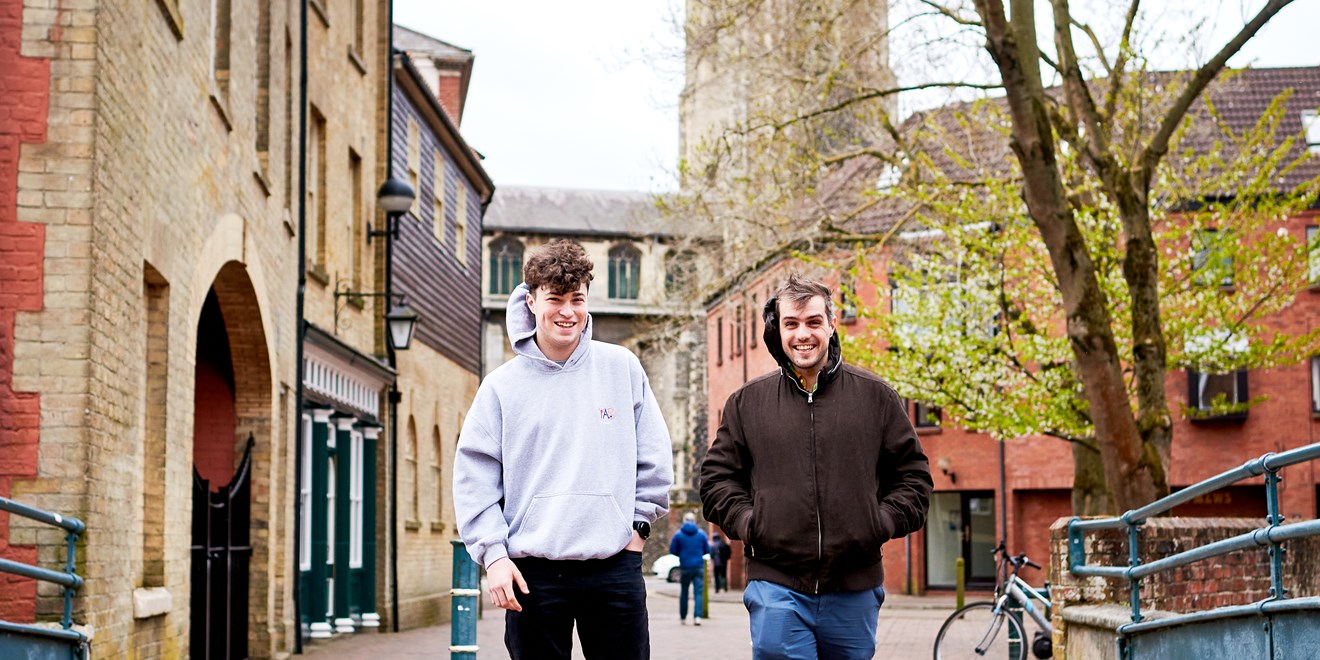 Charitable investments
We focus our charitable investments with organisations that are closely aligned to our purpose - to unite our science, talent and technology to get ahead of disease together. We support programmes across three key areas.
Health for people
We use our community investments to strengthen health and wellbeing systems across the world to improve the health of vulnerable and marginalised people.
Innovators for the future
We support equitable education in STEM (science, technology, engineering and math) and invest to improve educational and career outcomes for those who are under-represented in these specialist areas.
Health for the planet
We are looking at new partnerships to improve water quality, reduce carbon emissions and protect and restore nature.
Our UK charitable partnerships 
We support a number of national and local community projects through our UK charity partnerships, the GSK Impact Awards and GSK Grow.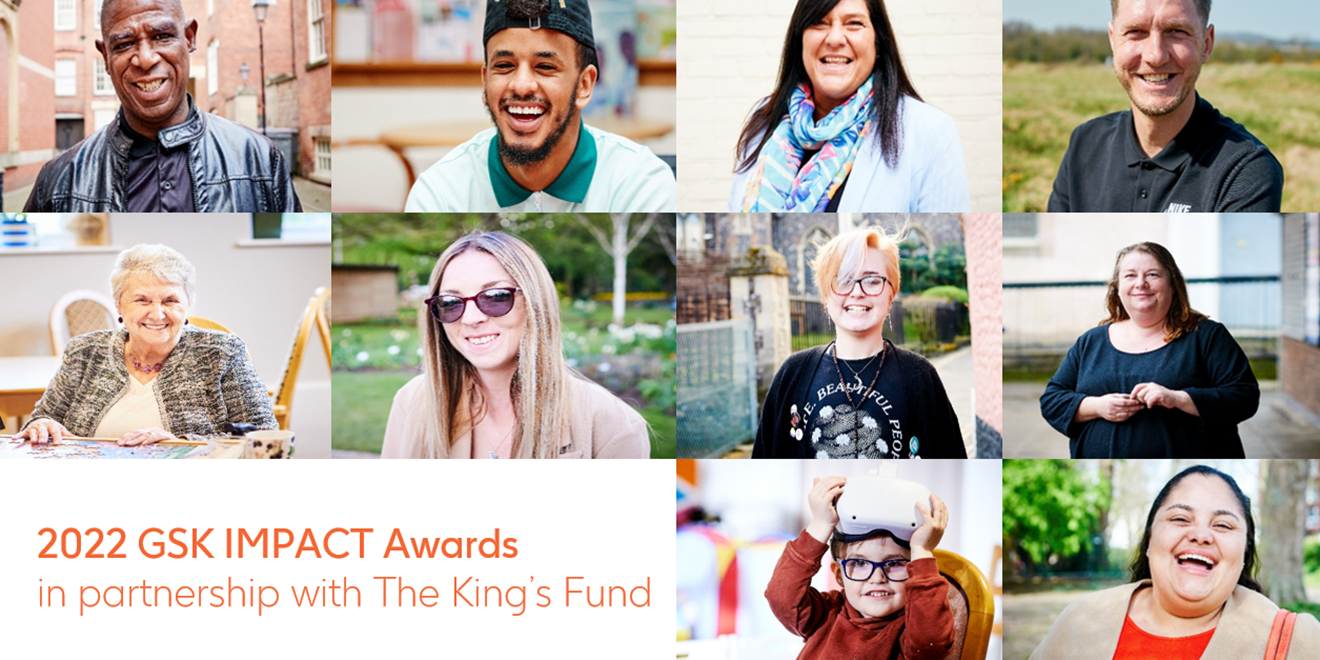 GSK IMPACT Awards
The GSK IMPACT Awards, established in 1997, is an annual programme that recognises and rewards charities in the UK doing outstanding work in their local communities to improve the health and wellbeing of vulnerable or marginalised people. The awards are run in partnership with The King's Fund, a leading independent health charity, and are open to charities with an annual income of between £120,000 to £3 million that are at least three years old. 
The name 'IMPACT' is derived from the following criteria: Innovation, Management, Partnership, Achievement, Community focus and Targeting need - all of which applicants must be able to clearly demonstrate.

GSK IMPACT Award winners
However, becoming a GSK IMPACT Award winner means so much more than just receiving the unrestricted donation. As part of the award, all winners are invited to participate in a three-day training and development programme with The King's Fund (valued at an additional £9,500). In addition, all award winners are also encouraged to join the GSK IMPACT Awards Network, providing ongoing support and connecting past winners together. This is designed to encourage members to work with each other, grow together, and share best practices both online and at face-to-face meetings to promote their continued success and growth.
Award winners receive unrestricted funding of £40,000 together with promotional assets to tell their organisation's story. Runners-up receive unrestricted funding of £4,000.


Apply for the GSK IMPACT Awards
2022
BHA for Equality - tackling health inequalities in ethnic minority communities in the north of England by offering advice and screening services for infections and diseases including HIV, cancer and tuberculosis (TB).
Brigstowe - enhancing the quality of life of people living with HIV and other long-term health conditions in Bristol and the surrounding areas.
Bromley and Croydon Women's Aid - providing a place of safe refuge and support for women and children who are survivors of domestic violence.
Dads Unlimited - a Kent-based charity supporting the mental health of dads across England who are undergoing family breakdown.
Dementia Forward - providing information, advice and support along with wellbeing activities and respite for people across North Yorkshire affected by dementia.
Haemochromatosis UK - improving the diagnosis and care of people affected by the genetic condition haemochromatosis (iron overload).
Mancroft Advice Project - providing advice, counselling, and holistic mental health support to young people in Norfolk aged 11-25.
Scottish Families Affected by Alcohol and Drugs- supporting anyone concerned about someone else's alcohol or drug use in Scotland.
The Haven Wolverhampton - providing safe accommodation and support for women and children in Wolverhampton affected by domestic abuse.
Trekstock - supporting young adults affected by cancer to improve their health and wellbeing through physical activity and social support.

2022 runners up: Broomhouse Centre, City Hospice Trust, Diverse Excellence Cymru, Integrate UK, Lantern Trust, The Mulberry Centre, New Citizens' Gateway, The Lowdown, Treasures Foundation, WomenCentre.
2021
2020
Auditory Verbal UK - providing a family programme for young deaf children to learn to listen and talk and get an equal start at school.
Empire Fighting Chance - fighting the impact of deprivation on the lives of young people through non-contact boxing.
Headway East London - supporting people affected by brain injury.
Maundy Relief Trust – providing an immediate and sustained response to poverty and need.
New Pathways - providing specialist support for anyone affected by rape or sexual abuse at any time in their lives.
Playlist for Life - connecting people through personal music.
Shantona Women and Family Centre – inspiring and empowering BAME women and their families to be confident, independent and resilient.
Trevi House - providing safe and nurturing spaces where women and children can heal, grow and thrive.
Vision Care for Homeless People – providing free eye tests and glasses to homeless people from eight city centre clinics.
Yellow Door - preventing and responding to domestic and sexual abuse.

2020 runners up: Bluebell Care Trust, Brunswick Centre, Manchester Action on Street Health, New Life Counselling, Nottingham and Nottinghamshire Refugee Forum, Open Age, Positively UK, Re-Solv, Roar Connections for Life, Solace Surviving Exile and Persecution.
GSK IMPACT Awards judging criteria
Organisations applying for funding via the GSK IMPACT Awards will be measured using the following criteria:
Innovation
Leadership, creativity and initiative in addressing current challenges in healthcare access and delivery.
Back to top
Management
Efficient use of resources; quality of management processes; clear objectives and plans; measurement and monitoring of performance; strength and financial effectiveness of the organisation.
Back to top
Partnership
Working effectively with others (members, users, private and public sector partners, etc); willingness to share 'best practice' and to learn from others.
Back to top
Achievement
Measurable results achieved; numbers of people benefited, impact on access to healthcare; difference made.
Back to top
Community focus
Involving and responding to users and the community; openness and provision of information; adaptability to changing circumstances and needs.
Back to top
Targeting need
Awareness of community issues and priorities; focus on people in need. 
Back to top

GSK Grow
To mark the 25th anniversary of the GSK IMPACT Awards and in recognition of the importance and value of grassroot charities and their work, we are proud to have launched GSK Grow.
This programme aims to support smaller health and wellbeing charities, working with the most underprivileged and diverse communities throughout the UK.  Winning charities receive unrestricted funding, plus access to first class training and development with The Kings Fund.
GSK Grow is open to charities who have been operating for a minimum of one year, with an annual income of between £20,000 and £120,000. 


Breaking Barriers NW  - challenging the barriers to inclusion for disabled children, young people and their families by providing support, activities and opportunities in Bolton.
CoDa Dance Company - delivering dance as a physiotherapy tool for neurodisabled people in hospitals and community settings, giving people joyful and meaningful experiences that inspire creativity and curiosity.
Fumble – providing young people aged 11-25 with the skills and knowledge to successfully manage their sexual health, mental health and relationships in the digital age.
GamFam – offering help and support to anyone affected by the devastating effects that gambling can have on family and friends.
Live Through This  - supporting and advocating for LGBTIQ+ people affected by cancer.
The Maggie Oliver Foundation - working with survivors of childhood sexual abuse and exploitation nationally to turn the pain of their abuse into power through emotional support and advocacy.
The Parent Rooms - supporting parents in Northern Ireland who are experiencing concerns around their mental and emotional wellbeing to lead full and healthy lives.
Plasma of Hope– supporting individuals living with Sickle Cell disease and other related illnesses in Walsall, Wolverhampton, Dudley and Sandwell.
Suicide & Co– providing support for all who are bereaved by suicide.
The Widows Empowerment Trust - supporting the widowed community (male and female) who are experiencing loneliness and social isolation in and around Manchester.
Youth@Heart – empowering and supporting young people aged 15-24 living with congenital heart disease and their families across the Southwest of England and South Wales. 
GSK and The King's Fund have actively encouraged organisations to apply who are led by and support people from underrepresented backgrounds, including ethnic minority communities, those with disabilities and the LGBTQ+ community. We want people to bring their unique blend of experiences, backgrounds, perspectives and knowledge as we recognise that diversity makes us stronger. 
UK charities we partner with
We are committed to improving and promoting positive health and wellbeing across the UK through charity partnerships and the exceptional work they do within their communities.
US partnerships
Across the US, we invest our charitable funds with nonprofit organisations that are doing good for people in need in the communities where we live and work. We aim to improve outcomes for young people in STEM education, community health and disaster response across the US. We have several signature programs in the US including GSK Science in the SummerTM and the GSK IMPACT Awards.