Charitable programmes and partnerships
We are committed to working in partnership with charities and community based organisations who reflect our key values, supporting programmes with a local, national or international reach. 
Supporting our charitable partners through COVID-19
As well as using our science, technology, portfolio and resources to support development of products for prevention and treatment of COVID-19 and the overall global response, we are continuing to support our charitable partners through this challenging time with emergency funding, pro-bono support, employee donations and volunteering.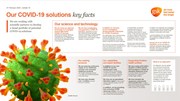 Our COVID-19 solutions key facts
We are working with scientific partners to develop a broad portfolio of potential COVID-19 solutions
Our charitable partnerships
Learn more about how we support the health and wellbeing of the communities in which we live and work.
GSK IMPACT Awards
Our flagship charitable programme, which rewards organisations doing excellent work to support the health and wellbeing of their communities.
Over £7.2 million

to nearly 500 UK charities since 1997'

Over $12.4 million

to over 310 US charities since 1996
Our partnerships
At GSK we are committed to improving, and promoting, health and wellbeing across the UK. Learn more about each of our partnerships and the exceptional work they do within their communities.