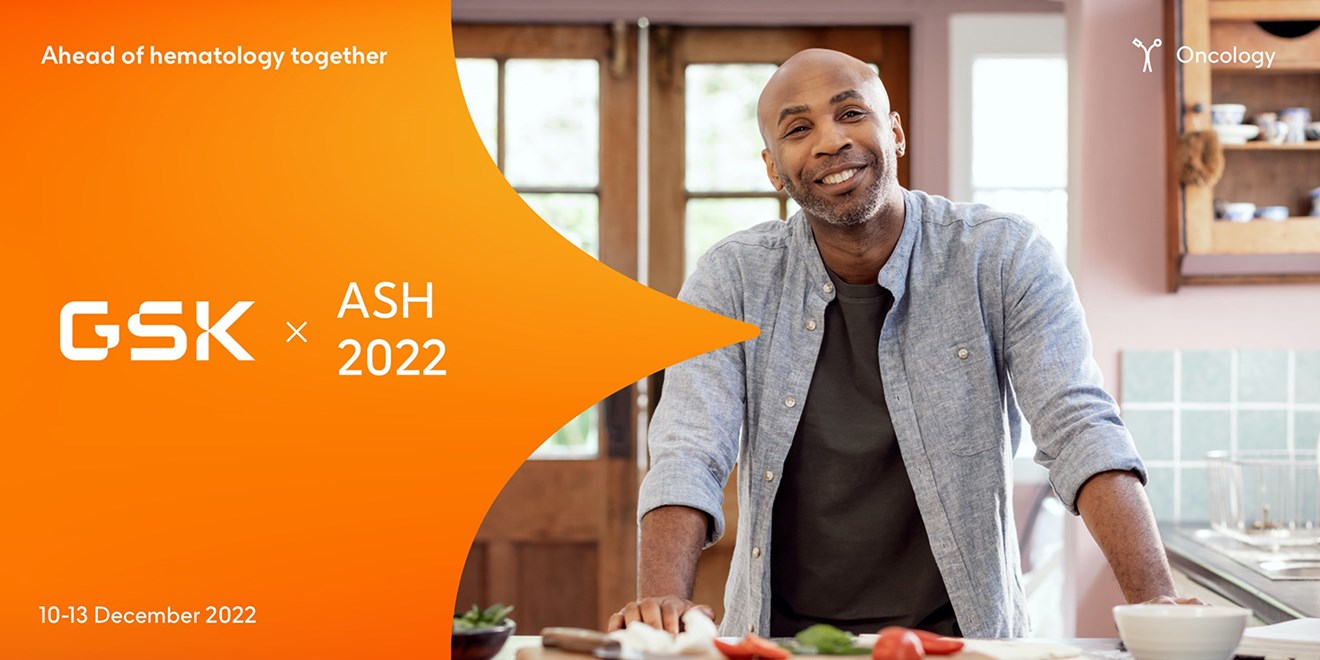 GSK at ASH 2022
GSK is presenting new data that will explore the potential of its pipeline and portfolio of therapies to transform the current landscape of difficult-to-treat blood cancers.
At ASH, the presentations will focus on longer-term analyses from pivotal studies that will further the understanding of the efficacy and tolerability of therapies. Additionally, through collaborative studies with renowned haematologists and institutions, data will demonstrate how combinations of therapies in different lines of treatment may improve outcomes for patients. These data further emphasise the importance of Janus kinase (JAK)1, JAK2 and activin A receptor, type I (ACVR1) signaling pathway inhibition, as well as advance the understanding of targeting b-cell maturation antigen (BCMA) to treat cancer earlier.
GSK is getting ahead of blood cancers to address the significant medical needs of patients. With expansion of the company's investigational blood cancer pipeline, as well as robust research programmes for therapies in its portfolio, the Company is working towards maximising patient survival through the development of transformational medicines.
At GSK, we unite science, technology and talent to get ahead of cancer together. If you are a healthcare professional, you can learn more about our marketed products by selecting your market and the specific GSKPro website on our worldwide directory.
Patient stories
Multiple myeloma – Peter's Story
As a community leader in Singapore, Peter hopes to inspire others in the patient community on their journey with multiple myeloma.
27 October 2022
Multiple myeloma – Carmen's Story
Carmen is living each day to the fullest with her family since receiving a multiple myeloma diagnosis.
27 October 2022
Targeting a better future for multiple myeloma patients
GSK is driving progress for the multiple myeloma community with Target the Future. Our 2022 grant recipient – the HealthTree Foundation – is utilising the grant and GSK resources to improve access, education and support for underserved communities and minority patients.
Supporting the myelofibrosis community
In August 2022, we joined the "Sole 2 Soul for MPN" hike in Waterton Lakes National Park, Canada. The five-day trek, which ended in a grand finale climb within the Canadian Rockies, is a collaboration between the Canadian MPN Research Foundation, the MPN Research Foundation and CURE Media Group and provided participants an opportunity to raise funds and awareness for MPNs, including myelofibrosis.
Behind the science
Discover how we're getting ahead of blood cancer
More information
More about myelofibrosis and multiple myeloma