For media and investors only 
Issued: London, UK
Strong performance and momentum drive upgraded guidance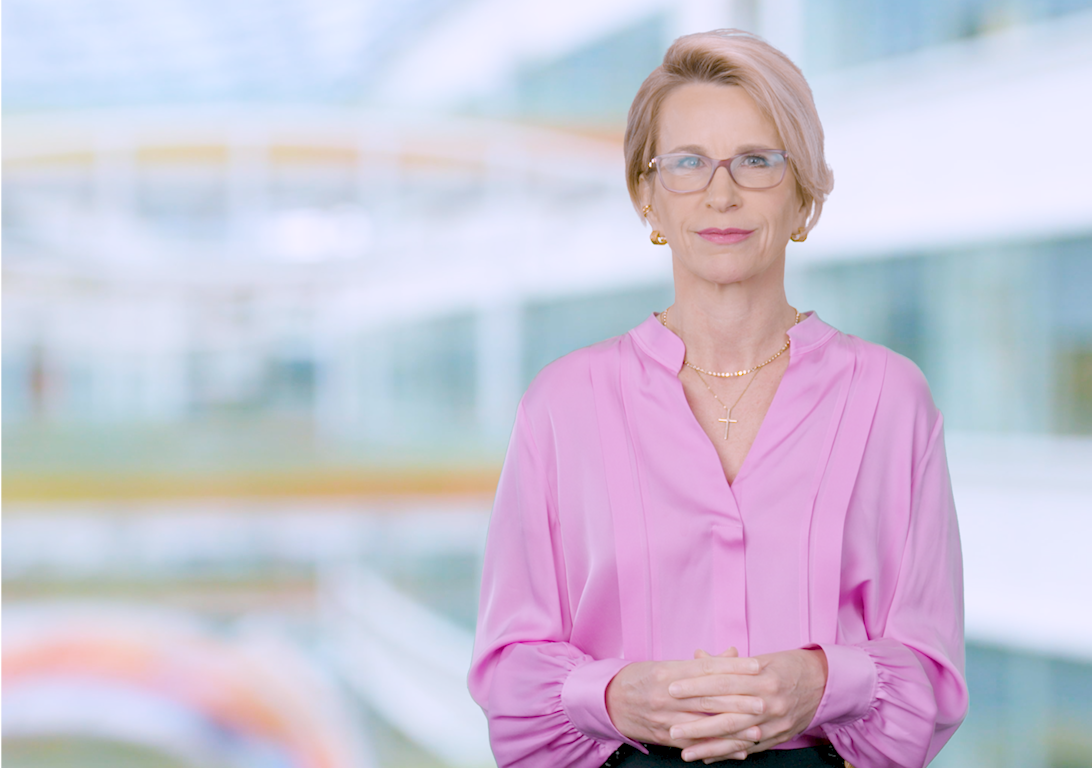 Full results announcement PDF
Download the Q2 2023 results announcement
Sales and earnings growth delivered by key growth drivers
Q2 2023 sales +4% and +11% ex COVID
Vaccines sales +18%, +15% ex COVID with Shingrix +20%
Specialty Medicines sales -7%, +12% ex COVID with HIV +12%
General Medicines sales +8% with Trelegy +30%
Strong sales growth of products launched since 2017 including in Vaccines and HIV contributing to step change in performance
Total operating profit and Total continuing EPS >100% driven by strong operating performance and favourable movements in contingent consideration liabilities
Adjusted operating profit +11% and Adjusted EPS +16% reflects strong sales ex COVID and higher royalty income offset by increased investment in R&D and new product launches
 

Q2 2023

Year to Date

 

£m

% AER

% CER

£m

% AER

% CER

Turnover

7,178 

4

4

14,129 

- 

(2)

Turnover ex COVID-19 solutions

7,137 

10

11

13,956 

13 

11 

Total operating profit

2,141 

98

>100

4,223 

25 

23 

Total continuing EPS

40.1p

>100

>100

76.9p

40 

39 

Adjusted operating profit

2,170 

8

11

4,262 

8 

6 

Adjusted operating margin %

30.2%

1.3ppts

2.0ppts

30.2%

2.2ppts

2.3ppts

Adjusted EPS

38.8p

12

16

75.8p

13 

12 

Cash generated from operations

1,620 

3

 

1,907 

(52)

 
(Financial Performance – Q2 2023 results unless otherwise stated, growth % and commentary at CER, ex COVID is excluding COVID-19 solutions as defined on page 54).
R&D innovation continued delivery of organic portfolio and targeted business development
Arexvy, world's first RSV vaccine in older adults, approved in US and EU
Shingrix approved, for shingles in at-risk adults aged 18 and over in Japan
Positive phase III data for MenABCWY vaccine candidate presented at ESPID and supports filing in 2024
US FDA Fast Track designation granted to gonorrhoea vaccine candidate
CHMP positive opinion for long-acting treatment cabotegravir in HIV prevention
Paediatric exclusivity granted for dolutegravir extends US LOE to April 2028
Completion of Bellus Health acquisition adds camlipixant, a phase III asset for refractory chronic cough
Next US FDA approval decisions include momelotinib (myelofibrosis) and Jemperli (1L endometrial cancer)
Development decisions on key phase I/II assets before year end include: bepirovirsen (Hep B), mRNA influenza, CCL17 (pain), IL18 (atopic dermatitis) and therapeutic HSV
2023 guidance upgraded, Q2 2023 dividend of 14p declared, 56.5p expected for full year
Turnover to increase 8-10% (from 6-8%)
Adjusted operating profit growth 11-13% (from 10-12%)
Adjusted EPS growth 14-17% (from 12-15%)
Guidance all at CER and excluding COVID-19 solutions.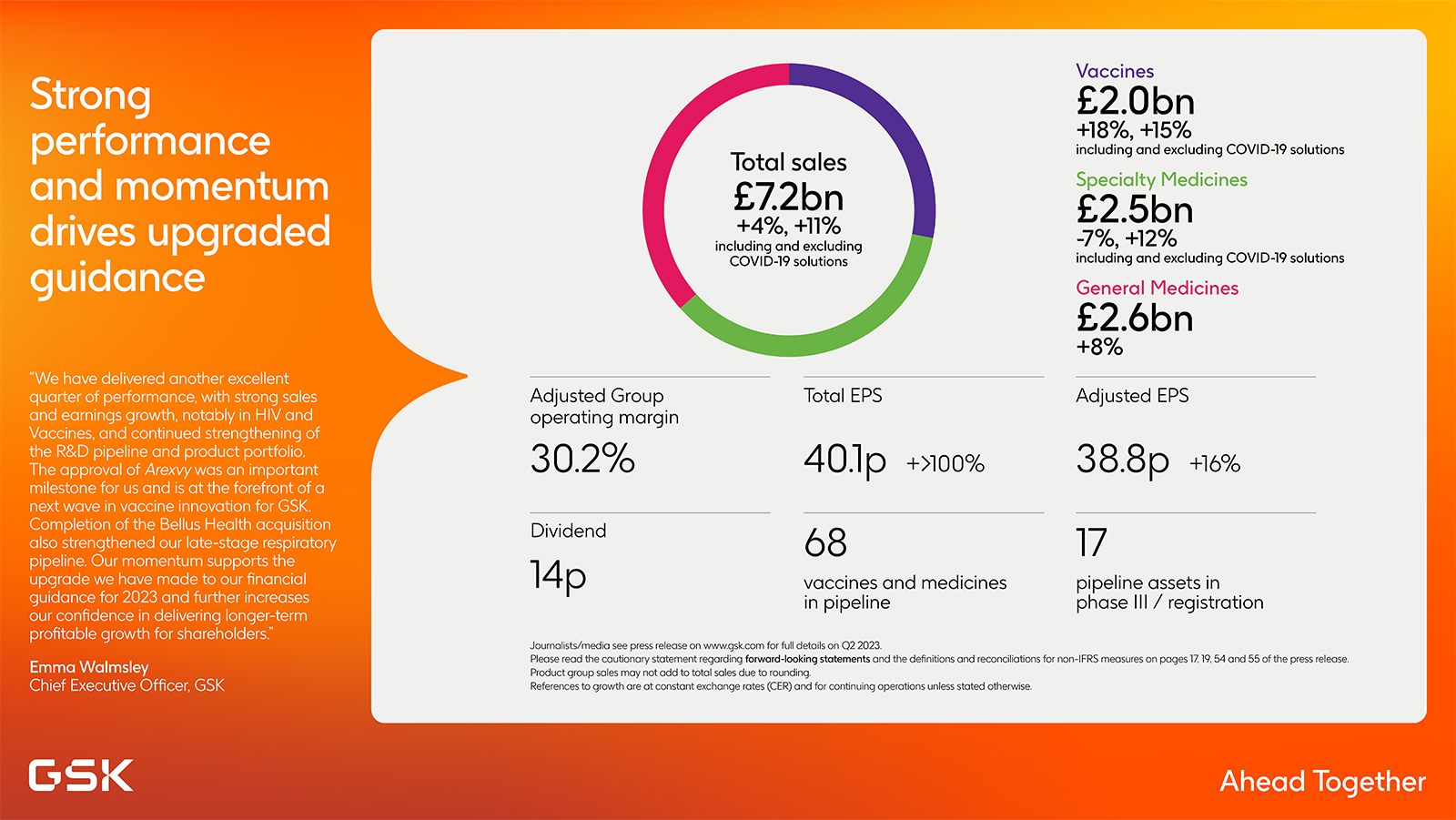 Emma Walmsley, Chief Executive Officer, GSK said:
"We have delivered another excellent quarter of performance, with strong sales and earnings growth, notably in HIV and Vaccines, and continued strengthening of the R&D pipeline and product portfolio. The approval of Arexvy, the world's first RSV vaccine, was an important milestone for us and is at the forefront of a next wave in vaccine innovation for GSK. Completion of the Bellus Health acquisition also strengthened our late-stage respiratory pipeline. Our momentum supports the upgrade we have made to our financial guidance for 2023 and further increases our confidence in delivering longer-term profitable growth for shareholders."
Assumptions and cautionary statement regarding forward-looking statements
The Group's management believes that the assumptions outlined above are reasonable, and that the guidance, outlooks, ambitions and expectations described in this report are achievable based on those assumptions. However, given the forward-looking nature of these guidance, outlooks, ambitions and expectations, they are subject to greater uncertainty, including potential material impacts if the above assumptions are not realised, and other material impacts related to foreign exchange fluctuations, macro-economic activity, the impact of outbreaks, epidemics or pandemics, such as the COVID-19 pandemic and ongoing challenges and uncertainties posed by the COVID-19 pandemic for businesses and governments around the world, changes in legislation, regulation, government actions or intellectual property protection, product development and approvals, actions by our competitors, and other risks inherent to the industries in which we operate.
This document contains statements that are, or may be deemed to be, "forward-looking statements". Forward-looking statements give the Group's current expectations or forecasts of future events. An investor can identify these statements by the fact that they do not relate strictly to historical or current facts. They use words such as 'anticipate', 'estimate', 'expect', 'intend', 'will', 'project', 'plan', 'believe', 'target' and other words and terms of similar meaning in connection with any discussion of future operating or financial performance. In particular, these include statements relating to future actions, prospective products or product approvals, future performance or results of current and anticipated products, sales efforts, expenses, the outcome of contingencies such as legal proceedings, dividend payments and financial results. Other than in accordance with its legal or regulatory obligations (including under the Market Abuse Regulation, the UK Listing Rules and the Disclosure and Transparency Rules of the Financial Conduct Authority), the Group undertakes no obligation to update any forward-looking statements, whether as a result of new information, future events or otherwise. The reader should, however, consult any additional disclosures that the Group may make in any documents which it publishes and/or files with the SEC. All readers, wherever located, should take note of these disclosures. Accordingly, no assurance can be given that any particular expectation will be met and investors are cautioned not to place undue reliance on the forward-looking statements.
All guidance, outlooks, ambitions and expectations should be read together with the guidance, assumptions and cautionary statements in this Q2 2023 earnings release and the 2022 Annual Report.
Forward-looking statements are subject to assumptions, inherent risks and uncertainties, many of which relate to factors that are beyond the Group's control or precise estimate. The Group cautions investors that a number of important factors, including those in this document, could cause actual results to differ materially from those expressed or implied in any forward-looking statement. Such factors include, but are not limited to, those discussed under Item 3.D 'Risk Factors' in the Group's Annual Report on Form 20-F for 2022. Any forward looking statements made by or on behalf of the Group speak only as of the date they are made and are based upon the knowledge and information available to the Directors on the date of this report.