Employee volunteering
Our employees devote their time and expertise to create positive change in our communities around the world. This gives them an opportunity to get to know some of our partner organisations and develop professional skills in challenging environments.
In return our partners benefit from strategic planning, operational improvements and enhanced communications. Our two flagship volunteering programmes are PULSE and Orange Days.
GSK's PULSE volunteer partership
Since its launch in 2009, GSK's PULSE volunteer partnership has empowered our employees around the world to partner with non-governmental organisations, impacting hundreds of communities across the globe.
What is PULSE?
The PULSE Volunteer Partnership is a skills-based volunteering initiative. Through PULSE, eligible employees are matched to a non-profit organisation for three or six months full-time, contributing their skills to solve healthcare challenges at home and abroad.
The PULSE programme enables our employees to work full-time with non-profit organisations, leveraging their professional expertise and knowledge for the good of the organisation and society.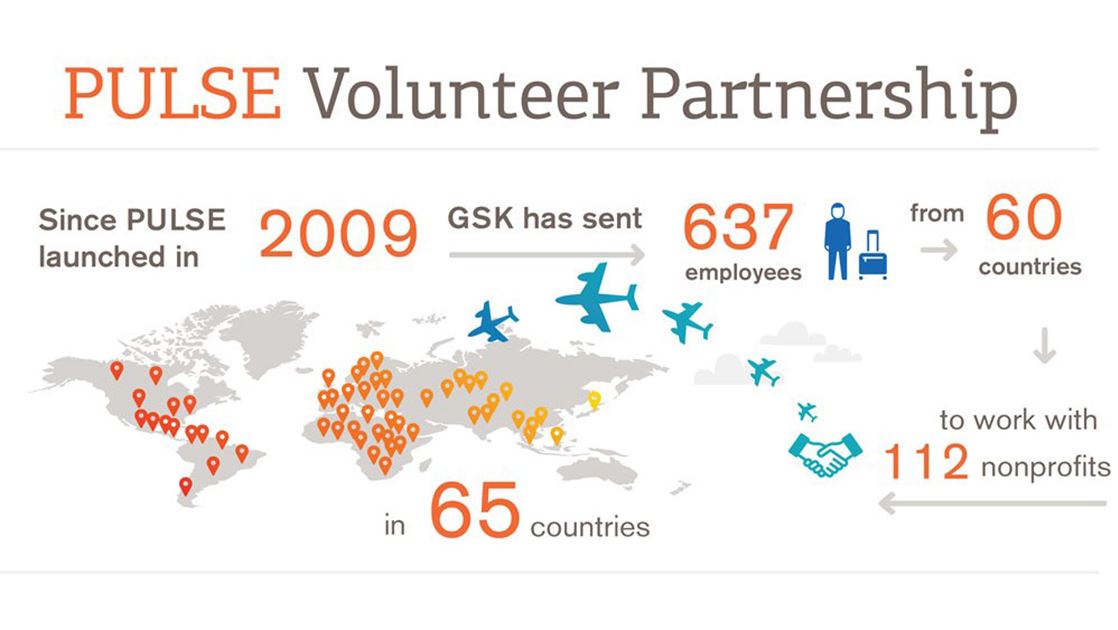 What are the benefits of PULSE?
By using their expertise to help non-profits with their most pressing problems, employees are able to make a sustainable difference to the organisation and communities they serve. At the same time, employees benefit from this experience as they come back re-energised and return to GSK with fresh insights, ideas, and a renewed connection to our mission to help people "do more, feel better, live longer."
The impact of PULSE is evident from the data we collect from our volunteers, our non-profit partners, and the volunteers' managers and colleagues at the end of a PULSE assignment. For example:
78% of non-profit partners agree that as a result of the PULSE volunteer, their organisation is doing something differently
91% of NGO partners state the impact of the PULSE volunteer was felt even 6 months after their assignment ended
91% of PULSE volunteers say that they are doing something differently at GSK after their return from assignment
You can find out more about the programme in the latest PULSE Impact Report (PDF).
You can follow the journey of a selection of our employees currently on a PULSE assignment.  
Orange Day
Our other major volunteer programme, Orange Day, gives employees one paid day off each year to volunteer for their chosen local community project. Previous Orange Day projects include distributing food to homeless people in Malaysia, organising a careers workshop for unemployed parents in Poland and supporting a recreation campy for young girls in India.
Our employees are a key part of our global partnership with Save the Children. Since the launch of the campaign in May 2013 GSK employees have raised over £1.65 million, which will be matched by funding from GSK.